Award Winning Smoked Food Hampers
Order in advance - Delivery Info
Meet our Black Mountains Smokery Christmas Team 2019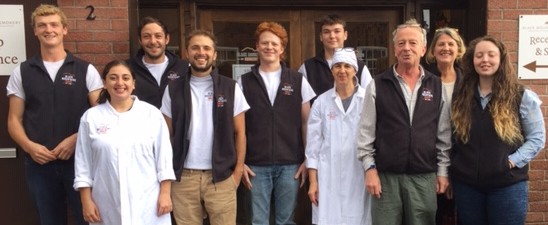 With a core staff of only five, the Black Mountains Smokery team doubles (or even triples!) in the our busy autumn months. With a busy fair schedule and thousands of parcels to send out in the run up to Christmas, it's all hands on deck...
Kate is our full time office queen and part time jester! If you call
you will
probably find it is Kate that answers. This is her third year
with us, so she really is a seasoned pro and always happy to trouble shoot any problems and give order advice.
She has been training all our new recruits ready for the run up to Christmas. She is extremely kind with a wry sense of humour

and

a tendency to get fits of the giggles both within the office and on the end of the phone! Be warned!
Away from
the
smokery
, Kate is a keen horseman with a love of the outdoor and can often be found riding or hiking the mountains around Crickhowell.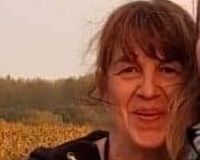 Jonathan's full time production team has welcomed Corrine. She joined us in May 2018 from her brother's speciality smokery in France, she has moved to Breconshire to be with her boyfriend and is full of great ideas. She is bright and bubbly, organised and calm. She is a fabulous mentor for Naomi and brilliant at keeping Jonathan in line too! As a result we have a well-oiled production team with much laughter involved.
Naomi
has joined us for her student placement year from Harper Adams University where she studies Food Technology and Nutrition. She's o
riginally from
Buckinghamshire
but i
s enjoying
country life since her parents have moved to nearby Brecon. Now s
he's nestled herself wonderfully in our production team and serves as Corrine's No.1 and her infectious cheery personality has won the hearts of all of us here.
Our son, Hugh is back again for his 7
th
Christmas here at Black Mountains Smokery. He will be found selling our wares at Christmas events around the country with one of our gappies or even with his Mum! Please say "Hi!" when you see him? When our fair season ends, he will head up our December production team with Corinne and Naomi. On top of all this he is our resident DIY man and fixer with a seemingly endless smokery to do list!
Blyth is a close family friend and has been going on all sorts of adventures with Hugh from the age of three. He's helped out during previous busy Christmases at the Smokery whilst on his study breaks but never for long enough. Now a university graduate, he's signed himself up for the full season to try his hand in the office and help with our forever updating website! Blyth is passionate about the environment and has a keen creative eye which is ideal for dealing with a myriad of fiddly things.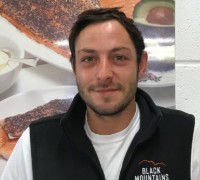 Mike is a very talented craftsman and a master of many trades, we're delighted to have him working within our production team this year - his talents mean a good steady hand for slicing our salmon. Hailing from the Forest of Dean, he's a qualified gamekeeper and tree surgeon and so knows all there is about our beautiful welsh countryside. He's a bit of a comedian too, so never a dull moment.
Our two "gappies", Hugh (we call him Hugh 2 to avoid confusion) and Kit join us this season inbetween finishing school and travels. Their hard-earned cash from working here will fund a ski season for them both and hopefully put them in good stead for further employment. You can meet their smiley faces manning our stall at Christmas fairs and in the meantime they'll be put to good use behind the scenes ensuring our products get to you beautifully presented.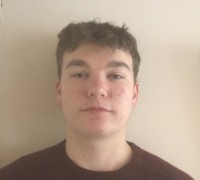 My lovely niece Rebecca has helped here at the Smokery with us before and she's returning soon, we can't wait. This time around she's bringing her boyfriend, Keagan, who will also be collared in to help. They'll be a great addition to a enthusiastic and growing team.
Jonathan and I are really enjoying this year's energetic team. We are both very busy in the run up to Christmas and although we are mainly in the office and warehouse, you will see us at many of the Christmas fairs around the country. We greatly look forward to hearing from you soon.