Award Winning Smoked Salmon
Free Postage to UK on Hampers
Meet our Black Mountains Smokery Christmas Team 2018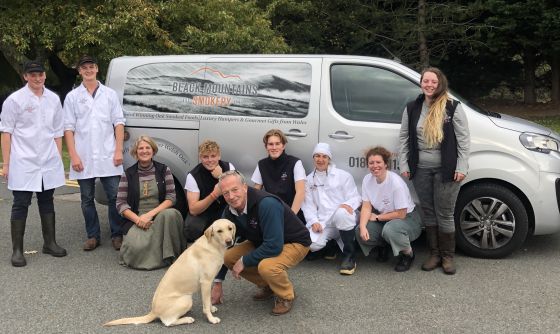 With a core staff of only five, the Black Mountains Smokery team doubles (or even triples!) in the our busy autumn months. With a busy fair schedule and thousands of parcels to send out in the run up to Christmas, it's all hands on deck...
Kate is our full time office queen and part time jester! If you call
you will
probably find it is Kate that answers. This is her second
year
with us, so she really is a seasoned pro and always happy to trouble shoot any problems and give order advice.
She has been training all our new recruits ready for the run up to Christmas. She is extremely kind with a wry sense of humour

and

a tendency to get fits of the giggles both within the office and on the end of the phone! Be warned!
Away from
the
smokery
, Kate is a horse lover and keen rider and is currently enjoying success in
her local
Llanvetherine dressage series.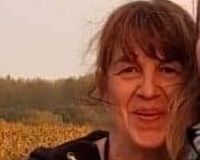 Jonathan's full time production team has welcomed Corrine. Joining us in May from her brother's speciality smokery in France, she has moved to Breconshire to be with her boyfriend and is full of great ideas. She is bright and bubbly, organised and calm. She is a fabulous mentor for James and brilliant at keeping Jonathan in line too! As a result we have a well-oiled production team with much laughter involved.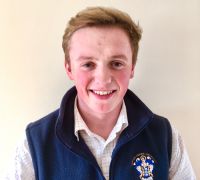 James has joined us for his student placement year from Harper Adams University as production and food hygiene assistant. He lives just up the road in the Crickhowell Corn Exchange and has really settled into local life, including a weekly run up the mountain and lots of involvement with Young Farmers! He is unfailingly enthusiastic and has shown himself to be a great addition to the production team.
Our son, Hugh is back again for his 5
th
Christmas here at Black Mountains Smokery. He will be found selling our wares at Christmas events around the country with one of our gappies or even with his Mum! Please say "Hi!" when you see him? When our fair season ends, he will head up our December production team with Corinne and James. On top of all this he is our resident DIY man and fixer with a seemingly endless smokery to do list!
Thank you so much to all of our BMS Christmas 2018 team! It was our best over Christmas and we simply could not have done it without all your hard work!
We're always looking for bright new faces to be part of our Christmas crew so please get in touch if you'd like to be part of 2019 team.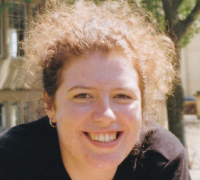 Lucy joined our Christmas team at the end of September after

graduating from Oxford University. She is here to help you and will be

taking your calls as well as supporting Kate and Jo in the office with lots of blogging and promotional writing. As she grew up in Monmouthshire, she is loving being home and working at the foot of the Black Mountains. We won't see her for dust once she heads off on her well earned travels in January!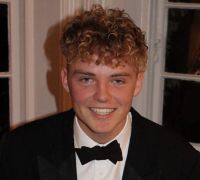 My nephew, William, has joined our Christmas team for the first part of his gap year. He and his cousin, Hugh are my BMS Dream Team at Christmas events letting me off the hook just a little! Will is a great salesman, with a quick smile and an infectious laugh, so watch out as you'll have to buy! He will also be in the office and warehouse in the run up to Chrsitmas. He departs for Zambia in January for further adventures with his hard earned savngs.
Alex is our second "gappy," and William's fellow school friend . He has moved in with us until Christmas and is seemingly enjoying his new countryside lifestyle, finding time for a few rounds of Team BMS golf and mountain walks in any down time. He will also be found selling at fairs, on the end of the phone and in our warehouse dealing with the all important dispatch. With plans to brush up his Spanish and travel to South America this summer he is working very hard!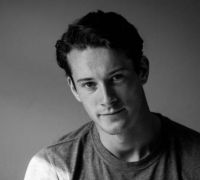 Rory and Blyth are both mad enough to be coming back for more Black Mountains Smokery December dispatch and will be working hard in the warehouse to pack all your orders to perfection. This is a change of pace for Rory as last year he cycled from Durban to Capetown with Hugh and this year he has found (minor) celebrity status as an extra on Netflix!
Jonathan and I are really enjoying this year's energetic team. We are both very busy in the run up to Christmas and although we are mainly in the office and warehouse, you will see us at many of the Christmas fairs around the country. We greatly look forward to hearing from you soon.