Award Winning Smoked Food Hampers
Order in advance - Delivery Info
Traditional Smoked Salmon - 2 Gold Stars in The Great Taste Awards 2020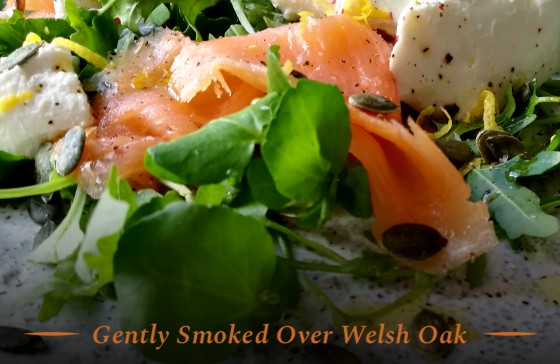 Black Mountains Smokery Traditional Cold Smoked Salmon has been awarded two Stars (of three) in the Great Taste Awards 2020 and we are extremely proud. Our Smoked Salmon has won gold stars each time it has been entered, namely 2011, 2015, and 2017 but the latest is the most prestigious.
We are pitched alongside smoked salmon from across the UK and from a large variety of companies and smokehouses, many that are steeped in heritage and provenance, and so to be regarded so highly is a real achievement. The Judges taste the products blinded (not literally, but all traceability is hidden) and so our beautiful packaging and presentation do not come into question. Only the aroma, flavour, texture, appearance, and overall experience are the discerning factors. Gold stars are therefore only awarded to the most exceptional flavours and textures that create the most well rounded and unanimously appreciated products.
"Generous slices of smoked salmon with gentle smoke on the nose. The salmon just melts in the mouth – buttery, sweet and tasty flesh with gentle back notes of smoked oak. You could eat this just on its own – nothing else needed – just deliciously tasty and perfectly balanced."
Great Taste Awards 2020
Not only have we had amazing feedback from the kind judges at the Great Taste Awards, but we have also received some heart-warming reviews from our customers lately.
"The smoked salmon is absolutely outstanding and totally different to supermarket fare. Even our teenagers noticed! And the service is second to none, personal, charming, and very efficient - most impressive, particularly in these difficult times."
G Magnay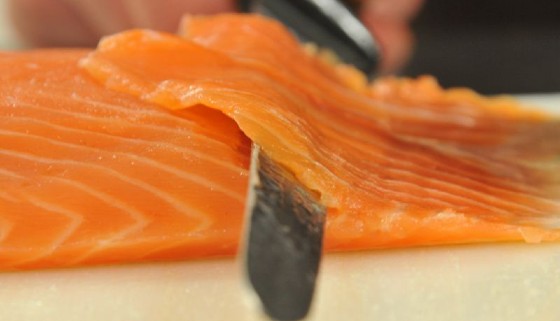 We sell our Traditional Oak Smoked Salmon as whole sides that are either sliced or trimmed. Perfect for presenting as the centrepiece for family feasts and placing ribbons of sliced salmon onto your guest's plates. If there are not as many of you, or you would like a taste or a starter, we also sell sliced packs.
Cooking with smoked salmon is incredibly easy because you don't need to! To let the flavour shine, present the salmon at room temperature with salad leaves and a light dressing. Try pairing with Tracklements Dill Sauce let down with cream or yoghurt or this delightful smoked salmon & mozzarella salad. For more recipe ideas, follow this link to see some of our favourites that we have compiled over the years including lots of party foods ideas that use our miracle Canapé Shells.
Traditional Smoked Salmon is cold smoked, but if you're reading this and wondering why it doesn't sound familiar to you, you may be more acquainted to our Oak Roasted Salmon. They are both smoked using Welsh oak, but the Oak Roasted salmon is hot smoked in the kiln and therefore cooked through. The resulting effect is very different but is equally special – soft, succulent and flaky flesh that is rich in both colour and texture and the gentle smokiness is an incredible enhancement of flavour.
"I can honestly say the oak roast salmon is the best I have ever had. Utterly delicious and meltingly tender."
If you are after something a little different, why not try one of our Smoked Fish Pâtés? Both types of smoked salmon make wonderful pate when let down with cream and with just the right seasoning. The original recipes are Smokey Jo's; she's served smoked salmon pate to esteemed guests at fancy drinks parties as well as ravenous (and most likely hungover) young adults occupying the family home on sunny weekends - perfect for so many occasions! The pate became so popular, we can now hardly keep up with demand.
We also need to give an honourable mention to our Smoked Gressingham Duck Breast, which we also entered into the Great Taste Awards 2020, but sadly did not take home a gold star as it has done many times in the past. We did, however, receive some truly lovely feedback that we thought should be shared:
"This neat looking breast has been beautifully prepped and has a glossy juicy looking skin and tender pink flesh. There is an enticing sweet, smoky, woody aroma. The meat melts in the mouth and is moist and delicate. There is a great balance of sweetness and minerality from the meat as well as some herby savoury notes. The Smoke is just right adding a warm woody classiness but with no acid notes. With a generous touch of salt to enhance flavour, this is a delightful expertly executed product."
Great Taste Award 2020