Award Winning Smoked Salmon
Free Postage to UK on Hampers
Smoked Mackerel with Bacon & Sage Recipe
Serves 4 – A delicious lunch or dinner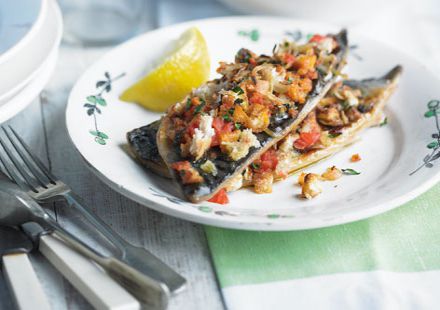 Ingredients
2tbsp Fino Olive Oil
100g Chopped Smoked Bacon
1 Onion, finely chopped
150g Sliced bread sage leaves
1 Lemon, zested
1 Garlic Clove, crushed
8 Fillets of Smoked Mackerel
Preheat the oven to gas mark 6, 220°C, fan 200°C. Heat 1 tbsp oil in a nonstick frying pan and cook the onion and chopped Smoked Bacon for 5 minutes.
Put the sliced bread into a food processor along with the sage leaves, lemon zest, garlic, and seasoning and blitz until you have a chunky breadcrumb mixture. Add to the onion mix with the remaining oil and cook for a further 5 minutes, stirring gently until golden.
Lay 4 of the Smoked Mackerel fillets lightly on a greased nonstick baking tray and spoon over half of the stuffing mix. Sandwich together with the remaining fillets and spoon over the remaining stuffing.
Cook in oven for 15-18 minutes and serve with steamed vegetables.