Award Winning Smoked Salmon
Free Postage to UK on Hampers
Crepes with Oak Roasted Salmon Flakes Recipe
Serves 4 – Lovely as a light lunch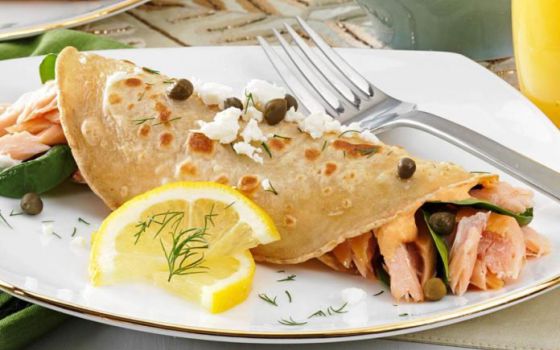 Ingredients
Place the flours and Halen Môn Sea Salt into a large mixing bowl and make a well in the centre. Add the egg, milk, Laverbread and melted Calon Wen Organic Salted Butter, whisk well until batter is smooth and creamy. Cover and leave to stand for 30 minutes.
Meanwhile, gently fry the leeks in a little Fino Olive Oil until soft and leave to cool. Gently mix the leeks and Oak Roasted Salmon flakes together along with the dill and black pepper. Beat together the cream cheese and crème fraiche, season and then fold in the salmon mix.
Add a little Fino Olive Oil to a heated non-stick pan. Ladle the batter in a thin layer over the base of the pan. Cook for 2 minutes until set, then flip over and cook the other side for a further 2 minutes. Place the cooked pancakes on a plate to keep warm and continue cooking the pancakes until you have used all the batter.
To serve, spoon a little of the filling down one side of each pancake and roll up, garnish with fresh green leaves and dill.
This recipe is also great with sliced Smoked Chicken Breast.