Award Winning Smoked Salmon
Free Postage to UK on Hampers
Easy Honey Mustard Glazed Ham Recipe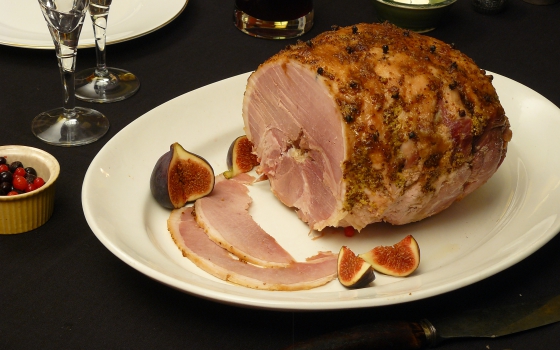 Welsh artisan food and hampers delivered on your day of choice
Made to order, our carefully cured hams are perfect for any festive feasts and create a wonderfully impressive centrepiece. It is a great way to feed a crowd and the leftovers are bound to keep giving for days!
Our whole and half hams are produced to order and need to be ordered 10 -14 days in advance.
Although all our cooked hams are pre-glazed, the vac packs can make the glaze a little soft so we suggest you top it up and fill your kitchen with the fragrance of deliciousness.
Make a Honey Mustard paste with brown sugar, honey and Tracklements' Dijon Mustard and spread over the ham, dot with cloves and caramelise with a cook's blow torch.
Or try a Marmalade Glaze made from Seville Orange Marmalade, brown sugar, ground cloves and cider vinegar.