Award Winning Smoked Salmon
Free Postage to UK on Hampers
Oak Roasted & Smoked Salmon Cannelloni Recipe
Serves 4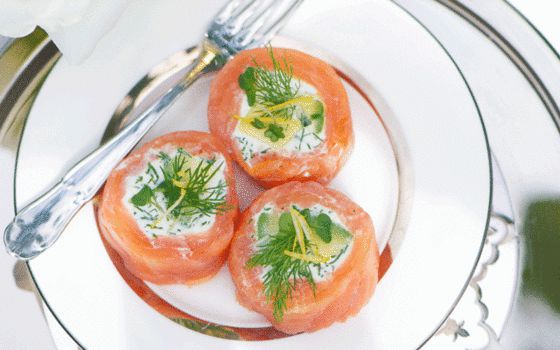 Welsh artisan food and hampers delivered on your day of choice
Ingredients
Combine all the above except the
Smoked Salmon,
using as little or as much to suit your own taste. If serving to a large party, it might be sensible to use the horseradish with caution!
Lay a piece of cling film and lay the sliced salmon to form a rectangle approx. 20x15 cm
Place half of the mix down the centre and roll to form your cannelloni, twist the ends and tie. Reserve in the fridge until needed.
To serve cut the ends from the cannelloni and then cut into slices. Dress the leaves with a light vinaigrette and place in the centre of the plate. Gently sit the cannelloni on top and top with a small sprig of dill and a curl of lemon zest.