Award Winning Smoked Salmon
Free Postage to UK on Hampers
Oak Roasted Salmon and Potato Bake Recipe
Serves 4 – Great hearty meal for Lunch or Dinner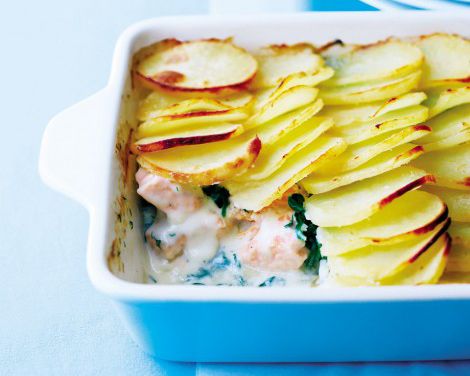 Ingredients
600g Waxy potatoes, such as Desirée
350g Young leaf spinach
4 Oak Roasted Salmon fillets, about 700g, cut into bite-size chunks
Finely Grated zest of 1 lemon
60g Butter
50g Flour
500ml Semi-skimmed milk
15g Fresh dill, chopped
Pepper
Cook the unpeeled potatoes in a pan of boiling water for 15 minutes. Drain and set aside.
Meanwhile, put the spinach in a colander. Pour over boiling water to wilt the spinach, then refresh in cold water. Drain and squeeze out as much liquid as possible. Set aside in a large bowl, along with the Oak Roasted Salmon, onion and lemon zest.

Melt 50g butter in a pan over a medium heat. Add the flour and cook, stirring, for 1 minute, then gradually whisk in the milk. Cook for 5 minutes, stirring, until thickened. Season with Halen Môn Sea Salt and pepper, stir in the dill and cool slightly.
Pour over the salmon mixture and gently mix. Tip into a deep 2.3-litre baking dish. Remove and discard the potato peel and slice thinly. Overlap in a single layer on top of the Oak Roasted Salmon.
Melt the remaining butter and brush over the potatoes. Preheat the oven to 200°C/fan180°C/gas 6. Bake for 50 minutes, or until hot throughout. Serve with peas or a side salad.