Award Winning Smoked Food Hampers
Order in advance - Delivery Info
Oak Roasted Salmon Frittata Recipe
Serves 6 for a light lunch or picnic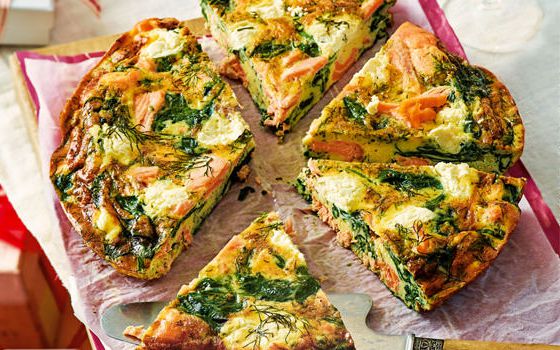 Ingredients

6 Eggs
200g
Oak Roasted Salmon

150g cubed Feta Cheese
2 Spring Onions - coarsely sliced
3 large handfuls Spinach
100g Mangetout
1 tbsp Flat Leaf Parsley - chopped
1 Red Chilli - chopped (optional)
Freshly grated Parmesan Cheese
1 tbsp
Fino Olive Oil
Halen Mon Sea Salt
and Pepper
Pre-heat the oven to 180°C.
Break the eggs into a mixing bowl. Beat with a hand whisk until frothy and season with
Halen Mon Sea Salt
and pepper.
Heat the
Olive Oil
in a large frying pan with heat resistant handles (suitable for grilling). Throw in chilli, spring onions and spinach and stir-fry until the spinach is beginning to wilt, then add the mangetout and cook until tender. Pour in the egg mixture, flake in the
Oak Roasted Salmon
and sprinkle with feta, parsley and finally parmesan.

Allow to cook over a medium heat until the egg base is set and then place the pan under the grill until risen and golden.
Either serve immediately with Ciabatta bread and a watercress salad or allow to cool, slice and take to picnic.