Award Winning Smoked Salmon
Free Postage to UK on Hampers
Oak Roasted Salmon- Ready to Eat Party Food Recipe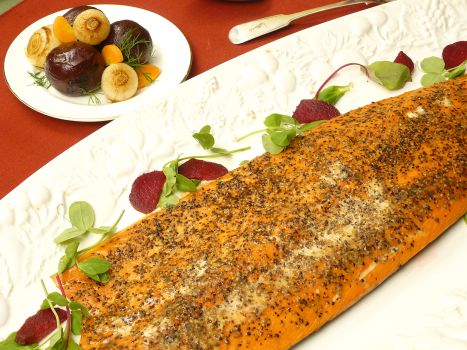 Look no further for a solution for your Christmas Eve celebrations. After a hectic day with family to enjoy and time much needed for preparing ahead for Christmas day, nothing could be easier than a festive feast of ready to eat
Oak Roasted Salmon - peppered or plain.
We serve our oak roasted salmon at room temperature with quick and easy roasted new potatoes, baby beetroot roasted with shallots and dill, fresh green salad and a
bowl of dill cream
to hand around. Nothing nicer!
Garnish the salmon just as you please - I like to use watercress leaves or pea shoots with red pepper or chilli slivers and lime wedges but it is just as lovely to use traditional cucumber with lemon and even prawns.
To make the dill sauce - simple mix a jar of our lovely
Dill & Mustard Sauce
with a large tub of crème fraiche or
mayonnaise. You can also use Miranda's delicious
Sweet Beetroot Chutney
on the side if you are not cooking your own beetroot.
We would love to hear how you serve yours!?