Award Winning Smoked Salmon
Free Postage to UK on Hampers
Smoked Salmon Omelette Recipe
Serves 1
A lovely, light breakfast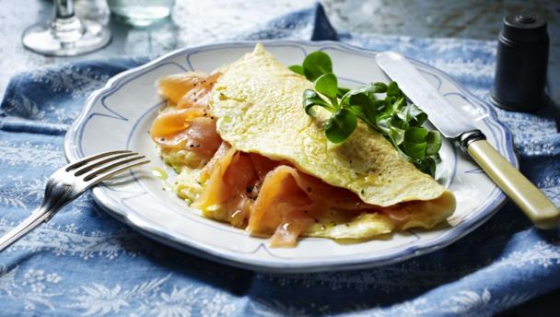 Ingredients
3 eggs

Gently beat the eggs together in a mixing bowl and season, to taste, with
Salt
and freshly ground black pepper. Heat the butter in an omelette pan until foaming. Pour in the beaten eggs and cook for a few seconds, until the bottom of the omelette is lightly set.
Use a wooden spoon or a spatula in a figure of eight motion to keep the eggs moving in the pan as they begin to set. Once there are no more liquid eggs in the pan, smooth out eggs into a layer in the bottom of the pan.
Place the
Smoked Salmon
into the centre of the omelette and cook for 30 seconds. Remove from the heat and tilt the pan slightly to move the omelette to the edge of the pan. Shape it into a neat roll and slide onto the serving plate. Brush the omelette with
Olive Oil
and serve.