Award Winning Smoked Salmon
Free Postage to UK on Hampers
Smoked Salmon with Caviar Blini Recipe
This fabulously simple serving suggestion comes from the lovely Llansantffraed Court Hotel.
Serve as a stylish starter on mesclun salad leaves or as luxurious nibble with drinks.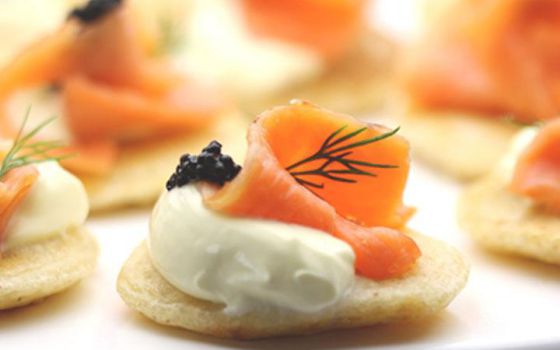 Ingredients
200g Smoked Salmon
20g Black Lumpfish "Caviar"
3bsp Crème Fraiche
Squeeze of lemon
Handful of Mesclun (Salad & Herb leaves)
or Blinis
Smoked Salmon, Black Lumpfish "Caviar," crème fraiche and a squeeze of lemon.
Serve with dressed mesclun or on top of a blini.
Mesclun is the name given to the mix of greens when they're grown together for salad, often spicy and always delicious.