Award Winning Smoked Salmon
Free Postage to UK on Hampers
Smoked Trout and Broad Bean Salad Recipe
Serves 4 – A great, light Lunch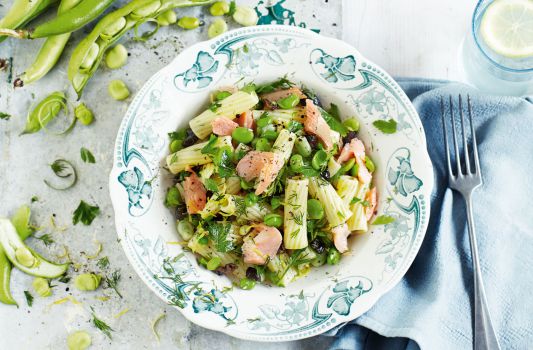 Welsh artisan food and hampers delivered on your day of choice
Ingredients
350g Penne pasta
500g Broad beans or peas
4 tbsp Fino Olive Oil
2 Lemons - zested and juiced
100g Black olives - chopped
1 Handful fresh parsley - chopped
1 Sprinkle fresh dill - chopped
2 Smoked Trout Fillets
– flaked
Boil the broad beans for 3-5 minutes, until they float to the surface. Remove and drain the beans, and run under cold water (this will help them to keep their colour).
Cook the pasta and pour into a large mixing bowl – drizzle with olive oil. Add half the broad beans to the bowl and mix well. Double-pod the remaining broad beans so they are sweeter and set aside.
Add the lemon juice and zest, olives, parsley, dill and flaked Smoked Trout Fillets to the pasta. Season to taste and toss well to combine. Scatter over the double-podded broad beans. Serve with plenty of seasoning.