Award Winning Smoked Salmon
Free Postage to UK on Hampers
Smoked Trout, Cockle & Apple Patties Recipe
Serves 2 – Wonderful for breakfast or a light lunch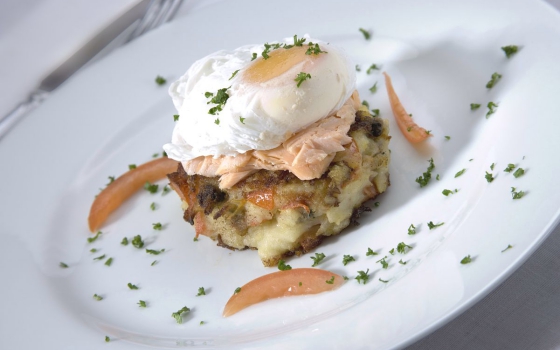 Ingredients
1 tbsp Parsley - chopped
2 Large potatoes - boiled & mashed
1 Eating apple
2 Eggs
White wine vinegar
Peel the potatoes and then boil them, once they are cooked drain and mash the potatoes. While the potatoes are cooking, peel and grate the apple. When your mash is ready stir the grated apple and cockles into the mash and season with
Halen Môn sea salt
and pepper. Shape this mixture into two small flat patties.
Fry patties with the
Fino Olive Oil
until golden brown on both sides. Put patties in oven at 220°C for 5-6 minutes to finish cooking.
In the meantime, place a pan of water with a splash of vinegar and
Halen Môn sea salt
on the heat and bring to a gentle simmer. When simmering, gently break the eggs into the water without breaking the yolks. Let the eggs cook for a couple of minutes till they turn white and are no longer rubbery, using a slotted spoon remove them from the water.