Award Winning Smoked Salmon
Free Postage to UK on Hampers
Smoked Trout, Cockle & Apple Patties Recipe
Serves 2 – Wonderful for breakfast or a light lunch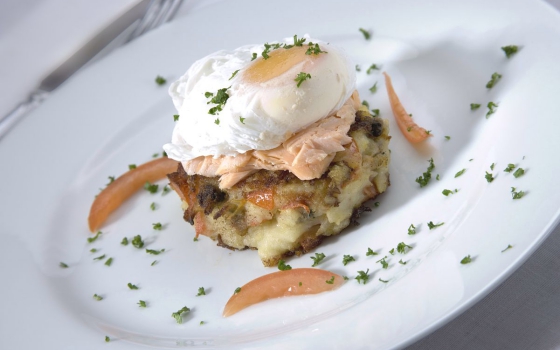 Ingredients
1 tbsp Parsley - chopped
2 Large potatoes - boiled & mashed
1 Eating apple
2 Eggs
White wine vinegar
Mash the potatoes and peel and grate the apple. Stir the apple and cockles into the mash and season with Halen Môn sea salt and pepper. Shape this mixture into two small flat patties. Fry patties with the oil until golden brown on both sides.

Put patties in oven at 220°C for 5-6 minutes. Poach the eggs with a splash of vinegar and salt. Place potato cake in the centre of the plate, top with smoked trout and poached egg.

The Smoked Trout can be substituted with Smoked Salmon or Smoked Bacon.