Award Winning Smoked Salmon
Free Postage to UK on Hampers
Warm Welsh Dragon Sausage Salad with Broad Beans & Bacon Recipe
Serves 4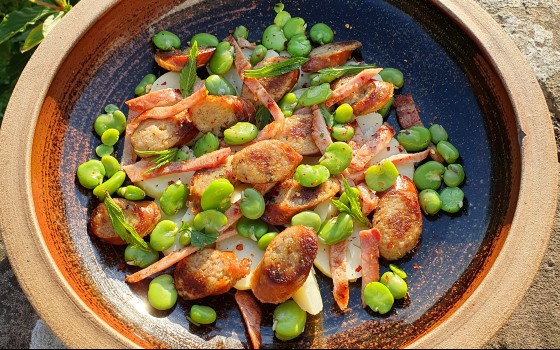 Ingredients
12 - 20 New Potatoes
1 tbl Fresh Mint - chopped
Dried Chilli Flakes
Boil the new potatoes in salted water with a sprig mint until tender but not mushy. Drain and allow them to cool a little so that you can slice them or halve them depending on their size.
Boil the broad beans in unsalted water for just a few minutes until tender. Peel if you love the vibrant colour within their skins but not if you are in a hurry!
Meanwhile, fry the bacon slivers

in a little olive oil

, followed by the sausage slices until golden & toss in the spring onions and remove from the heat to coat with the juices.
Mix all the warm ingredients together in a salad bowl, add chopped parsley, lemon juice and a drizzle of olive oil. Finish with a pinch of sea salt and a sprinkle of chilli flakes and serve immediately.