Award Winning Smoked Food Hampers
Order in advance - Delivery Info
Ready to Eat - The perfect ham! Our "Old fashioned" free-range ham is produced from premium outdoor reared, naturally fed pigs. Boned and rolled before being traditionally cured, cooked and glazed with honey and mustard, it is succulent in taste and texture. We offer 250g sliced packs and both whole and half hams of varying weights.
Hams are produced to order. Please allow at least 10 days throughout the year.
"I wrote on 17 December when my ham was delivered that it looked delicious. Yes, it did look just delicious but when it came to eating it we ran out of superlatives! It was (and still is just) simply scrumptious, out of all expectations and apart from the great taste the texture is perfect." Basil Thomas - January 2020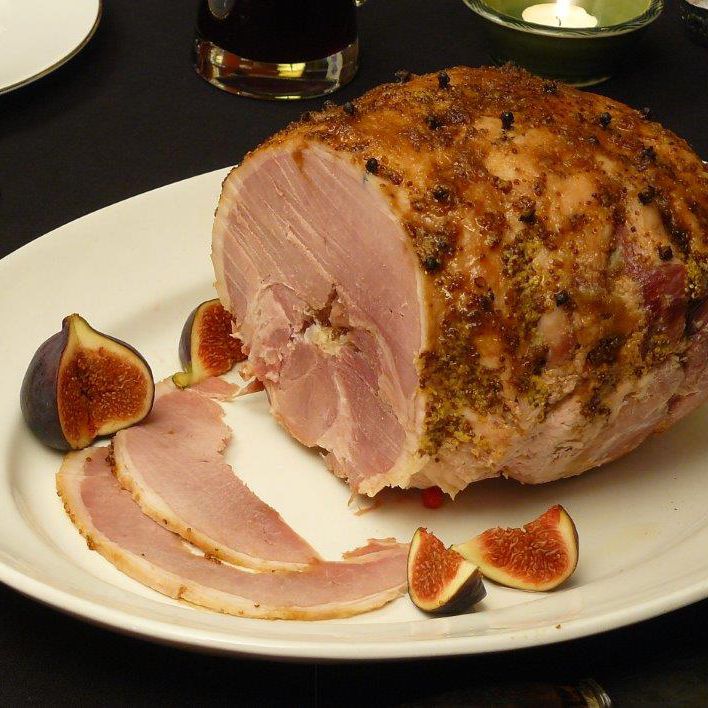 Although all cooked hams are pre-glazed, the vac packs can make the glaze a little soft so we suggest you top it up and fill your kitchen with the fragrance of deliciousness. Jo always uses a cooks blow torch to caramelise the glaze - they're not too expensive and are so useful to have!
Make a Honey Mustard paste with brown sugar, honey, and Tracklements' Dijon Mustard and spread over the ham and dot with cloves.
Or try a Marmalade Glaze made from our Seville Orange Marmalade, brown sugar, ground cloves and cider vinegar.
You might also like this...
Enjoy Asparagus Season with Smoked Salmon & Smoked Butter
30/04/2021
Welsh artisan food and hampers delivered on your day of choice What a beautiful time of the year – asparagus season! Our Smoked butter , smoked paprika butter and smoked seaweed butter s are the perfect pairings for the abundance of delicious British... ...
Continue Reading
Stump Up For Trees - March Total!
29/04/2021
Add £2 to your order to plant a tree which will more than offset the carbon footprint of your parcel. We are calling on you to support "Stump up for Trees," an amazingly ambitious community-based charity, focused on woodland creation & enhancing biodiversity in... ...
Continue Reading
Smoked Chicken Pairings
23/04/2021
Welsh artisan food and hampers delivered on your day of choice Our award-winning Smoked Chicken Breast is gently hot-smoked over smouldering Welsh oak. It is succulent with an even smokey flavour throughout. "Impressive! Really juicy &... ...
Continue Reading