Award Winning Smoked Salmon
Free Postage to UK on Hampers
Our free-range, dry-cured bacon is produced from premium outdoor reared, naturally fed pigs. Dry cured for full flavour and firm texture – no water in the pan when it cooks!
Our bacon is all medium sliced and vacuum packed for freshness.
Who doesn't love the combination of savoury and sweet? Especially as part of this delicious brunch recipe.
Serv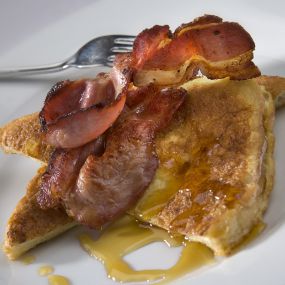 es 1
Ingredients
1 Medium egg
3 tbsp Cream
1 Slice of bread
Maple syrup
Whisk the egg with the cream and seasoning. Turn the bread in the egg mixture until well coated then leave to stand until the liquid has been soaked up.
Heat the
olive oil
in a frying pan, add the bread and fry until golden brown on both sides. Meanwhile, in a separate pan, fry the Smoked Bacon until cooked.
Serve the egg bread with the Smoked Bacon and top with maple syrup.
You might also like this...