Award Winning Smoked Salmon
Free Postage to UK on Hampers
Our tender Suffolk Gressingham smoked duck breast is lightly cured and hot-smoked over Welsh oak. It is cooked and ready to eat, rich and sweet yet delicate in flavour. Multi award winning - it seems many agree it's the best! "Beautiful, mild-flavoured smoke and rich sweet meat - a real treat." Felicity Cloake, The Guardian 2013
Very thinly sliced, smoked duck makes a perfect starter served on a bed of dressed salad leaves with anything fruity! Try it with fresh orange & walnuts, strawberries & balsamic syrup or pears & pine nuts. Make a great smoked duck canapé or crostini with a little Mascarpone and Chilli Jam or Gooseberry Jelly.
Here is one of our favourite Smoked Duck salad recipes for you to try!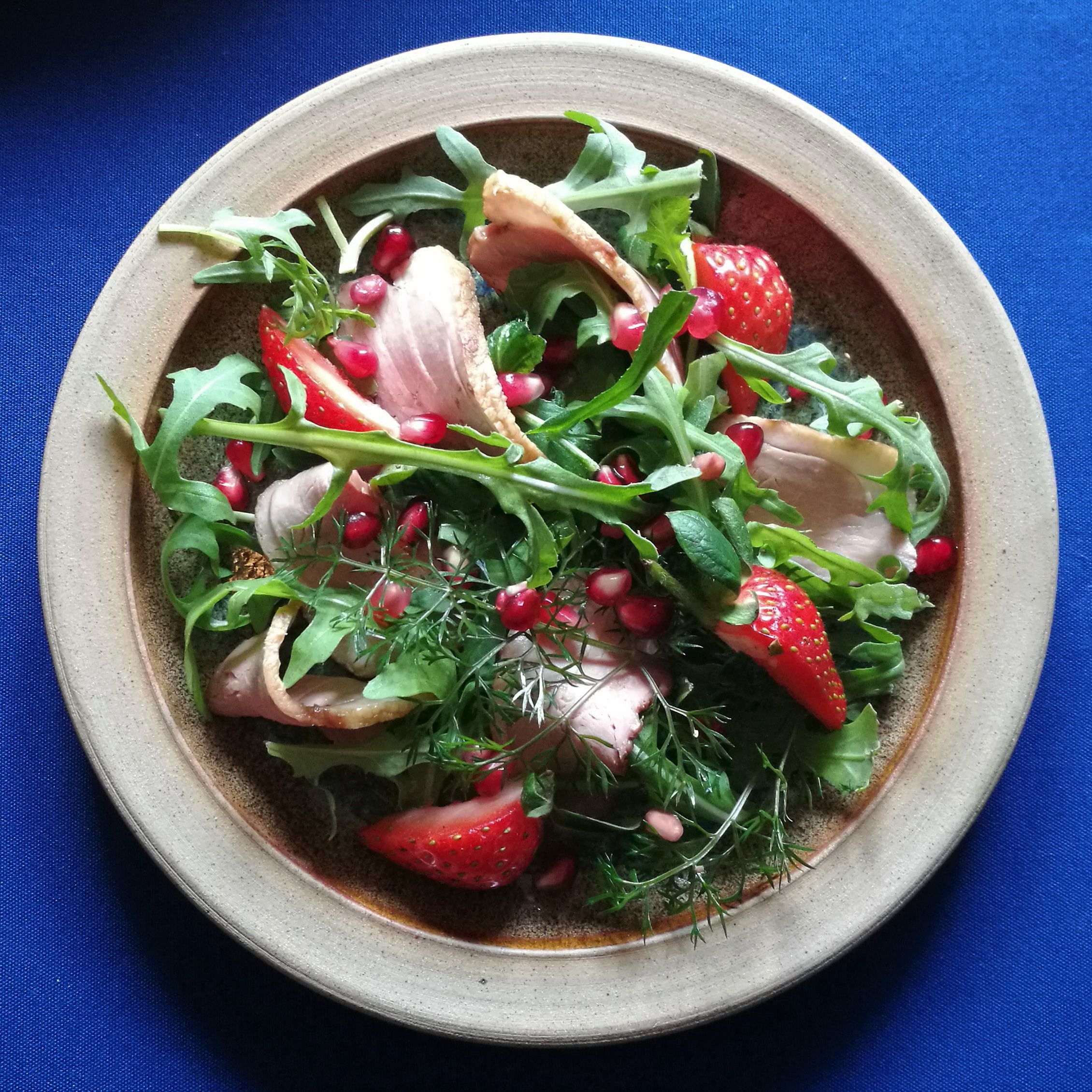 Ingredients
10 Ripe strawberries, hulled & sliced
50-100g Walnut halves
1 Bag of salad leaves
Whisk the
Oil
and
Sirop
together to make the dressing If you feel the dressing is too sweet, add a table spoon of
Balsamic Vinegar
.
Arrange the salad leaves on the plates or a serving platter and top with the
Smoked Duck
, walnuts, pomegranate seeds and strawberries.
Drizzle over the dressing and enjoy! See our
recipe pages
for more scrumptious smoked duck ideas.
You might also like this...
Crispy Fried Smoked Welsh Dragon Sausages Recipe
30/06/2020
A fabulously quick and easy nibble with drinks served with a mustard cream Serves 4 Ingredients 3 Smoked Welsh Dragon Pork Sausages - Sliced on diagonal 2 Tbs Cotswold Gold Rapeseed Oil 2 Tbls Greek Style ... ...
Continue Reading
Meet the BMS Lockdown Team
28/06/2020
The Black Mountains Smokery team has a core staff of just 6 for most of the year, the team then doubles (or even triples!) in our busy autumn months! As you can imagine, this year has been a little different... the imposing of lockdown meant that... ...
Continue Reading
Eggs Royale with Hollandaise Sauce
24/06/2020
If you've fallen into the millennial proclivity for brunching then here's a recipe which will help you create the perfect eggs royale from home! Recipe from our very clever nephew, Josh! Ingredients For the... ...
Continue Reading