Award Winning Smoked Food Hampers
Order in advance - Delivery Info
Our Traditional Oak Sm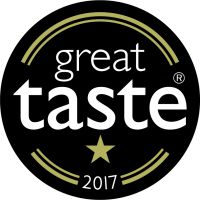 oked Salmon is made from fresh superior grade fillets of salmon, dry cured on a bed of salt and gently cold smoked over Welsh oak chips.
The smoked salmon is then expertly hand sliced and then vacuum sealed for freshness.
The Traditional Oak Smoked Salmon always wins an award at the Great Taste Awards and won a coveted Welsh True Taste Award.
"Great texture and not at all oily. Clean, fresh flavours with a rich after taste that lingers. The curing and smoking let the salmon do the talking." - Great Taste Awards 2015 & 2017
Although our Traditional Oak Smoked Salmon is perfect served simply with a squeeze of lemon and twist of black pepper, it is also a wonderful ingredient to cook with. Here's one of our favourite recipes -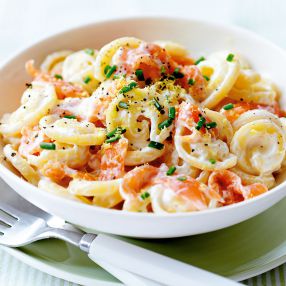 Serves 2
Ingredients
150g pasta100ml Crème fraîche1 Clove garlic - crushed100g
Smoked Salmon
1/2 Lemon - juice and zestChives to garnish
Mix together the crème fraiche and crushed garlic.

Cook and drain the pasta, then return it to the pan, adding the crème fraiche mix and cook on a low heat for 1 minute. Turn off the heat and combine with the
salmon
and lemon juice.
Season to taste with sea salt and black pepper as required and top with the lemon zest and chives.
You might also like this...
Enjoy Asparagus Season with Smoked Salmon & Smoked Butter
30/04/2021
Welsh artisan food and hampers delivered on your day of choice What a beautiful time of the year – asparagus season! Our Smoked butter , smoked paprika butter and smoked seaweed butter s are the perfect pairings for the abundance of delicious British... ...
Continue Reading
Stump Up For Trees - March Total!
29/04/2021
Add £2 to your order to plant a tree which will more than offset the carbon footprint of your parcel. We are calling on you to support "Stump up for Trees," an amazingly ambitious community-based charity, focused on woodland creation & enhancing biodiversity in... ...
Continue Reading
Smoked Chicken Pairings
23/04/2021
Welsh artisan food and hampers delivered on your day of choice Our award-winning Smoked Chicken Breast is gently hot-smoked over smouldering Welsh oak. It is succulent with an even smokey flavour throughout. "Impressive! Really juicy &... ...
Continue Reading