Christmas Fairs & Events 2023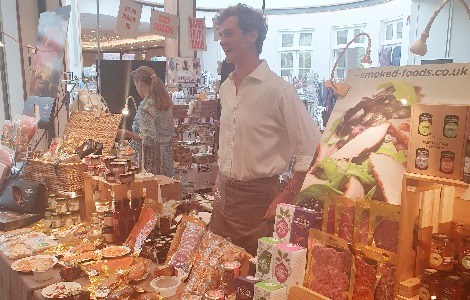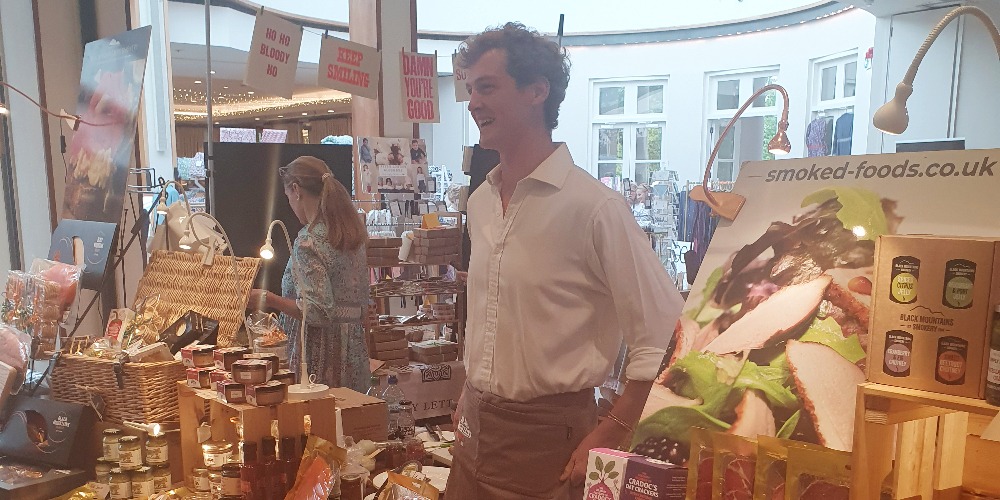 Come and find us at a fair near you!
We'll be selling a scrumptious selection of our smoked produce and other delicious Welsh goodies, handing out mouth-watering Black Mountains Smokery samples and taking your all-important Christmas orders.
We love meeting our lovely customers so please do drop by to say hello xx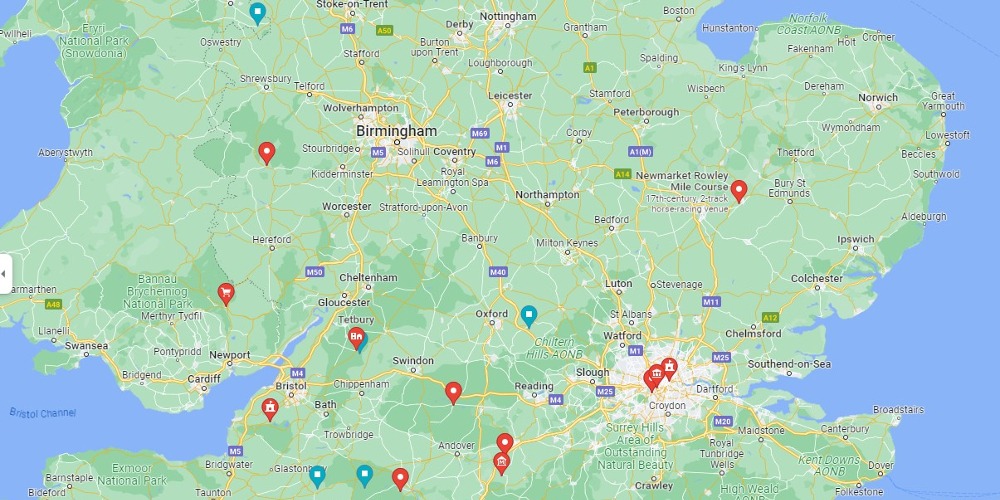 The green and red pins show where we are going to be – hopefully somewhere you can get to.
OCTOBER
Hungerford Christmas Fair
When: Friday 27th & Saturday 28th October 2023
Where: Hungerford Town Hall, Berkshire, RG17 0NF
Time: 10:00am – 4:00pm Download invitation
NOVEMBER
Hanmer Autumn Fayre 2023, in aid of The League of friends of RJAH Orthopaedic Hospital
When: Thursday 9th November 2023
Where: Hanmer Church, SY13 3DG (just 5 mins from Whitchurch)
Time: 12:00pm – 7:00pm Download invitation
Ludlow Racecourse Christmas Fair, in aid of The Robert Jones and Agnes Hunt Orthopaedic Hospital NHS Foundation Trust .
When: Tuesday 14th November 2023
Where: Clive Pavilion, Ludlow Racecourse, Shropshire, SY8 2BT
Time: 9:30am – 3:30pm Download invitation
WHCT Christmas Fair in aid of Watlington Hospital Charitable Trust
When: Tuesday 14th November 2023
Where: The Oxfordshire, Rycote Lane, Milton Common, OX9 2PU
Time: 9:30am – 3:00pm Download invitation
Mendip Christmas Fair, in aid The Guild of Friends of The Bristol Royal Hospital for Children and Children's Hospice South West
When: Saturday 18th & Sunday 19th November 2023
Where: Aldwick Estate, BS40 5AL
Time: Saturday 10:00am – 5:00pm Sunday 10:00am – 4:00pm Download invitation
Clem's Christmas Fair (Compton Marbling)
When: Friday 17th & Saturday 18th November 2023
Where: Compton Marbling, Lower Lawn Barns, Fonthill Gifford, Tisbury, Wiltshire, SP3 6SG
Time: 10:00am – 5:00pm Download invitation
Beaufort Christmas Fair, in aid of Youth Action Wiltshire and Wiltshire Air Ambulance.
When: Tuesday 21st November 2023
Where: Newnton Dairy Farm, Long Newnton, Wiltshire, SN16 9SR
Time: 9:30am – 8:00pm Download invitation
Wincanton Christmas Fair, in aid of Children's Hospice South West
When: Tuesday 21st November 2023
Where: Wincanton Racecourse, Wincanton, BA9 8BJ
Time: 10:00am – 4:00pm
Presents Galore Christmas Fair, in aid of Cambridge Children's Hospital
When: Friday 24th, Saturday 25th & Sunday 26th November 2023
Where: Millennium Grandstand, Rowley Mile Racecourse Stands, Newmarket CB8 0TF
Time: Friday 4:00pm – 8:00pm – Saturday 10:00am – 5:00pm – Sunday 10:00am – 4:00pm Download invitation
Friends of King's College Christmas Fair
When: Saturday 25th November 2023
Where: King's College School SW19 4TT
Time: Saturday 11:00am – 4:00pm Download invitation
DECEMBER
Black Mountains Smokery Tasting Day
When: Saturday 2nd December 2023
Where: Black Mountains Smokery, Elvicta Trading Estate, Crickhowell, NP8 1DF
Time: 10:00am – 3:00pm. Shop will be open until 5pm. Download invitation
City Christmas Fair, in aid of Wellbeing of Women
When: Monday 4th December 2023
Where: Draper's Hall, Throgmorton Ave, London EC2N 2DQ
Time: 11.00am – 8.00pm Download invitation
Christmas Cocktail Event, in aid of Save the Children
When: Tuesday 5th December 2023
Where: Chelsea Old Town Hall, King's Road, London. SW3 5EE
Time: 12:30pm – 9:00pm Download invitation