Very simply – we'd like you to choose us for the flavour of our foods and the friendly, dependable service we offer.
Jo & Jonathan Carthew, Black Mountains Smokery
Good Old-Fashioned Customer Service
Our phone lines are open from 8.30am – 5.00pm on normal weekdays with extended hours and weekends in the run up to Christmas. Please do not hesitate to phone us for help with ordering, serving advice or any issues or frustrations.  We are here to help!
'I will definitely be using (and recommending) you in future as your products are fantastic and I know you have a terrific attitude towards your customers.'
Harriette Novelle December 22
'Your company went above and beyond … I heard raves about the food which was thoroughly enjoyed on Christmas Eve and the customer service was outstanding.'
Dianne Smith, December 2022
'I have to say that we have used your company before, and will do so again as I really do think the customer service you offer is exemplary. The food is fabulous too!'
Dasa Brynjolffssen, April 2022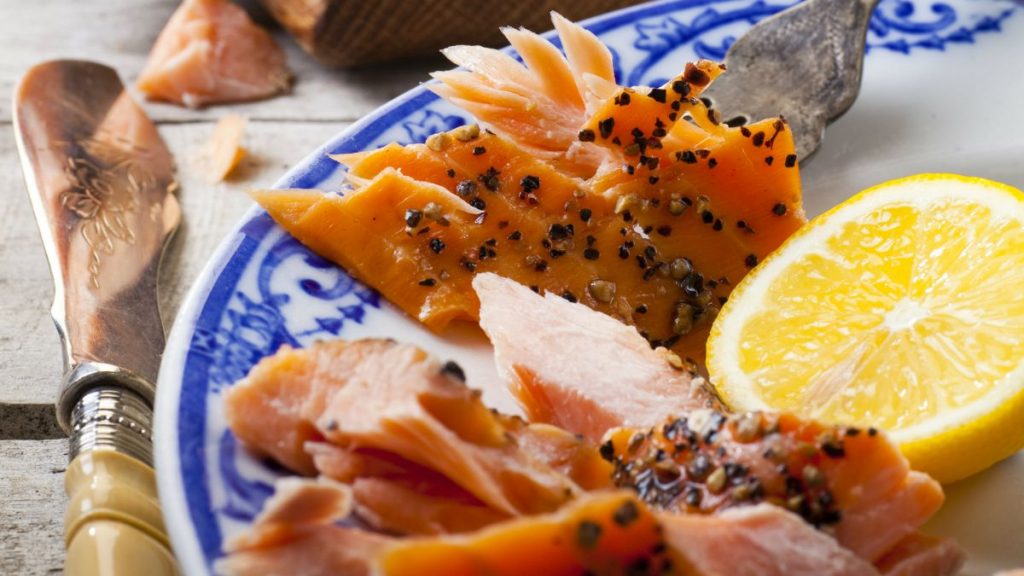 Our award-winning smoked foods are traditionally cured and "Gently smoked over Welsh Oak". Our smokery produce includes smoked salmon, fish, chicken, duck & cheese and
smoked food gift hampers.
We work closely with other Welsh family producers sourcing artisan food and drink to ensure our hampers are full of flavour & integrity.
Ordering and Delivery
Order in Advance – Choose your Delivery Date
Chilled Delivery £9.95 Mainland UK
Delivery FREE on orders worth at least £150 – Delivery FREE for Hampers
DELIVERY CHARGES VARY FOR UK HIGHLANDS & ISLANDS.
Buy online or download our latest price list (or request one by post) and simply phone for orders, corporate enquiries & any further information or advice.
Trade Enquiries
We supply chefs, caterers, cafés, farm shops and delis. If you are a trade customer, please contact us via email or phone to request our wholesale prices here.
Corporate Enquiries
We are delighted to quote for corporate gifts and staff incentives.  Please contact us for more information.
Fresh Produce
Our products are sourced with care, freshly prepared and vacuum-packed. This means they are suitable for home-freezing without loss of flavour or texture, with the exception of Smokey Jo's Pâtés.
They should otherwise be kept refrigerated at or below 3°C and should always be consumed within 3 days of opening.
The shelf life of our food varies from 10 and 28 days depending on the particular product. It helps us greatly to receive orders with some notice so that we can plan our production to meet delivery needs. This means that we can pass on as much product life to our customers as possible.
Promotions
To receive news of special offers, seasonal buys and recipes, please register to sign up to our monthly e-newsletter. We promise not to bombard you with emails – and we will never pass on your details to any third party.  Don't miss out on special offers and bulk buys on our smoked fish and meats.
Packaging
Our branded and recyclable gift packaging in the form of beautiful sleeves and cartons brings a sense of our surroundings and makes every one of our award-winning products worthy of being gifted, however big or small.  Our produce is otherwise packaged in smart but simple gold vacuum packs. Our packaging is kept to a minimum to reduce the cost to you and to minimise its environmental impact. The quality of our range of luxury foods is in the eating!
All orders are dispatched in food safe insulated outer packaging. Each parcel carries a label indicating that the contents are perishable and the date they should reach a refrigerator, which is a maximum of 48 hours depending on weather conditions.
The packaging of our larger hampers, (gourmet boxes, feasts, and larders) is either reusable or recyclable. Please feel free to reuse the liners and enjoy using them for your own picnics.
We are always striving to improve our packaging in terms of sustainability and eco-friendliness. Our current offerings reflect what options are available to us as a small company but you can expect to see improvements in the near future.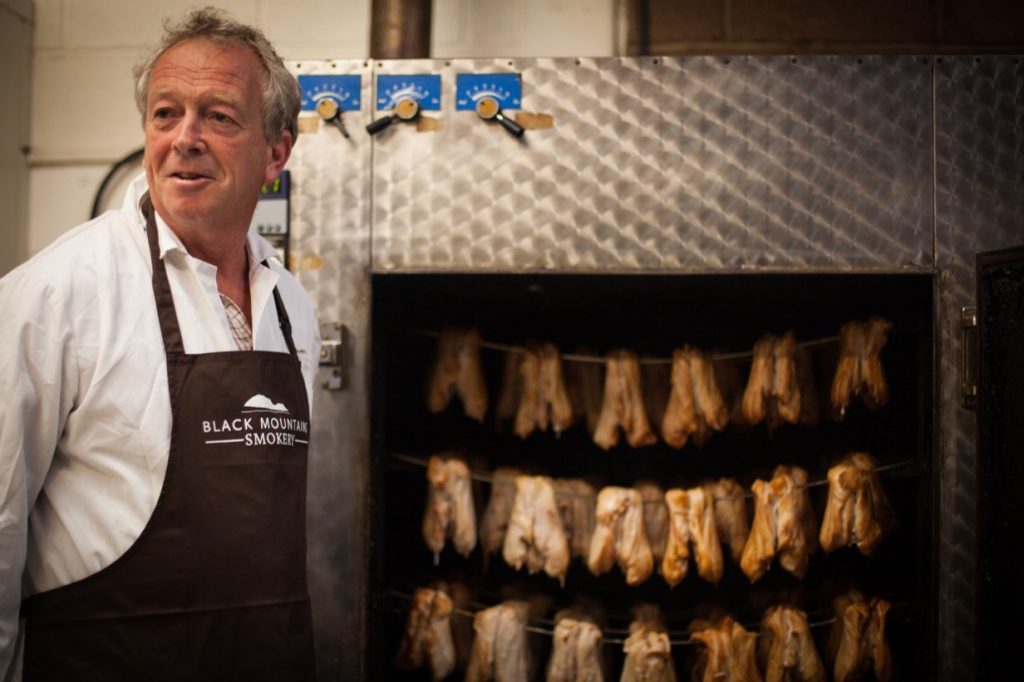 Provenance & Sustainability
We take pride in knowing the exact provenance of everything we buy. We source our fresh foods with great care from quality UK suppliers only and process them at our own smokehouse.
We purchase only premium grade, sustainably farmed salmon from Shetland. The salmon are fed a diet of high quality fish meal and fish oils derived from wild caught small fish, such as capelin, which they would eat in the wild. They are reared in high currents enabling them to swim and shoal as they would in the wild producing lean, healthy salmon perfect for smoking. Top quality salmon farmed in harmony with the environment helps protect precious and scarce Wild Salmon by reducing demand on wild stocks.
We do not offer wild salmon or eel in our range as these are no longer sustainable unless line caught by individual fishermen.
Our sea fish – haddock, mackerel and kippers – are all North Sea sourced and considered sustainable catches under Marine Conservation (MCS) recommendations.
We use only UK Farm Assured (Red Tractor) chicken and duck. Gressingham Duck is a unique breed of duck, renowned by top chefs for its succulent meat and fantastic gamey flavour. Our cooked ham and dry-cured bacon are produced from Free Range pigs. Welsh Dragon Pork Sausage is made by our local butcher in Crickhowell. Welsh Cheddar is sourced locally from the Blaenafon Cheddar Company and our Welsh cheeseboard sourced from all over Wales.

I had a card from my mother, thanking me again for introducing her to your products. It's true, once people try your stuff, they can't get enough!
Alex S, November 2020