About Black Mountains Smokery - Our Story
How it all began – heading home to Wales
Jo and Jonathan headed home to the UK in 1995 after nearly a decade spent in Southern Africa. After journeying home overland as far as Kenya with their baby daughter, Hetta, their thoughts turned to South Wales and the Brecon Beacons. Drawn by the love of the beautiful 16th century Welsh Long House, where Jo had spent much of her youth "out in all weathers … damming streams, walking, riding and picnicking in the mountains." Jonathan too had grown to love the cottage near Crickhowell in the Black Mountains. They had even honeymooned there.
"It was our dearest wish to make Penyrheol home. We came back from Botswana and searched in earnest for ideas to make it happen."
Ironically our destiny was sealed in Scotland, following a chance encounter between Jonathan and a Ghillie, who ranted about mail order smoked salmon and told Jonathan of a smokery for sale there.
The doors of Black Mountains Smokery opened in February 1996 after several months of product development. Then the real process of building the business began. As a family-run business, we have strived to maintain our original commitment, "making really good food even better," and serving it up with good old fashioned service.

Smoking and curing used to be about preserving the food, nowadays it's all about taste enhancement.
Jonathan Carthew, Black Mountains Smokery
Celebrating 25 years!
We have developed a fresh, delicious and sustainable range of traditional, naturally oak-smoked salmon, fish, meats, duck, poultry and cheese, containing no artificial anything, delivered to you with friendly and reliable service.
From frighteningly small beginnings, 25 years on, our artisan food produces a healthy turnover, servicing both the local rural community and a very loyal, ever-increasing customer base further afield. Alongside fantastic support from both wholesale and retail customers, we can boast a long list of Food Awards as well as some wonderful press coverage and testimonials for our Smoked Salmon and other Smoked Fish, Meats, Cheese and food gifts and hampers.
The gift side of our business has grown out of all proportion and we now work closely with many like-minded artisan family producers, mostly Welsh and many local, to keep our hampers selections full of integrity and flavour.  There is nothing pointless in our hampers. Our beautifully branded sleeves and boxes create gift packing for that extra special luxury experience.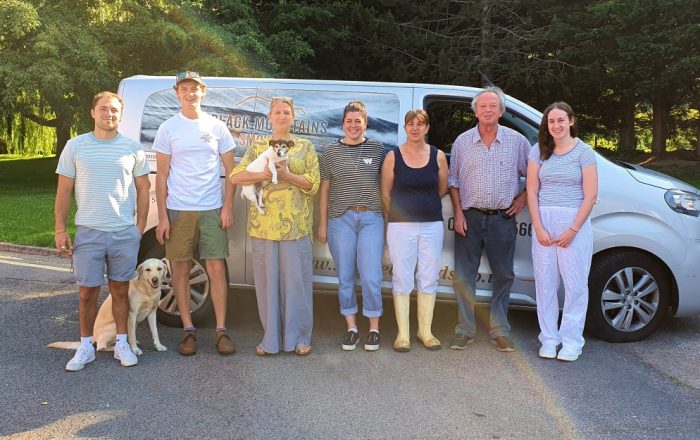 It's all hands on deck!
The Carthews — Jonathan, Jo, Hetta (27) and Hugh (25) – are often to be seen at food festivals and fairs working together with the family team being  involved more than ever during the 2020 Covid lockdown. Despite other business interests and studies, H2 have given precious time and energy to the family business they know so well… We simply could not have managed without them!
Blyth, who has worked in the office since 2019, after many Christmas packing jobs with us over the years, moved into our family home prior to lockdown, along with Maddie who stepped in to help in the warehouse.  This meant that we all quarantined together so that our workforce was from a single household.  Corinne, our production manager, returned to work after her quarantine period, much to our great relief! Click here to Meet the Covid 20 Team
We are very proud to be part of what is now a vibrant and passionate local food community in the Brecon Beacons. From producers to plate this area is home to a wealth of fabulous food as well as the Abergavenny Food Festival, the best food festival in the land!
Our smokery shop-showroom has easy access & parking. You can order in advance and collect.  Please visit us!

I had a card from my mother, thanking me again for introducing her to your products. It's true, once people try your stuff, they can't get enough!
Alex S, November 2020