Oak Roasted Salmon Rudolph Potato Jackets Recipe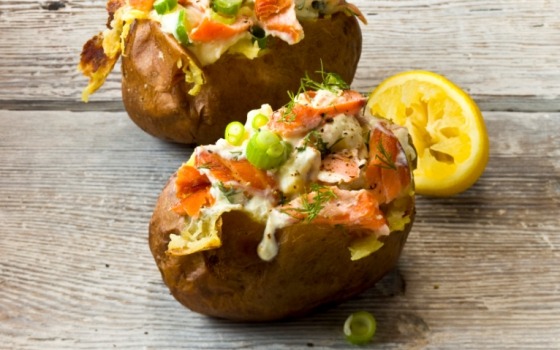 Serves 4 – Our Salmon Jacket Potato Recipe is a warm and filling option for those rainy days.
Ingredients


4 Large Rudolph potatoes – scrubbed
1 tbsp Fino Olive oil
1 Heaped tsp Halen Môn sea salt – ground
2 Fillets Oak Roasted Salmon – flaked
1 Lemon, zest and juice
3 Spring onions – finely chopped
1 tbsp Fresh dill – chopped
1 Heaped tbsp crème fraîche
Freshly ground black pepper
Heat the oven to 200?C. Lightly coat the potatoes in Fino Olive oil and sprinkle with the Halen M?n sea salt. Bake until soft for approximately 1¼ – 1½ hours.
Place the remaining ingredients into a bowl, combine and season to taste. Cut the potatoes into halves, scoop out the potato and add it to the Oak Roasted Salmon mixture. Once it's gently combined, re-fill the potato shells and serve.