Award Winning Smoked Salmon
Free Postage to UK on Hampers
PROUD TO BE A GREAT TASTE PRODUCER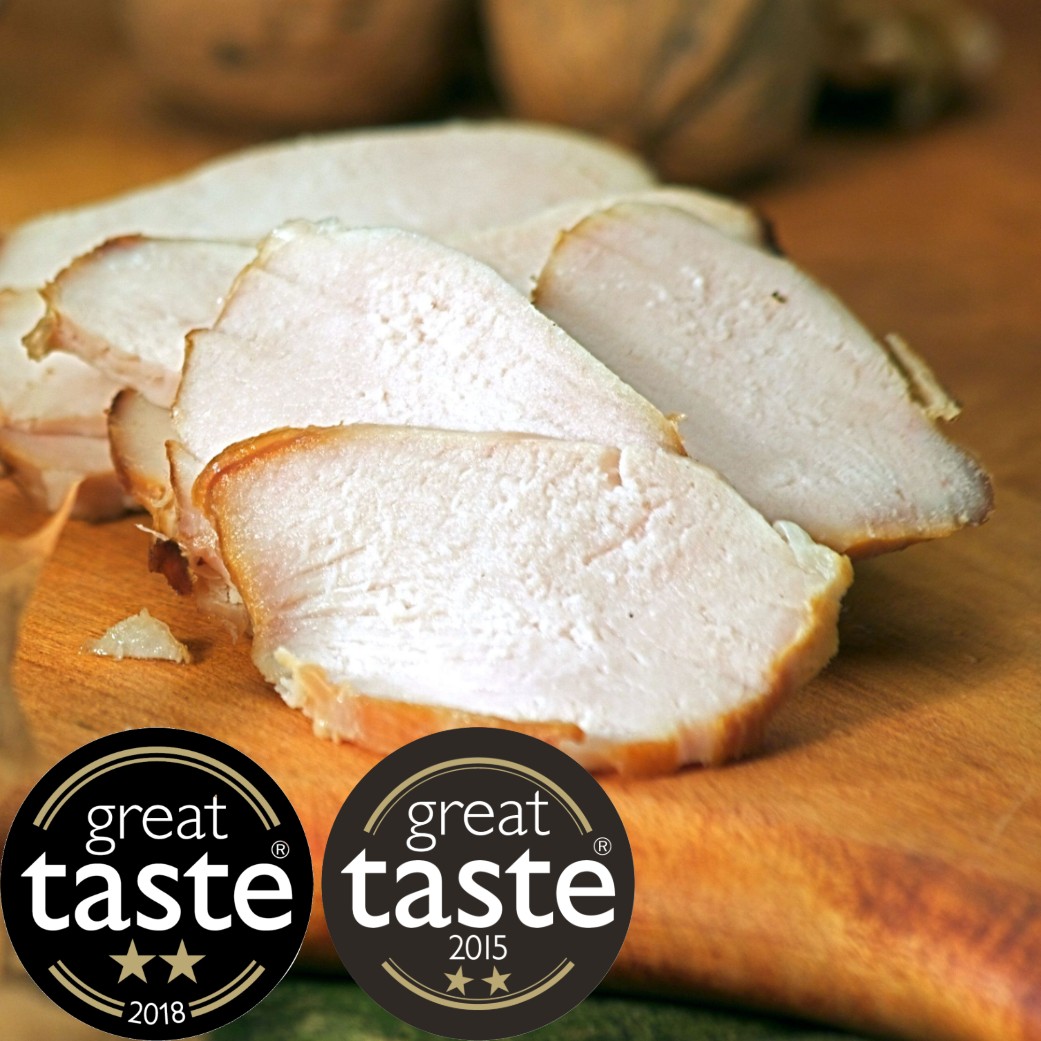 We are really thrilled that our Oak Smoked Chicken Breast has won 2 Gold Stars in the 2018 Great Taste Awards to add to its 2015 Stars.
"Impressive - well done! Very juicy and moist with an immediate and appealing smokey aroma. The flavour of the smoke is natural and well balanced and the chicken not overpowered"
"This Smoked Salmon is attractive with blushing colour and not fatty; great texture with a good dry cure and a well balanced hint of oak smoke." GTA 2017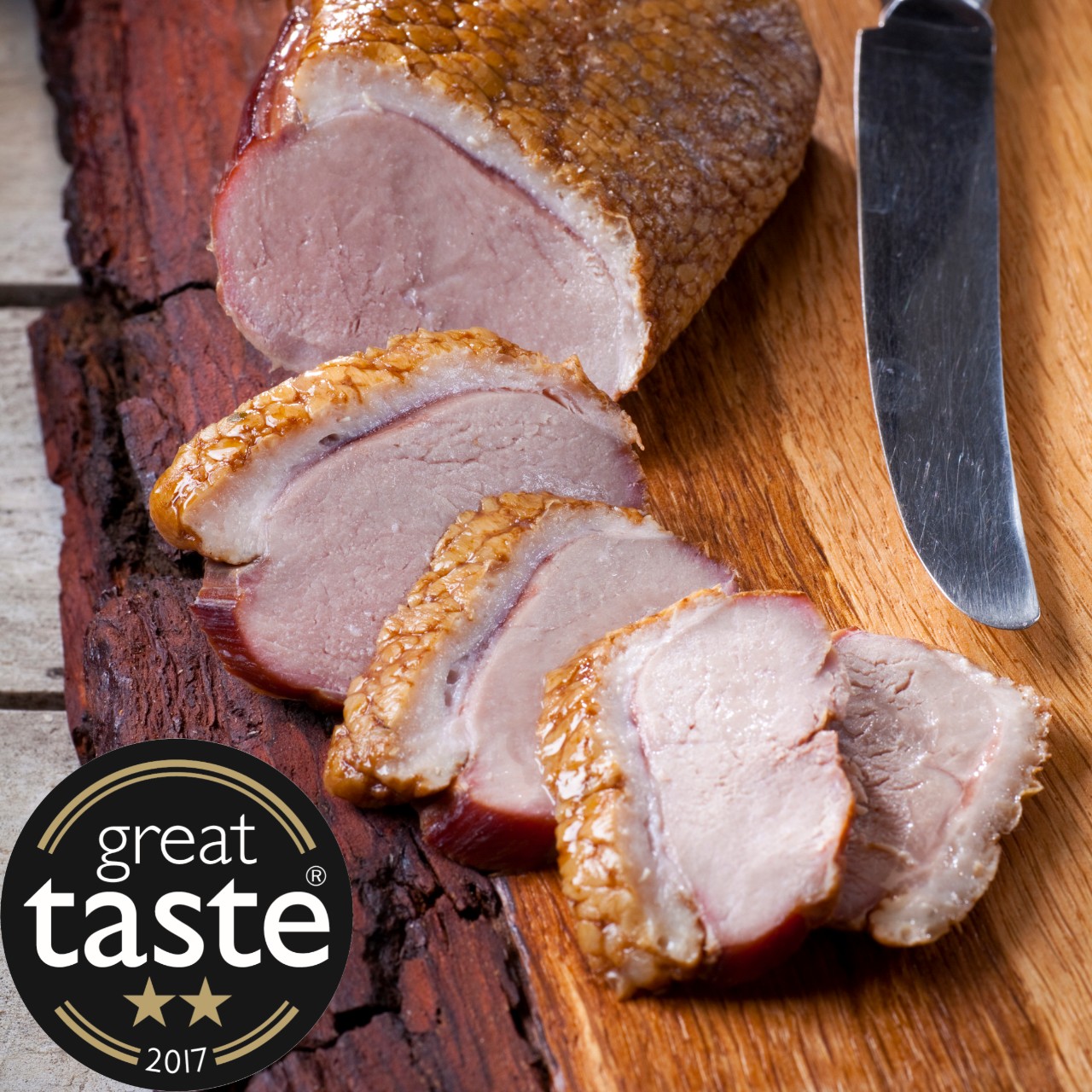 The
Smoked Duck
won two gold stars at the Great Taste Awards in 2017, to add to it's collection of 9!
"This Smoked Duck is a real delight! Wonderful soft texture with a layer of buttery fat. The delicate use of smoke brings out the natural sweetness of the duck." GTA 2017
Roll on 2019 ...
Press Coverage
Wales Online, December 2019 - The Ultimate Welsh Christmas Gift Guide
Country & Town House, December 2019 - Let Them Eat Cake
Taste Blas, Summer 2019 - Picnic 'n' Mix
Herefordshire Living, October 2018 - Holy Smoke - Black Mountains Smokery Article
Delicious Magazine, October 2018 - A Foodie Post Card from Abergavenny
Guild of Fine Food Digest 2018/19 - The Cure A to Z
Lonely Planet Magazine, March 2018 - A Taste of Wales: stories worth savouring
The Independent, November 2017 - Penyrheol Luxury Welsh Wicker Hamper - Best Christmas Food and Drink Hampers
The Telegraph, November 2017 - Best Christmas presents for Dad
Country and Town House, November 2017 - Gift Guide for Christmas Hampers
The Independent, December 2015 - Top 20 Subscription Gifts
Quarterly Review, November 2015 - Festive Food & Drink
Archant County Gift Guides, December 2014 - "10 Food & Drink Treats to Enjoy this Christmas" (Gourmet Deli Hamper)
Mail Order Hot - "Their gift hampers are great"
Delicious Magazine, December 2013 & 2014 & 2015 - Guide to Christmas Hampers List
Stylenest, December 2014 (Compared to the most prestigious here!) - Best Christmas Hampers (Gourmet Deli Hamper)
The Independent, December 2012 - "10 Best Christmas Hampers" (Smoked Fish Hamper Box & Subscription Salmon)
CountryLife, November 2013 - The Gift Box Hamper
Economia Magazine, November 2013 - Subscription Salmon
Insignia, Lifestyle Boutique - "Top 10 Super Luxe Hampers 2012 & 2013" (The Gourmet Luxury Wicker Hamper)
The Shortlist Cool Stuff Christmas Guide, November 2013 - Taste for Two & Smoked Fish Hamper Box
Felicity Cloake, The Guardian, June 2013 - "Beautiful, mild-flavoured smoke and rich, sweet meat – a real treat." (Smoked Duck)
"Very well done on your GTA success. Best wishes from everyone here."
Customer Testimonials
'I have only just finished your ham, which I must say was the best I have had in a very long time and was much enjoyed by my family and friends.'
Miriam Rogers - January 2020
'We bought a cooked ham from you, amongst other things. All delicious but the ham will now be a permanent fixture of our Christmas. Totally succulent and cooked to perfection. It made life so much easier and so much better than one I would have cooked myself.
Trish & Paul Scallon - January 2020
'Our ham looked just delicious but when it came to eating it we ran out of superlatives! It was (and still is just) simply scrumptious, out of all expectations and apart from the great taste the texture is perfect. We just felt we had to let you know.
Basil Thomas - January 2020
'[The hampers] were well received by all the family in various parts of the country! My wife and I ordered the smoked salmon and smoked duck, both of which were absolutely delicious.'
Nick Collings - December 2019
'My order was excellent as usual. Thank you'
Sue Eaves - December 2019
'Life's too short to consider an inferior product'
Deiniol ap Dafydd - July 2019
"The best smoked fish and chicken we have ever tasted"
Mrs Gaywood - March 2018
"I called in your shop whilst in Abergavenny at half term, I've got to say this is the nicest smoked salmon I've ever purchased, well done!"
Sue Frezza - December 2018
"I have tried smoked salmon from numerous sources over the years. I have found Black Mountain's salmon to be better than any. Highly recommended!"
David Pollitt - November 2018
"Delicious looking salmon, sent by a friend, just arrived on my doorstep! Thank you so much!"
Katie Rockley - October 2018
"Thank you, received order, which was beautifully packed"
Sara Bunn - September 2018
"The food is so delicious we always look forward to receiving our box"
Sally Evans - June 2018
"I was with one of the recipients of your smoked salmon on Saturday and they loved it – as much as I do!"
Wonkie Hills - June 2018
"Your food brings the equivalent-to-sunshine gastronomic delight and I shall be proud and delighted to show it off with one of my oldest and deeply loved pals"
Rachel Lewis - June 2018
"Order arrived on date, despite snow! Delicious & admired by all. Thanks"
Brian Gascoigne - March 2018
"I recently had an order of hot roast smoked salmon and smoked duck breasts. I've had the smoked duck breasts before which are absolutely delicious and when I do the starter with oranges and walnuts for a dinner party it always goes down very well. A guest at my last one said the duck was 'absolutely delicious'. I'd not had the hot roast salmon before but that was absolutely gorgeous too – and the dill mustard sauce with crème fraiche was a brilliant combination with the fish.
Jonathan put an extra duck breast in my order as he said the batch of duck breasts were a little small, so please would you pass on my thanks and appreciation to Jonathan for that very nice gesture. I appreciated that very much and I thought it was a good example of excellent customer care. Thank you."
Louise Fleet - January 2018
"Thank you so much Jo. We have really enjoyed the smoked food over the last year."
Marika Valiaho - Subscriber - December 2017
"Hi Jo. It was delicious. I'm so glad we made the effort rather than resort to Waitrose!! My Dad is enjoying the hamper too."
Melissa Nicholson - December 2017
"Hi Kate, we're looking forward to having the fish over Christmas. We had the side of smoked salmon a few weeks ago at a relative's christening and it was delicious!"
Michael Gallagher - December 2017
"My order has arrived safely this morning - it looks delicious. Thank you for your efficient service, we now look forward to eating both salmons over this weekend! Happy Christmas."
Antonia Wilson-Clarke - December 2017
"Just to say, we were at the Highclere Castle Christmas Fair today and had the pleasure of meeting your lovely team; a very friendly young man and a delightful Australian girl, who is an absolute credit to your business. Her knowledge of the brand and products was outstanding and she was incredibly engaging; no wonder they had practically sold out by lunchtime! We were so impressed; the products are delicious, we will enjoy them - thank you so much!"
Chloe Spence - December 2017
"Thanks for your telephone help with my order and difficulty logging in to my account with my visual 'impairment."
Susan Lynn - December 2017
"Just a quick note from a very happy customer, that all the right things happened, and your box of delights is a magical culinary wonderland - the courier arrived just at noon and he was a lovely visitor - THANK YOU."
Dr Ruga - November 2017
"The cheese has arrived - very many thanks. We attacked the other one last evening- quite delicious!"
Basil Thomas - November 2017
"Dear Jo, Just to let you know that the shipment arrived safely here in France - and beautifully packed - yesterday afternoon. Thank you."
Helen Jones - November 2017
"Hello, still loving your boxes. We're working through the cold meats from last month, slowly, as they are so delicious. Thanks."
Alex Smith - Subscriber - November 2017
"We are so pleased with our treat - delicious, tasty moist salmon - perfect! Delivered in a most satisfactory state. We may well be back for more!
Judy Davies - October 2017
"Thank you shipment safely arrived and excellent as always so will be ordering more from your list."
Judith Patrick - September 2017
"Smoked Duck was delicious, thank you. Slowly getting back to normality after our hectic 'wedding festival'!"
Louisa Stout - Caterer and producer at Lodge Farm Kitchen - August 2017
"Hello - Thank you for your flexibility!!! Ana"
Ana Belmonte - August 2017
"Very well done on your GTA success. Best wishes from everyone here."
Alison Lea-Wilson - Director at Halen Môn - August 2017
"Thank you! Smoked butter and cured meats, what a box of delights! We would love to take some to a wedding we're going to next weekend. They've asked for no presents but food contributions, and given they're keen hunters, preserved meat would be ideal!"
Alex Smith, Subscriber - July 2017
"I have just had a glowing report on the Hamper I asked you to deliver to London! You have never let me down and I am delighted to continue to send your Hampers to my friends! I hope to pop in to see you soon as I have never actually been in the Shop!"
Tonina Watkins - July 2017
"Products went down really well –thanks for your help in turning this round so quickly."
Lloyd Hardwick - June 2017
"Dear Jo - The salmon was absolutely fabulous, in fact so good there was nothing left! Thank you."
Pippa Napier - May 2017
"Thank you for the absolutely delicious side of hot-smoked salmon that we feasted on on Good Friday - even my little granddaughters thought it was lovely. You said it served 8-10 - there were four adults & two young children, and we didn't stint ourselves (seconds all round for the adults) and there was still some left for sandwiches the following day. We were sad when it was finished! But there are smoked chicken breasts in the freezer to look forward to..."
Diane Webb - April 2017
"Thank you Black Mountains Smokery, everything arrived as per the order, I have no doubt we'll use you again."
Joan Knight - April 2017
"Really good to be able to call in last Wednesday and finally see where it all happens. Congratulations on your 21st Birthday."
David and Hilary Burnett, Penarth - April 2017
Thank you very much for dispatching my order so quickly - it arrived safely yesterday afternoon. Kind regards,"
Eleanor Evans - April 2017
"Many thanks to the kind driver who found my friend's remote cottage near Llangedwyn this morning. I'm afraid (sitting in my office in the City of London) I wasn't much use when the poor man called wanting directions. But he must have found his way as I've just had a call from Sara, who is delighted with her parcel. She's recovering from a major operation but says your lovely food has cheered her up! All she needs is a lemon!"
Kate White - February 2017
"We thought the quality of your smoked salmon was very good and we shall certainly continue as a customer. We are also enjoying the smoked chicken and are slowly eating through our modest stockpile."
Henry Shaw - January 2017
"We are very old customers in all senses of the word. We had the last of our smoked salmon (from the freezer) last evening and both concluded that it is SO very much better than anything else we have tried in recent years. Thank you"
Professor Rathbone - February 2016
"The Old Breconian Association congratulates you all on your 1st 20 years. Great people producing a great product. Here's to the next 20!"
February 2016
"Thank you for the excellent Hot Smoked Salmon which was a great success at our party. This was our second side from you and we will be ordering again."
Judith Patrick - January 2016
"You very kindly sent me a new side of smoked salmon that arrived yesterday. Delicious!! and we both had a lovely big plate last night. Thank you so much for the effort you make for us - much appreciated."
Caroline Petre- January 2016
"I have just received the duck breast which has followed on from the original order. All the recipients and tasters have been delighted with your products. They have added greatly to the Christmas spirit. I have been very pleased with the quality and very satisfied with your service. Everyone has commented on the excellence of your packaging and I am of the same opinion when I see how the duck breast is packed. Happy New Year!"
Rowena Stocks - January 2015
"Hello. Everybody (except Nigel because he is still on holiday!) received their New Year hampers today and they are all delighted with them. Thank you very much!"
Kate Davies – January 2015
"We do hope you've survived the run up to Christmas – we have just happened to hear great reports of your smoked stuff all the way from Scotland."
Tim Horley – January 2015
"Many thanks for forwarding the new board so promptly."
Thelia Lyn – January 2015
"Just wanted to drop you a quick note to say how absolutely thrilled we were with the smoked salmon you supplied for Christmas. Absolutely superb. We had some friends who used to run their own smokery and since they closed it we have never been able to find smoked salmon that was as good, until now! "
Dominic Timberlake – January 2015
"Dear Joanna, Thank you so much for arranging a further delivery. That is extremely kind and we are very grateful. This is to let you know that I am not stirring from my sister's house all morning until it has been received. Many thanks and Christmas greetings .... Delighted to say that the box has just arrived safely. Thank you all so much."
Helen Clarke – December 2014
"Just to say thank you for another excellent smoked Salmon side. Best wishes, "
Martha Roberts – January 2015
"Hi Jo – We are really enjoying the ham – in fact so much that we have made a huge dent in it this weekend – any chance of another before Christmas?!"
Beetle Graves – December 2014
Dear Team Black Mountains Smokery, Thank you for exceeding our every expectation !!
Jane & Lyndon Duke - January 2014
"Very excited to receive my delivery as I had a taste at my parents at Christmas and was totally sold!"
Anna Mackay - January 2014
"Just to let you know the salmon we ordered for Christmas was fantastic and we will definitely be ordering again."
Marina Anderson - January 2014
"I ordered a meat hamper for my brother in law - a big meat fan - for Christmas and just want to say thank you! He loved it and tells me that it's absolutely delicious!"
Niki Amos - January 2014
"Just celebrated my Mum's imminent 90th BD with lots of family - thanks to Hetta and Joanna at Black Mountains Smokery for the most delicious roast salmon - scrumptious!"
Charlotte Drake - December 2013
"Recipients of the hamper are raving about it -"nothing pointless in the hamper" "best smoke salmon ever" they weren't even meant to open it till Christmas!"
Al Romanes - December 2013
"Thank you for the excellent service, all goods arrived safely and on time, we look forward to enjoying them"
Mark Bullen - December 2013
"Thank you so very much for our delivery . Delighted with our order as always!!"
Ann Green - December 2013
"Thank you and your team.... both hampers received and greatly appreciated!!"
Kelly Dixon- December 2013
"Just to let you know that we received your delicious Ham yesterday and it is in the fridge prior to our going to Hong Kong. It was beautifully packed and I will use some of that foam to put round the side of frozen smoked salmon that will also be going in the case. I will eventually send back the foam when I return."
Ann Foley - December 2013
"@BlackMountSmoke

the foodie find of the year!
Seriously, your smoked duck breast was absolutely incredible. Ordering some for family Christmas canapes!"
@SenoraBiggles - November 2013
"Thank you for your prompt reply, so nice (and rare) to get good service. Will be placing an order shortly."
Caroline Lulus - October 2013
"Your

smoked butter

which I bought at the Red Cross Garden Event is delicious with asparagus as you predicted! "
Mrs Virginia Carlton - May 2013
"I'd just like to tell you how amazing your

smoked chicken

is! I've literally never tasted anything like it. Keep up the great work!"
Amber - May 2013