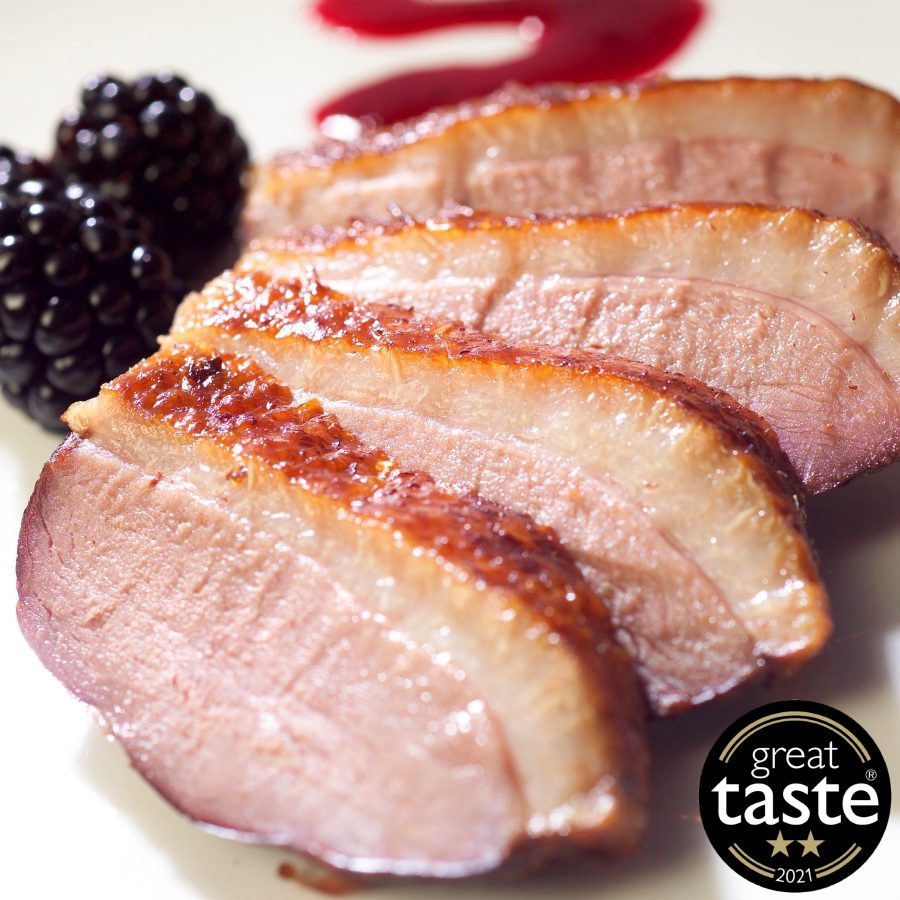 Our Smoked Duck Breast won another 2 gold stars recently at the Great Taste Awards 2021 – to add to its collection of ELEVEN stars already!
"This is a large duck breast that has been very gently smoked so it still retains some pleasing duck aromas. It carves really easily and is soft and yielding. On tasting, the subtle smoke enhances that rich duck flavour and the subtle cure adds delicious seasoning. This is so clever as often smoked duck is just smoke, salt and leather! This is soft, enticing and full of flavour – even the skin is easy to eat. This would be delicious thinly sliced as a starter with a little fresh fig or a fruit compote, or in a salad with warm new potatoes, fresh peas and some bitter leaves. This is a great smoked duck breast." Great Taste Awards 2021
Our Traditional Oak Smoked Salmon was awarded another 2 Gold Stars in the 2020 Great Taste Awards to add to its 2011, 2015 and 2017 Gold Stars.
"Generous slices of smoked salmon with gentle smoke on the nose. The salmon just melts in the mouth – buttery, sweet and tasty flesh with gentle back notes of smoked oak. You could eat this just on its own – nothing else needed – just deliciously tasty and perfectly balanced."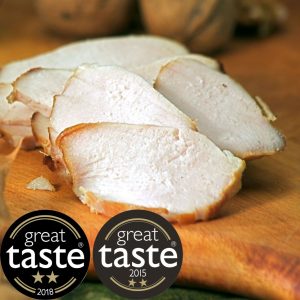 Our Oak Smoked Chicken Breast won 2 Gold Stars in the 2018 Great Taste Awards to add to its 2015 Stars.
"Impressive – well done! Very juicy and moist with an immediate and appealing smokey aroma. The flavour of the smoke is natural and well balanced and the chicken not overpowered"
Recent Customer Testimonials
'….what a pleasure it is dealing with you – so easy, friendly & competent
Mrs Jones, May 2022
'I have to say that we have used your company before, and will do so again as I really do think the customer service you offer is exemplary. The food is fabulous too!'
Dasa Brynjolffssen, April 2022
'We just received the most thrilling box of goodies – delicious and beautiful all in one package! Just such a lovely thing'
Miranda Chalk, April 2022
'I just thought I would drop you a line to express my appreciation of the customer service I received from you last week on placing my two first orders with Black Mountain. Despite some initial low-tech incompetence on my part, I encountered nothing but courtesy and helpfulness throughout. My order, delivered to the Amman Valley, arrived exactly when you said it would, was beautifully packed and 100% correct and we look forward to sampling the goodies tonight as we celebrate Gwyl Dewi. In particular, I want to apologise profoundly for giving you the incorrect house number – and moreover one for an unoccupied property! – for a gift box you delivered on the same day to a friend in Aberystwyth.  My friend not only received his gift safely, but had already enjoyed the chocs by the time I phoned. I'm still not quite sure how that was achieved, but – thanks!
We will certainly be ordering again.'
Janet Wynne Evans, April 2022
'This version (of smoked salmon and scrambled eggs) is inspired by and in honour of my lovely friends Jonathan and Jo – AKA The Smokies. For the last 25 years, they have been running Black Mountains Smokery and even Ludo's dad, who lived in Scotland and thought no one could smoke salmon properly south of the border, conceded that their smoked salmon is the best he'd ever tasted'
Kate Humble, Home Cooked – published 2022
'We have safely received our gift voucher. A great service! Thank you'
Petrina Guinan, February 2022 
'I had one of your hampers delivered to my Mum for her 90th birthday. She loved all the goodies packed so well into her box which arrived exactly on the day I asked for, she hasn't stopped talking about it. So easy to arrange and order even from New Zealand. Thank you to all the team'
Stuart Oulton, February 2022
'Thank you so much for the epic hamper, which I am still enjoying one item at a time, and sharing several of them with family and friends. The duck was particularly memorable'
Owen Saer, January 2022
'I bought a hamper for my foodie son for his birthday in October. He loved it. I asked for it to be delivered to him on his birthday and it was. I would highly recommend Black Mountains Smokery to anyone, and will definitely be buying more from them . Try it, you won't regret it'
Ann Griffiths, December 2021
'Just to let you know that my order did arrive and the salmon and duck breast were absolutely delicious'
Ann Buxton, December 2021
'Thank you for making our Christmas extra special xx'
Catherine Messenger, December 2021
'Just wanted to say that the side of smoked salmon arrived just now, it looks tremendous! Happy Christmas to you all'
Kanny Ledger, December 2021
'The smoked duck breast is absolutely the best! A must-have for Boxing Day'
Barbara Warren, December 2021
'I am very impressed with your customer service support and indeed extremely grateful for your kindness in organising a complimentary side of salmon to be sent to us. I have received some very nice messages from happy customers who we gave your smoked salmon to who all commented on how very special it is'
Judy Musson, December 2021
'Thank you for the excellent quality of the smoked meat and fish which you delivered to us for Christmas. This is the third year in a row we have ordered from you and we have always been impressed by your produce and have recommended you to friends and family. Also, the service you offer is exemplary; the order arrived exactly as you had indicated and was expertly packaged'
Nicholas Kitchen, December 2021
'When my order was received yesterday there were items missing which I reported immediately. I was assured this would be corrected and am delighted to report that the missing items have been received today. I am so impressed by your service level and wish to convey my sincere thanks'
Alison Menzies, December 2021
'Yesterday I received a hamper from you as a gift from a dear friend in Brecon. It arrived beautifully packed and I am looking forward to sampling some of it on Boxing Day. Be assured that, when next in Brecon, I will make sure that I visit your shop, it looks full of yummy goods!'
Jean Griffin, December 2021
'Thank you so much for your excellent service'
Jose Luke, December 2021
'Thank you our delivery arrived this morning at 8.46 precisely! Everything was beautifully packaged and will give us a lovely Christmas. Thank you for being so fantastic. We can't recommend you highly enough. We are now, if you will have us, devoted customers'
Keith Davies, December 2021
'We love your produce and have been using it for years… we used to take masses of it on boat charters in Greece as your smoked stuff lasts so well and was always such a treat!'
Stephie Boyer, December 2021
'Thank you so much for the wonderful hamper, which will be much enjoyed'
Hilary Rayner, December 2021
'You produce lovely, quality food and I wish you well for the future'
Nina Alderson, November 2021
Georgie was thrilled with the gift – but more so that it had come from Black Mountain Smokery! Small world indeed! Many thanks and great service as usual!
Ursula Scott, October 2021
'We wanted to thank you very much for our smoked trout that was beautifully labelled and packaged. We have thoroughly enjoyed it, it tastes wonderful. The ladies in the shop made shopping a pleasure'
Bobby Woodcock, October 2021
'Thank you Blyth. I'm really grateful to you and look forward to tasting the salmon'
Elinor John, October 2021
'We look forward to our delicious Black Mountains delivery as always'
Gay Cheyne, October 2021
Press Coverage
Escape to the Farm with Kate Humble (Winter Special) January 2021 – Escape to the Farm
Lodestars Anthology (Wales Edition) December 2020 – Lodestars Anthology Wales
My Countryside Christmas Issue November 2020 – Christmas Gift Guide
Wales Online, December 2019 – The Ultimate Welsh Christmas Gift Guide
Country & Town House, December 2019 – Let Them Eat Cake
Taste Blas, Summer 2019 – Picnic 'n' Mix
Herefordshire Living, October 2018 – Holy Smoke – Black Mountains Smokery Article
Delicious Magazine, October 2018 – A Foodie Post Card from Abergavenny
Guild of Fine Food Digest 2018/19 – The Cure A to Z 
Lonely Planet Magazine, March 2018 – A Taste of Wales: stories worth savouring
The Independent, November 2017 – Penyrheol Luxury Welsh Wicker Hamper – Best Christmas Food and Drink Hampers
The Telegraph, November 2017 – Best Christmas presents for Dad
Country and Town House, November 2017 – Gift Guide for Christmas Hampers 
The Independent, December 2015 – Top 20 Subscription Gifts
Quarterly Review, November 2015 – Festive Food & Drink
Archant County Gift Guides, December 2014 – "10 Food & Drink Treats to Enjoy this Christmas" (Gourmet Deli Hamper)
Mail Order Hot – "Their gift hampers are great"
Delicious Magazine, December 2013 & 2014 & 2015 – Guide to Christmas Hampers List
Stylenest, December 2014 (Compared to the most prestigious here!) – Best Christmas Hampers (Gourmet Deli Hamper)
The Independent, December 2012 – "10 Best Christmas Hampers" (Smoked Fish Hamper Box & Subscription Salmon)
CountryLife, November 2013 – The Gift Box Hamper
Economia Magazine, November 2013 – Subscription Salmon
Insignia, Lifestyle Boutique – "Top 10 Super Luxe Hampers 2012 & 2013" (The Gourmet Luxury Wicker Hamper)
The Shortlist Cool Stuff Christmas Guide, November 2013 – Taste for Two & Smoked Fish Hamper Box
Felicity Cloake, The Guardian, June 2013 – "Beautiful, mild-flavoured smoke and rich, sweet meat – a real treat." (Smoked Duck)
"Very well done on your GTA success. Best wishes from everyone here." 
.
More Customer Testimonials
'I'm writing to reiterate my thanks, an appreciation magnified by the resoundingly enthusiastic report I received from my son in response to the arrival and presentation of the product I chose as my gift to him'
David Warner, September 2021
'Wonderful service as always, thank you'
Lesley Olden, September 2021
'When through no fault whatsoever of yours our birthday gift to our friends failed to be delivered, your response and assistance was first rate and excellent. Our friends were delighted with the superb quality of the foods'
Bob Luck, September 2021
'We had the smoked duck and the smoked cheese last night and all our guests commented how good they were. I have recommended you to all that came'
Peter Blake, September 2021
'Thank you for my beautiful smoked duck. I am having friends to dinner next week and there was a special request to cook the duck recipe I did last time, Duck in Chinese Five Spice with pancakes which is on your website'
Katina Beale, September 2021
'Thank you for usual efficient helpful and friendly service'
Joan Rule, August 2021
'Just received a gift box with smoked chicken, trout, duck, salmon and condiments; it was fantastic and delicious! Best smoked chicken ever. Thanks to Stephanie Hewson for her gift!'
Julia Barber, August 2021
'I received my delivery this morning and as ever it is everything online food should be. Well packed with great care, the fish looks in absolutely perfect condition and professionally presented'
Mick Lawson, August 2021
'I just want to thank you all at Black Mountains Smokery for the wonderful prize that I won in the Horatio Gardens raffle! I am absolutely thrilled to have received this gift today, beautifully presented and absolutely delicious, it will be a great treat every time I bring some out of the freezer'
Penny Allen, May 2021
'The food is quite delicious'
Candy Baines, May 2021
'Thanks for getting back to me so quickly and clarifying my questions – I look forward to ordering and surprising someone with a hamper!'
Heather Webb, August 2021
'Thank you very much. What we have had so far has been brilliant'
Clare Plausin, June 2021
Please read on for more of your lovely customer testimonials ….
'My father in law absolutely loves your products so it's becoming a tradition for us to send him a Black Mountain Smokery gift for his birthday and Father's Day'
Paula Grainger, June 2021
'Please thank Blyth for me for yesterday – I phoned in a panic as suddenly realised I'd put in an old address for delivery! He saved the day'
Rob Falcon, June 2021
'Thank you so much, it has made my partner's 60th birthday tomorrow wonderful'
Sarah Kiteley, April 2021
'Thanks again for going above and beyond'
Chris Bulow, April 2021
'My Little Salmon Gift Box arrived first thing this morning. Please pass on my thanks for superb customer service to Blyth…..it is refreshing to know that there are still companies that can 'make it happen' and clearly BMS is one!'
Mike Boyle, April 2021
'I was really lucky to receive some very delicious treats from here for my birthday. I was so impressed that I made a birthday hamper for my best friend. The food is amazing, so delicious and great value for money. You get delivery updates and you can create your own hamper and my message was on a hand-written note. It was delivered on time for her birthday as requested and she is absolutely thrilled! I can't wait to order again. Thank you Black Mountains Smokery'
Cazington Gray, March 2021
'This weekend I will be hosting a post-lockdown get together for my partner's family, and your salmon, chicken and duck will be centre stage. They still make the easiest lunches, the simplest tastiest supper dishes. I don't know where I'd be without a drawer full of your goodies in the freezer'
Alex Smith, March 2021
'I have ordered some of your beautiful products for my daughter. They love your products so much'
Josephien van Steenberge, March 2021
'Thank you so much for your help!'
Sandra Jones, March 2021
'The gift box was received this morning and the recipient was delighted! Thank you for all your help'
Claire Holdsworth, March 2021
'The hamper arrived safely and my cousins were thrilled! It was just the treat they needed during lock-down 🙂 Many thanks for the wonderful service from your whole team'
Susan Robinson, March 2021
'Thank you very much, the parcels were received with delight!'
Christopher Suter, March 2021
'We're loving the stuff – it has such an intense flavour, works well in so many dishes'
Alex Smith, March 2021
'So impressed with my parcel from you; beautifully packaged and delivered on time. I found you very helpful and pleasant when I phoned through my order, making sure my box contained just what I wanted and it didn't disappoint in any way. Beautiful fresh tasty meats, cheese, and fish we so enjoyed, thank you. I have already recommended you to a friend and will certainly be purchasing from you again'
Valerie Morbey, March 2021
'Thanks a million for your kind help, Efficient and friendly manner and for brightening my day'
Pip Mahdy, February 2021
'Thank you Jo… We had the smoked chicken with salad for lunch – it was gorgeous. Looking forward to the remainder.'
Emma Geddes, February 2021
'Thank you so very much for my box. A birthday gift from my daughter. It arrived in plenty of time and was exceptionally packaged. I had the most fabulous breakfast and would recommend your company to everyone who loves fine smoked food. Thank you from a very happy mum'
Emma Rogers, February 2021
'My dear Jo, just wanted to thank you for our lovely Black Mountains hamper. George and I ate it for a celebration for our 40th on Saturday – quite delicious'
Di Halford, February 2021
'We received a box of your salmon as a surprise gift and were bowled over by the quality and variety of the produce. On the strength of that experience we ordered more for ourselves and as a Christmas gift for my sister. Again the quality was superb and the after sales service exemplary. At a busy time for the Smokery with delivery services over-stretched you were tracking deliveries and ensuring as far as possible that salmon arrived on time. You deserve more than 5 stars.'
Margery Smith, Google Review
'Thank you Team from a regular who used to buy direct from you every time my brother and I went to Crickhowell to trek the Brecons or Black Mountains. Delivery to Hampshire where I now live is never a problem and the quality is superlative. My favourite is still their wonderful smoked duck breast (which I always serve with segments of orange).'
Tony Williams, January 2021
'Hi Joanna, Jonathan and all your staff,
A much belated thank you for the salmon that accompanied our ham. We much enjoyed it as an extra festive treat. The ham and smoked salmon were delicious too.  I hope you all are feeling well rested after the festivities and ready to carry on providing us with delicious treats for 2021.
My mother was also delighted with the BMS  hamper we ordered for her for Christmas.'
Lucy Allen, January 2021
'Dads hamper arrived safely… and he absolutely loved it and couldn't have been happier! A very satisfied customer indeed.'
Thomas M, January 2021
'The salmon was sublime, the batch we had was perfect. All three families here had some, and we all thought it was brilliant!'
James Goodman, January 2021
'Having discovered Black Mountains Smokery having been sent a gorgeous hamper at Christmas, I set about sending a delivery to a dear friend for a lockdown birthday. My hamper provided enough food for an Army. Not only are the team a delight to deal with but their ability to match the tastes of individuals swiftly and beautifully means that I shall be surprising and delighting others wherever a gift is required. I must not forget to order myself some regularly as a treat!'
Kate Bright, January 2021
'I just wanted to drop a note to say thank you for making sure that my orders were delivered before Christmas (…) Our family was very impressed with the level of your service, before they were delighted with your delicious smoked salmon and duck. All our friends and families did enjoy the gift we sent to them this Christmas, and so did we, so thank you. I will be seeing you for more smoked foods this year!'
Mayumi Takahagi, January 2021
'Our daughter in America was not impressed with hampers offered by those famous names when hunting for a Christmas Special to delight her isolating parents in Cornwall.  As we all know the key to food is flavour and the choice of items from the Black Mountain Smokery was definitely the answer to her quest.  The salmon, terrines, smoked meats and cheeses were outstanding – several pegs above any deli products we've tasted. As this was the first time in more than fifty years we were unable to have a family Christmas, we went bonkers and celebrated Christmas Day lunch as a pair of dotty pensioners with champagne on the Cornish cliffs plus a BMS picnic. Crystal, silver, china and linen serviettes on a white table cloth!  Brilliant.  And the contents of that hamper just go on giving.  Thank you.  We shall be back.'
John and Fran Vessey, December 2020
'I wanted to say a big 'thank you' to you and all at the Black Mountains Smokery for your wonderful hampers which have gone down a treat with my family.
I was very impressed with the service I received from you all- nothing was too much trouble.   The hampers were delivered on the date as promised and seemingly the products are delicious!
I would have no hesitation in recommending your company and hope to be ordering from you again in the not too distant future.'
Rosita Roles, December 2020
'I just wanted to say how delighted all the customers are who bought from the Virtual fair – the hams were quoted as being 'wonderful' as was the smoked salmon.'
Jane Jones, December 2020
'I sent one of your hampers to each of my three children and a brother. They were all very much appreciated and everyone said of a much higher standard than anything that I had sent before.'
Bill Lane, December 2020
'Order received promptly and in good condition – beautifully packed. Thank you!'
Enid Thomas, December 2020
'I just wanted to send a quick message to say I have just received my gorgeous hamper and I am absolutely bowled over by your level of service. I had a delightful chat with a charming young man who I have learned is in fact your son. He explained that he and one other of your troop have driven from Wales to London this morning to hand-deliver a number of parcels that your courier was unable to – Simply amazing! In such strange times as these, it is acts like this that really do make the difference. My husband and I, like so many others, will be spending Christmas away from our family this year and enjoying your lovely food will bring us great pleasure. Thank you so much for going above and beyond – this is why we love you!'
Lucy Jones – December 2020
'I just wanted to let you know that all our Christmas orders arrived safely and have been hugely appreciated by all recipients. Those family members who we are unable to visit have been particularly grateful and delighted to be given delicious edible treats – a tiny way to spoil our loved ones in these awful times. Also, we all love the new packaging. Wonderful, thank you!'
Charlotte Attlee – December 2020
'Just to let you know that the hamper arrived today and everything looks great, in a strange way, having to isolate because of COVID19, the timing could not be any better. Regarding the other hampers which you delivered last week, I've had positive feedback from everybody. Thanks again for the great products and service.'
Curtis Johns – December 2020
'I have received the hamper that I won in the competition and would like to say a huge thank you.'
Jan Dalton – December 2020
'Just to say how your vouchers are appreciated by my friends who have already received them.
There was a great deal of excitement and it is so very gratifying for us – Thank you.'
Sara Williamson – November 2020
'A note to say I received my order yesterday of smoked chicken breasts. I took a chance ordering and I am not disappointed! Quality produce impeccably packed. I will order again and certainly recommend you to friends!'
Amira Asantewa – November 2020
'The smoked salmon is absolutely outstanding, and totally different to the supermarket fare. Even our teenagers noticed! And the service is second to none, personal, charming and very efficient – most impressive, particularly in these difficult times.'
G Magnay – July 2020
'Arrived safely, beautifully packed and delivered at the time estimated! Thank you it's all perfect and will be shared with various friends over the next few weeks. Everyone who eats it wants details of where to buy. I bet you're busy, and hope you are all well and safe.'
D Humble – August 2020
'Many thanks another delicious delivery arrived a short while ago. It was lovely to chat the other day; we so appreciate the first-class products you are producing and getting to know you better. We usually come down to stay at the Lake Country House hotel at least a couple of times a year so when it reopens, we will be able to come and call in again which will be lovely. Take care all of you and have a good bank holiday weekend.'
Ally Hargreaves – May 2020
'I would like to thank you for the delivery made to my Dad today, on his birthday. He was delighted. I am not sure what he will tuck into first. He informs me it was well packaged and the ice bags still cold which is very impressive considering it travelled from west to east. Thank you so much.'
Caroline Tallack – May 2020
'Smoked duck breasts have arrived still wonderfully cool in their special packaging- thanks for adding an extra. And I'm looking forward to trying smoked butter too.'
Sally Selby – May 2020
'Thank you very much for the beautiful hamper send to my daughter and her hubby on their first anniversary. They got married in Sugarloaf Barn year ago which is only few miles from you. It made their day getting something so lovely from the Black Mountains to remind them of their wedding day. '
Joanna Venning – May 2020
'I just wanted to say a heartfelt Thank You!! My Stepmothers Hamper arrived today just before lunch & they're delighted with it. I most definitely be recommending you to others.'
Sian M Hughes – May 2020
'Reporting in that my package arrived at 8:30 this morning. Such service. Our last pack in the freezer of BMS Smoked trout was used in our little VE Day Lunch celebration together with a glass of Chablis. To say it was exquisite is something of an under-statement. Enjoyed by us both. Also, thank you so much for the additional pack to make up the weight, very thoughtful. WE WILL ENJOY'
Wynne Evans – May 2020
'One of our joys in life was to go to the local cinema, see the opera from Covent Garden and eat smoked salmon sandwiches in the interval accompanied by some choice white wine. Sadly, now we have to listen to the opera on Radio 3.  For about the same cost as the evening at the cinema, we can buy a whole side of smoked salmon from you, delivered to the door, which lasts us for weeks! Thank you Black Mountain Smokery. The order arrived today.'
Roger Graham-Palmer – May 2020
'We are currently working our way through the parcel of goodies we received from Black Mountains Smokery last week. The team are doing an amazing job to keep the supplies going. Every item they supply is delicious – our biggest challenge is to not just sit down and work our way through the lot in one go!'
Allan Smith – April 2020
'I received this as a gift from my parents during lockdown! It was a fabulous present and every single item inside was absolutely delicious !! Would 100% recommend!'
Aylie Constantine – April 2020
'My brothers birthday present duly arrived on Friday morning and he rang me immediately. He works in the food industry and is a qualified chef. He was absolutely blown away with your delivery, the way it was carefully packaged and above all, it's contents! He told me he couldn't wait to start opening the individual items. You've understandably made me look very good! I'm sure he will contact you himself as he was so delighted! Thanks again for your Amazing service during these very difficult times! I'm sure I will be making my own purchase very soon!'
Julia Bell – May 2020
'Thank you for absolutely superb service especially in such difficult times. I ordered salmon on Tuesday night, not really thinking there was any chance of a delivery in time for our wedding anniversary on Saturday, but here it is – delivered first thing Thursday morning. My mouth is watering at the thought, and I know we are in for a feast on Saturday, even in lock down with the rest of the family unable to join us. Thank you so much'
Rachel Penney – April 2020
'Hello All at Black Mountains Smokery….. I just wanted to say my parents were thrilled with their recent treat packs from you. I arranged to send these just as an unexpected  surprise, but they are familiar with your foods and were suitably thrilled. My mother thought the handwritten message was my handwriting, and the chocolate fish were the icing on the cake, so to speak. So many thanks for making two particular customers (and the giver!) very happy'
Rachel Middleton – March 2020
'Just a very quick, but large, thank you … My order arrived right on time yesterday and my dad was terribly pleased with it. It was lovely for him to feel cared-about on his birthday: he said it all looked exquisite! Can't wait to have another reason for ordering from you …'
Claire Oerton – April 2020
'I was so thrilled to get the most fabulous box of food that Kate sent from your smoker. It's full of wonderful things ! Like the best sort of Christmas stocking and SO much appreciated. The delivery was terrific. The driver rang to tell me the arrival time, then again when he was in the drive, and emerged wearing the most impressive full protection kit and I could feel the big smile without being able to see it! For the first time I filled in an online survey and gave 5 *s. Thank you so much.'
Diana Humble – April 2020
'Dear All.  Thank you so much for sending my daughter Emma the goodie hamper.  She was thrilled and it has cheered her up a lot!!!  What would be do without you all – future orders will soon be winging there way!'
Miles Vere-Hodge – April 2020
'Good Morning to you all at our 'favourite smokery'. We hope you are all keeping well, during this very difficult period ? Just a little light relief…….. Earlier this week you sent a selection of your delicious wares to one of our furloughed colleagues in Lancashire. To say that the family were overjoyed with the contents, would be a massive understatement !! When we spoke yesterday, they were planning some wonderful meals to lift the mood during lockdown. The Smith family are fiercely proud of their Lancashire food heritage ~ But I feel they may pay you a visit on their next trip to Wales ….. To see how smoked food should be presented !! (We will bring them) Once again thank you all , take good care, we will see you soon'
Jane & Lyndon  – April 2020
'I liked your salmon (especially) so much , I have already re-ordered. Might need a subscription LOL.'
Susan Schulman – April 2020
'Just wanted to say thanks for this hamper. I'd ordered as a gift for my parents who are both in vulnerable groups and can't get out. So. I wanted to kill two birds with one stone by getting them some food whilst waiting for their supermarket delivery and also a bit of a treat. The outcome was better than I could have expected. My parents were impressed by the outstanding quality of items in the hamper and enjoyed all of it. So wanted to say thanks. I've submitted a review for your website. Will definitely order again.'
Michael Cairney – April 2020
'Parcel arrived safely and the fish is delicious as usual. Thank you for cheering my day. We had the bagels and cream cheese ready.'
Jenny Weston – April 2020
'I was about to put in an order for myself, and then your lovely chook delivered the parcel from the Buchanans.  Can't wait to dive into it, finish it and then order some more, particularly my all-time favourite, oak roast salmon!'
Amelia Fawcett – April 2020
'Just to say thank you for such great products and service – your delivery arrived at both my daughters' lockdown homes and they are absolutely thrilled with it. Cheered me up being able to send them something I knew they'd love. So THANK YOU in these difficult circumstances.'
Alice – April 2020
'Thank you. Both orders have been delivered and we are delighted with the products – ham and smoked salmon.  You are a fabulous company.'
Jac Mavity – April 2020
'Just writing to say, it arrived !!!  And looks AMAZING !! I can enthusiastically confirm it does (taste amazing)!!!  Utterly delicious !!! Thank You!'
Susan Schulman – April 2020
'My above order arrived today as promised and my daughter was delighted to receive it and said it was beautifully packed and still chilled. Thank you for your excellent service'
Gina Todd – April 2020
'I just wanted to say that the order has reached my daughter and she is absolutely delighted! She will get a wee special treat for her birthday meal. Thank you so much for all your help in making this possible – I can't tell you how much I appreciated it.'
Hilary Dickie – April 2020
'My Mum had one of your hampers delivered to me yesterday, and I just wanted to say a massive thank you – my boyfriend who I'm self-isolating with doesn't eat fish so you put together a fish-free parcel and it's completely brilliant! We did a smoked duck/pear/walnut/pomegranate-sour salad yesterday and it's probably one of the nicest things I've ever eaten.  Thanks so much!'
Fenella Humphreys – April 2020
'Just a quick note to say thanks for my parcel of goodies and for continuing to trade under such dreadful circumstances.  It is companies like your that keep the country going! I am cracking open some good wine to start tasting. Thanks again'
Roya Bartlett – April 2020
'Thank you so much for organising the delivery of my sister's hamper. She phoned this morning and was highly delighted with it. She said they would use some of the goodies to have a celebration lunch on their Golden Wedding Anniversary on Saturday. She said it all looked delicious and that they would really enjoy all the treats. That you for being so helpful and efficient in these very difficult times. I will have no hesitation in recommending you to friends.'

Tina Fisher – March 2020
'Thank you so much for delivering our fantastic and delicious food hamper which we received as a gift from friends. I can honestly say the smoked salmon and oak roast salmon are the best I've ever had. Utterly delicious and meltingly tender. We are looking forward to sampling all the other goodies which we discovered nestling inside!!'
Patricia Abbott – March 2020
'Just wanted to say thanks to you all for the impressive way you handled my daughters order especially given the present circumstances. It arrived safely yesterday and I look forward to enjoying everything.
Thank you all.'
David Kennedy – March 2020
'Thank you so much for pulling the stops out and getting all that lovely smoked salmon to us tout suite. It arrived well before 10.00 a.m. Tomorrow's birthday jollifications for Trish will now be a great success.'
John Brown – March 2020
'Dear Black Mountains Smokery Team, Thank you so much for completing my order with such short notice. The Birthday Girl had a huge surprise, and was in raptures with not only the contents of the Taste for Two selection of meats, fish and cheese, but also with your delectable box and packaging. 10/10 to you all, and grateful thanks.'
Ellen Davies – March 2020
'Also thanks for substituting smoked salmon in my order. It is always so easy and pleasant to work with you. Thanks again'
Mary Humphreys – March 2020
'That's so very kind of you. I'm sorry for ordering so late and didn't expect you to rush it for us. But I am more grateful than I can say. Really, thank you!  And no worries at all if it doesn't end up going out earlier, I just really appreciate the thought and gesture.'
Nicola Burghall – March 2020
'Hi guys, Just got a message from Jono – he is absolutely thrilled with his smokery gift.  Totally over the moon.  Hope all is going well down there, Another gorgeous day.'
Marcus Beale – March  2020
'Thank you so much for your efficiency. The hamper arrived the very next door. Great service and so friendly'
Jennifer Allaway – March 2020
'We love your products, they really brighten our day, and I'm hoping we can get some things to see us through this.'
Clare Gabriel – March 2020
'Hi, I just wanted to send a very big thank you for not only the most gorgeous present for my mother, but also how it was beautifully presented and arrived in plenty of time for mother's day despite the current situation. It was massively appreciated and my mum loves it. She is also in the elderly group, so she is now well set up with some fabulous food for a while to cheer her up. Very best wishes,'
Rachel Horan – March 2020
'Good day, Just wanted to say thank you and let you know that I am looking forward to trying the smoked cheddar with paprika you kindly substituted for the lost Pwll Mawr cheese.  I was so sorry to learn of your dreadful flood experience and much admire your resilience. It is very unusual for me to buy online, but was not able to get out to buy these treats in person during my visit to Wales this week – a packed work diary.  These treats are primarily for my brother-in-law who is South African, but with Welsh grandparents, but if curse we all get to share.  The presentation of the order was such a lovely surprise – it was a joy to unwrap.  I will certainly know where to come if I need to buy online again. I wish you and your colleagues and your suppliers all the very best for the future.'
Shirley Hoyland – March 2020
'I just wanted to say how absolutely delicious this was.  Thank  you and I will order again next year'
Jan Morgan – January 2020
'I wrote on 17 December when my ham was delivered that it looked delicious. Yes, it did look just delicious but when it came to eating it we ran out of superlatives! It was (and still is just) simply scrumptious, out of all expectations and apart from the great taste the texture is perfect.'
Basil Thomas – January 2020
'I have only just finished your ham, which I must say was the best I have had in a very long time and was much enjoyed by my family and friends.'
Miriam Rogers – January 2020
'We bought a cooked ham from you, amongst other things. All delicious but the ham will now be a permanent fixture of our Christmas. Totally succulent and cooked to perfection. It made life so much easier and so much better than one I would have cooked myself. 
Trish & Paul Scallon – January 2020
'Our ham looked just delicious but when it came to eating it we ran out of superlatives! It was (and still is just) simply scrumptious, out of all expectations and apart from the great taste the texture is perfect. We just felt we had to let you know.
Basil Thomas – January 2020
'Thank you for making our Christmas food the best ever. Fabulous.'
Susanne Major – December 2019
'[The hampers] were well received by all the family in various parts of the country! My wife and I ordered the smoked salmon and smoked duck, both of which were absolutely delicious.'
Nick Collings – December 2019
'My order was excellent as usual. Thank you'
Sue Eaves – December 2019
'Life's too short to consider an inferior product'
Deiniol ap Dafydd – July 2019 
"The best smoked fish and chicken we have ever tasted"
 Mrs Gaywood – March 2018
"I called in your shop whilst in Abergavenny at half term, I've got to say this is the nicest smoked salmon I've ever purchased, well done!"
Sue Frezza – December 2018 
"I have tried smoked salmon from numerous sources over the years. I have found Black Mountain's salmon to be better than any. Highly recommended!"
David Pollitt – November 2018
"Delicious looking salmon, sent by a friend, just arrived on my doorstep! Thank you so much!" 
Katie Rockley – October 2018 
"Thank you, received order, which was beautifully packed" 
Sara Bunn – September 2018 
"The food is so delicious we always look forward to receiving our box" 
Sally Evans – June 2018
"I was with one of the recipients of your smoked salmon on Saturday and they loved it – as much as I do!"
Wonkie Hills – June 2018
"Your food brings the equivalent-to-sunshine gastronomic delight and I shall be proud and delighted to show it off with one of my oldest and deeply loved pals"
Rachel Lewis – June 2018  
"Order arrived on date, despite snow! Delicious & admired by all. Thanks" 
Brian Gascoigne – March 2018
Jonathan put an extra duck breast in my order as he said the batch of duck breasts were a little small, so please would you pass on my thanks and appreciation to Jonathan for that very nice gesture. I appreciated that very much and I thought it was a good example of excellent customer care. Thank you."
Louise Fleet – January 2018
"Just to say, we were at the Highclere Castle Christmas Fair today and had the pleasure of meeting your lovely team; a very friendly young man and a delightful Australian girl, who is an absolute credit to your business. Her knowledge of the brand and products was outstanding and she was incredibly engaging; no wonder they had practically sold out by lunchtime! We were so impressed; the products are delicious, we will enjoy them – thank you so much!"
Chloe Spence – December 2017
"Dear Jo, Just to let you know that the shipment arrived safely here in France – and beautifully packed – yesterday afternoon. Thank you."
Helen Jones – November 2017
"Smoked Duck was delicious, thank you. Slowly getting back to normality after our hectic 'wedding festival'!"
Louisa Stout – Caterer and producer at Lodge Farm Kitchen – August 2017
"I have just had a glowing report on the Hamper I asked you to deliver to London!  You have never let me down and I am delighted to continue to send your Hampers to my friends! I hope to pop in to see you soon as I have never actually been in the Shop!"
Tonina Watkins – July 2017
"Thank you for the absolutely delicious side of hot-smoked salmon that we feasted on Good Friday – even my little granddaughters thought it was lovely. You said it served 8-10 – there were four adults & two young children, and we didn't stint ourselves (seconds all round for the adults) and there was still some left for sandwiches the following day.  We were sad when it was finished!  But there are smoked chicken breasts in the freezer to look forward to…"  
Diane Webb – April 2017
"We are very old customers in all senses of the word. We had the last of our smoked salmon (from the freezer) last evening and both concluded that it is SO very much better than anything else we have tried in recent years. Thank you"
Professor Rathbone – February 2016
"Thank you for the excellent Hot Smoked Salmon which was a great success at our party. This was our second side from you and we will be ordering again."
Judith Patrick – January 2016
"I have just received the duck breast which has followed on from the original order. All the recipients and tasters have been delighted with your products. They have added greatly to the Christmas spirit. I have been very pleased with the quality and very satisfied with your service. Everyone has commented on the excellence of your packaging and I am of the same opinion when I see how the duck breast is packed. Happy New Year!"
Rowena Stocks – January 2015
"We do hope you've survived the run up to Christmas – we have just happened to hear great reports of your smoked stuff all the way from Scotland."
Tim Horley – January 2015
"Just wanted to drop you a quick note to say how absolutely thrilled we were with the smoked salmon you supplied for Christmas. Absolutely superb. We had some friends who used to run their own smokery and since they closed it we have never been able to find smoked salmon that was as good, until now! "
Dominic Timberlake – January 2015
"Dear Joanna, Thank you so much for arranging a further delivery. That is extremely kind and we are very grateful. This is to let you know that I am not stirring from my sister's house all morning until it has been received. Many thanks and Christmas greetings …. Delighted to say that the box has just arrived safely. Thank you all so much."
Helen Clarke – December 2014
"Hi Jo – We are really enjoying the ham – in fact so much that we have made a huge dent in it this weekend – any chance of another before Christmas?!"
Beetle Graves – December 2014
"Very excited to receive my delivery as I had a taste at my parents at Christmas and was totally sold!"
Anna Mackay – January 2014
"Recipients of the hamper are raving about it -"nothing pointless in the hamper" "best smoke salmon ever" they weren't even meant to open it till Christmas!"
Al Romanes – December 2013
"@BlackMountSmoke the foodie find of the year!
Seriously, your smoked duck breast was absolutely incredible. Ordering some for family Christmas canapes!"
@SenoraBiggles – November 2013
"I'd just like to tell you how amazing your smoked chicken is! I've literally never tasted anything like it. Keep up the great work!"
Amber – May 2013