Award Winning Smoked Salmon
Free Postage to UK on Hampers
Smoked Chicken, Avocado, Mango and Lime Salad Recipe
Serves 4 – Delicious as a summer salad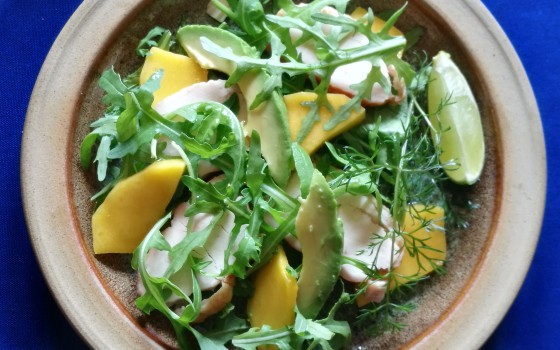 Ingredients
1 Ripe mango, sliced
1 Firm avocado, sliced
4 Handfuls of mesclun leaves
1 lime, cut into wedges
1 small handful of fennel
2 Smoked Chicken Breasts, sliced
1tbsp Fino Olive oil
1tb Balsamic Vinegar
Twist of black pepper
Pinch of Salt
Whisk the Fino Olive Oil, Balsamic Vinegar, Salt and pepper together to make the dressing.
Add the mango, mesclun, fennel and the Smoked Chicken to a big bowl.
Pour the dressing over the salad and toss the salad to ensure the dressing cover all the salad.
Garnish with slices of lime.
This would also be delicious with a honey and mustard dressing.