Award Winning Smoked Food Hampers
Order in advance - Delivery Info
Smoked Duck Pancakes Recipe
Serves 4 - a sophisticated twist on a takeaway classic.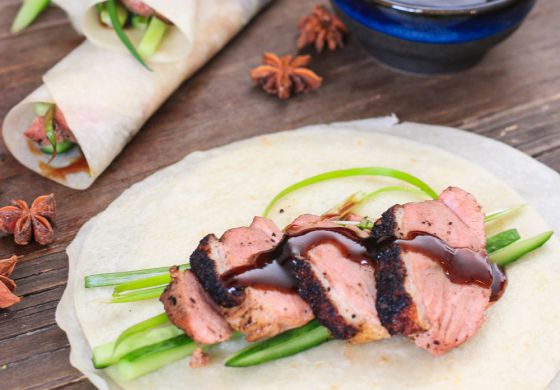 Welsh artisan food and hampers delivered on your day of choice
Ingredients
400ml milk
125g buckwheat flour
40g gram flour
1 tbsp cornflour
½ tsp Chinese five-spice powder
2 tbsp light sesame oil
½ tsp freshly ground black pepper
1 bunch of spring onions – finely sliced
½ cucumber – sliced into thin batons
Hoisin sauce – to serve
Whisk together the milk, flours, salt and 65ml/2¼fl oz water in a large bowl. Leave the mixture to rest for at least 1 hour.
Heat a 20-25cm/8-10in non-stick frying pan over a medium heat until hot. Brush lightly with oil and pour in a little of the batter, swirling it around so that it forms a thin layer on the bottom of the pan. If the batter isn't thin enough you can add a little more liquid to the mixture.
When the top of the pancake is dry (about 1 minute) flip the pancake and cook the other side for a further minute, the pancakes should colour just slightly. Repeat with the remaining batter. You can keep the cooked pancakes warm by wrapping in foil and placing in a low temperature oven.
Toss the duck slices in the five-spice and pepper. Gently heat the sesame oil in a frying pan or a wok and add the duck. Stir-fry for a couple of minutes until heated through.