Award Winning Smoked Food Hampers
Order in advance - Delivery Info
Our tender Suffolk Gressingham smoked duck breast is lightly cured and hot-smoked over Welsh oak. It is cooked and ready to eat, rich and sweet yet delicate in flavour. Multi award winning - it seems many agree it's the best! "Beautiful, mild-flavoured smoke and rich sweet meat - a real treat." Felicity Cloake, The Guardian 2013
Very thinly sliced, smoked duck makes a perfect starter served on a bed of dressed salad leaves with anything fruity! Try it with fresh orange & walnuts, strawberries & balsamic syrup or pears & pine nuts. Make a great smoked duck canapé with a little Mascarpone and Apple Cider Jelly or Spiced Citrus Jelly.
"This neat looking breast has been beautifully prepped and has a glossy juicy looking skin and tender pink flesh. There is an enticing sweet, smoky, woody aroma. The meat melts in the mouth and is moist and delicate. There is a great balance of sweetness and minerality from the meat as well as some herby savoury notes. The Smoke is just right adding a warm woody classiness but with no acid notes. With a generous touch of salt to enhance flavour, this is a delightful expertly executed product."
Great Taste Awards 2020
Here is one of our favourite Smoked Duck salad recipes for you to try!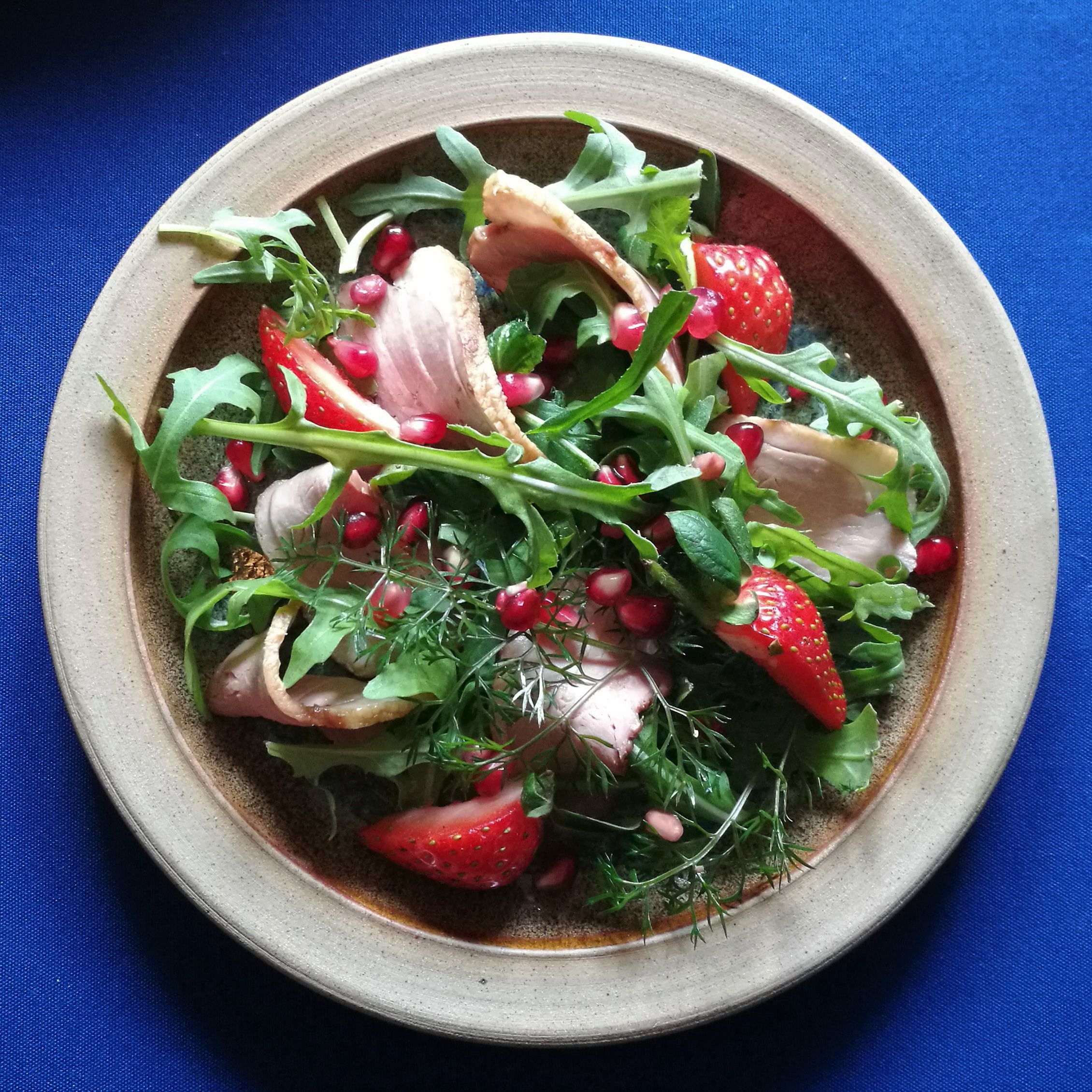 Ingredients
1 Smoked Duck Breast, sliced
10 Ripe strawberries, hulled & sliced
50-100g Walnut halves
1 Bag of salad leaves
Whisk the
Oil
and
Jam
together to make the dressing If you feel the dressing is too sweet, add a table spoon of
Balsamic Vinegar
.
Arrange the salad leaves on the plates or a serving platter and top with the
Smoked Duck, walnuts, pomegranate seeds and strawberries.
Drizzle over the dressing and enjoy! See our
recipe pages
for more scrumptious smoked duck ideas.
Enjoy Asparagus Season with Smoked Salmon & Smoked Butter
30/04/2021
Welsh artisan food and hampers delivered on your day of choice What a beautiful time of the year – asparagus season! Our Smoked butter , smoked paprika butter and smoked seaweed butter s are the perfect pairings for the abundance of delicious British... ...
Continue Reading
Stump Up For Trees - March Total!
29/04/2021
Add £2 to your order to plant a tree which will more than offset the carbon footprint of your parcel. We are calling on you to support "Stump up for Trees," an amazingly ambitious community-based charity, focused on woodland creation & enhancing biodiversity in... ...
Continue Reading
Smoked Chicken Pairings
23/04/2021
Welsh artisan food and hampers delivered on your day of choice Our award-winning Smoked Chicken Breast is gently hot-smoked over smouldering Welsh oak. It is succulent with an even smokey flavour throughout. "Impressive! Really juicy &... ...
Continue Reading