Award Winning Smoked Salmon
Free Postage to UK on Hampers
Charity Fair Donation Vouchers
Our tender Suffolk Gressingham smoked duck breast is lightly cured and hot-smoked over Welsh oak. It is cooked and ready to eat, rich and sweet yet delicate in flavour. Multi award winning - it seems many agree it's the best! "Beautiful, mild-flavoured smoke and rich sweet meat - a real treat." Felicity Cloake, The Guardian 2013
Very thinly sliced, smoked duck makes a perfect starter served on a bed of dressed salad leaves with anything fruity! Try it with fresh orange & walnuts, strawberries & balsamic syrup or pears & pine nuts. Make a great smoked duck canapé with a little Mascarpone and Apple Cider Jelly or Spiced Citrus Jelly.
"This neat looking breast has been beautifully prepped and has a glossy juicy looking skin and tender pink flesh. There is an enticing sweet, smoky, woody aroma. The meat melts in the mouth and is moist and delicate. There is a great balance of sweetness and minerality from the meat as well as some herby savoury notes. The Smoke is just right adding a warm woody classiness but with no acid notes. With a generous touch of salt to enhance flavour, this is a delightful expertly executed product."
Great Taste Awards 2020
Here is one of our favourite Smoked Duck salad recipes for you to try!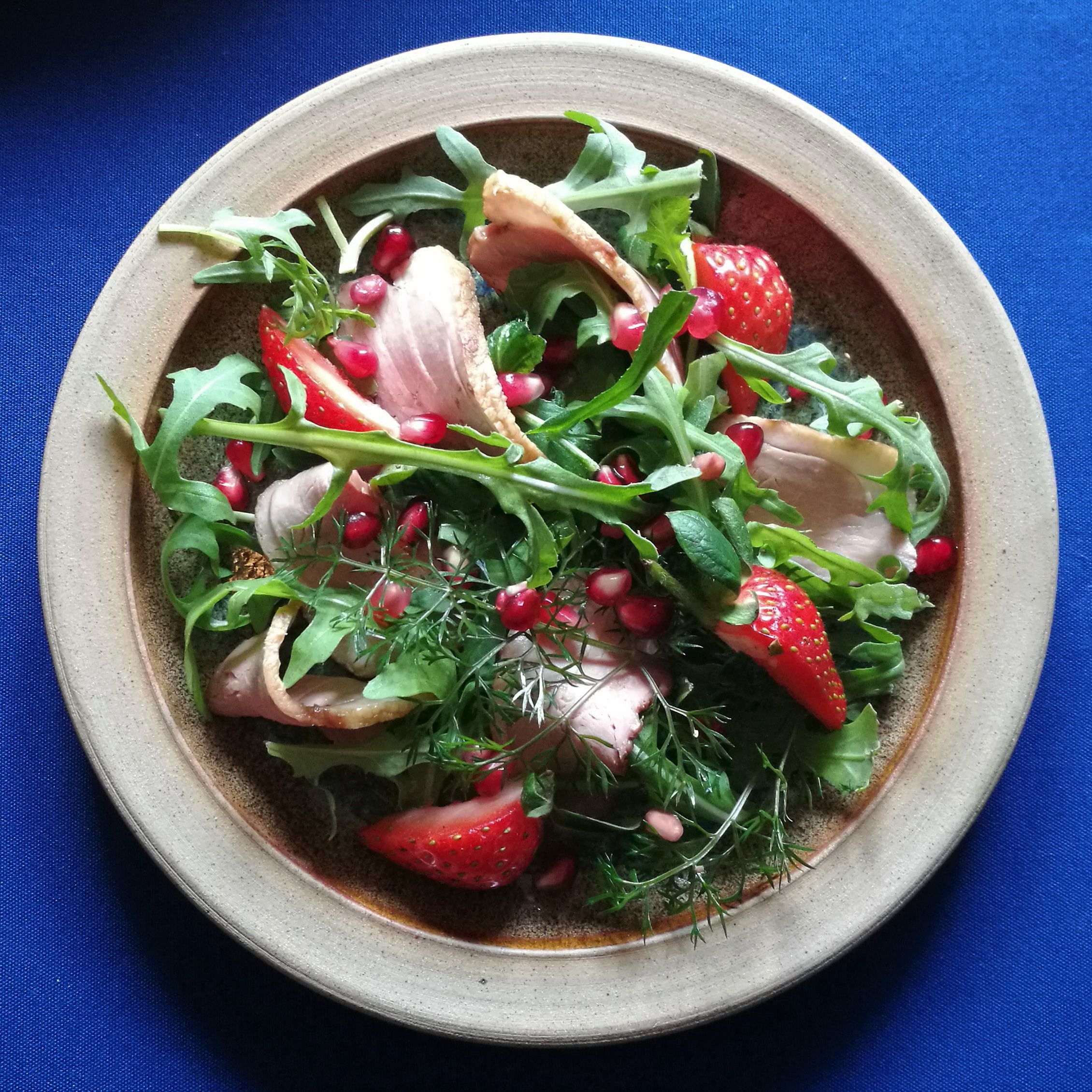 Ingredients
1 Smoked Duck Breast, sliced
10 Ripe strawberries, hulled & sliced
50-100g Walnut halves
1 Bag of salad leaves
Whisk the
Oil
and
Jam
together to make the dressing If you feel the dressing is too sweet, add a table spoon of
Balsamic Vinegar
.
Arrange the salad leaves on the plates or a serving platter and top with the
Smoked Duck, walnuts, pomegranate seeds and strawberries.
Drizzle over the dressing and enjoy! See our
recipe pages
for more scrumptious smoked duck ideas.