Award Winning Smoked Salmon
Free Postage to UK on Hampers
Our tender Suffolk Gressingham smoked duck breast is lightly cured and hot-smoked over Welsh oak. It is cooked and ready to eat, rich and sweet yet delicate in flavour. Multi award winning - it seems many agree it's the best! "Beautiful, mild-flavoured smoke and rich sweet meat - a real treat." Felicity Cloake, The Guardian 2013
Very thinly sliced, smoked duck makes a perfect starter served on a bed of dressed salad leaves with anything fruity! Try it with fresh orange & walnuts, strawberries & balsamic syrup or pears & pine nuts. Make a great smoked duck canapé or crostini with a little Mascarpone and Cranberry & Claret Jelly or Gooseberry Jelly.
Here is one of our favourite Smoked Duck salad recipes for you to try!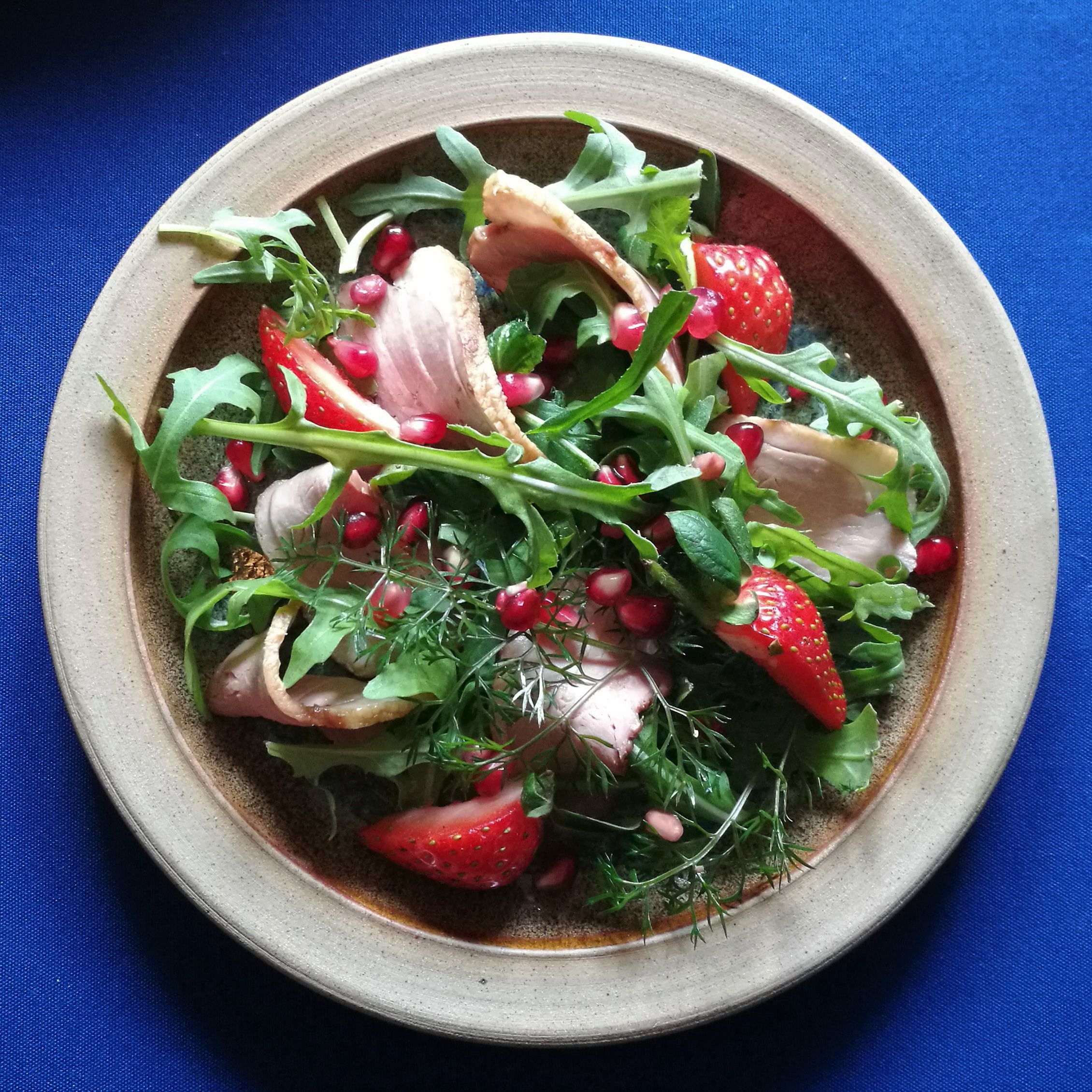 Ingredients
10 Ripe strawberries, hulled & sliced
50-100g Walnut halves
1 Bag of salad leaves
Whisk the
Oil
and
Sirop
together to make the dressing If you feel the dressing is too sweet, add a table spoon of
Balsamic Vinegar
.
Arrange the salad leaves on the plates or a serving platter and top with the
Smoked Duck
, walnuts, pomegranate seeds and strawberries.
Drizzle over the dressing and enjoy! See our
recipe pages
for more scrumptious smoked duck ideas.
Oak Roasted Salmon Salad with Spring Flowers
10/04/2019
We've just spent a fabulous day working with Brecon Beacons photographer, Neil Mansfield , creating new photos for our website. This spring salad of Oak Roasted Salmon was so simple to create, looked... ...
Continue Reading
Smoked Chicken Spring Salad Recipe
09/04/2019
Feeds 4- 6 as a starter - A delicious and beautiful springtime dish. Ingredients 2 Smoked Chicken Breast 170g (Or 2 Portions Oak Roasted Salmon 190g) A Selection of baby salad leaves A selection of hedgerow and woodland... ...
Continue Reading
Visit us at Markets, Fairs & Food Festivals - 2019
20/03/2019
We attend food fairs and festivals around the country, taking orders, handing out samples and selling a delicious selection of produce. Find out below when we'll be at an event near you. We love meeting our customers face to face! Locally... ...
Continue Reading