Smoked Salmon & Laverbread Blinis Recipe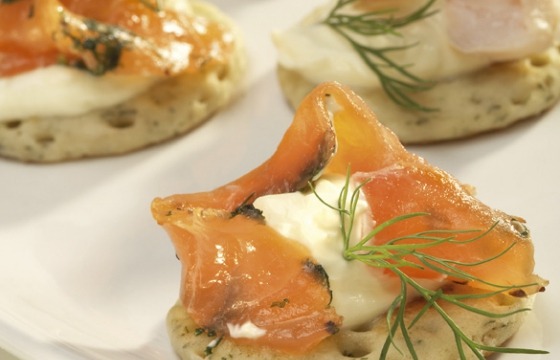 Celebrate St David's Day in Style!
Serves 6-8 as a starter or canape- This lovely Welsh Smoked Salmon recipe comes from our good friend Sarah Clay, who learned to use laverbread in her cooking from her Mother-in-Law. These blinis are absolutely delicious and not at all scary to make or eat. The Carthews are now laverbread converts!
Ingredients 
100g Self Raising Flour (or a mixture of Self Raising and Buckwheat Flour)
1 Egg
140ml Milk
120g of Laverbread
Halen Mon Sea Salt to season
220g Traditional Smoked Salmon
Creme Fraiche
120g Cockles – optional
Whisk up ingredients for the batter in a mixing bowl and leave to stand for at least 1/2 hour.  Cook on a very hot greased frying pan or similar.
Drop a spoonful of batter into the frying pan and cook till bubbles appear on top of the blini, then flip over and cook the other side.  You can produce drop scone sized pancakes or smaller bitesize ones – it's up to you!
Slide off and serve warm or cold with a dollop of Creme Fraiche, a piece of Smoked Salmon, and a twist of black pepper. The blinis are also lovely with a sprinkle of cockles for an added layer of flavour.
This Smoked Salmon recipe is equally delicious using our Canapé Shells as a base for the Smoked Salmon.