Smoked Salmon Roulade Recipe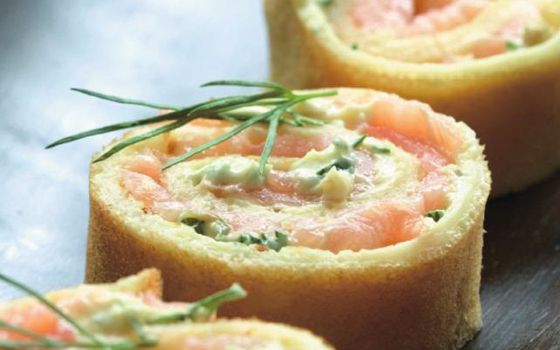 This is a recipe from Malcolm Faulkner who made it at the Millennium Stadium for Six Nations Rugby Wales vs. France hospitality in 2014.
Ingredients:
For the Filling:
Separate the eggs. Mix yolks with sour cream, parmesan, mustard and seasoning. Beat the egg whites until stiff and then fold into the mixture. Spread the combined mixture onto a large baking tray lined with parchment.
Bake in the oven at 180°C for 5 to 6 minutes or until the roulade is springy.
Once chilled, spread the cream cheese across the roulade and lay the
Smoked Salmon
across. Roll the roulade into a cylindrical shape and chill again until ready to serve.