Celebratory Coronation Chicken Recipes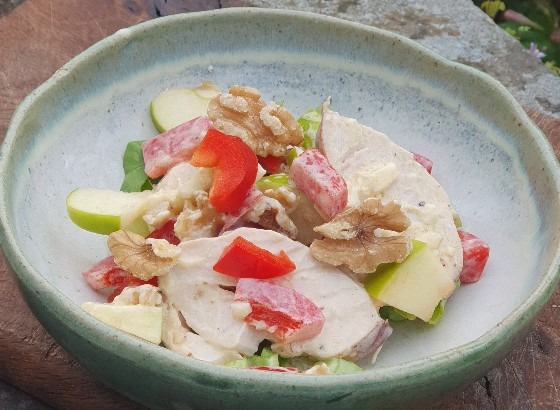 As we reflect upon the 70 years of service Queen Elizabeth has given us, our very own Smokey Jo has been diving back into some personal history in the form of the family cookbook. Peeling through the pages of this beloved heirloom, you get a real sense of why it is so cherished. From the style of handwriting to the paper the recipes are written upon, you can clearly see these were well-loved recipes shared between friends and family. With some on scraps of paper, postcards, or family favourites from recipe books.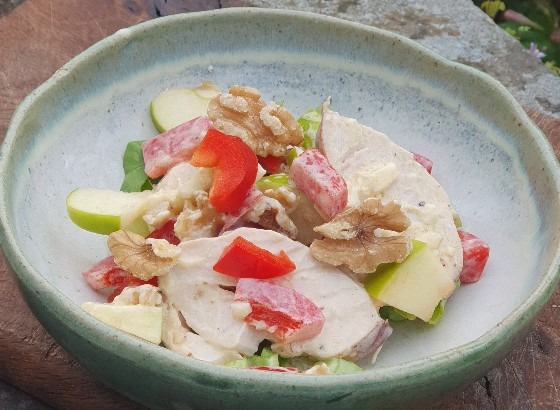 Jo even managed to find an instruction leaflet from the Second World War on how to make an outdoor stove in case your power goes out. It's not so relevant for the Jubilee but a great insight into times gone by and a real treasure.
With the Queen's Platinum Jubilee fast approaching, here at the smokery, we're thinking of helpful hints and tips to make your holiday fabulous and fuss-free. Nothing says a regal celebration more than the classic coronation chicken! Here is a list of our favourite celebratory coronation chicken recipes. Of course, we wouldn't expect you to go through the trouble of cooking your own chicken when you can easily use our smoked chicken as a luxurious and fabulously simple substitute.
If you fancy an adventure with a bit of history why not attempt one of these tried and tested recipes this holiday from our home to yours. To add a twist to these classics why not use our smoked chicken in your celebratory coronation chicken recipes?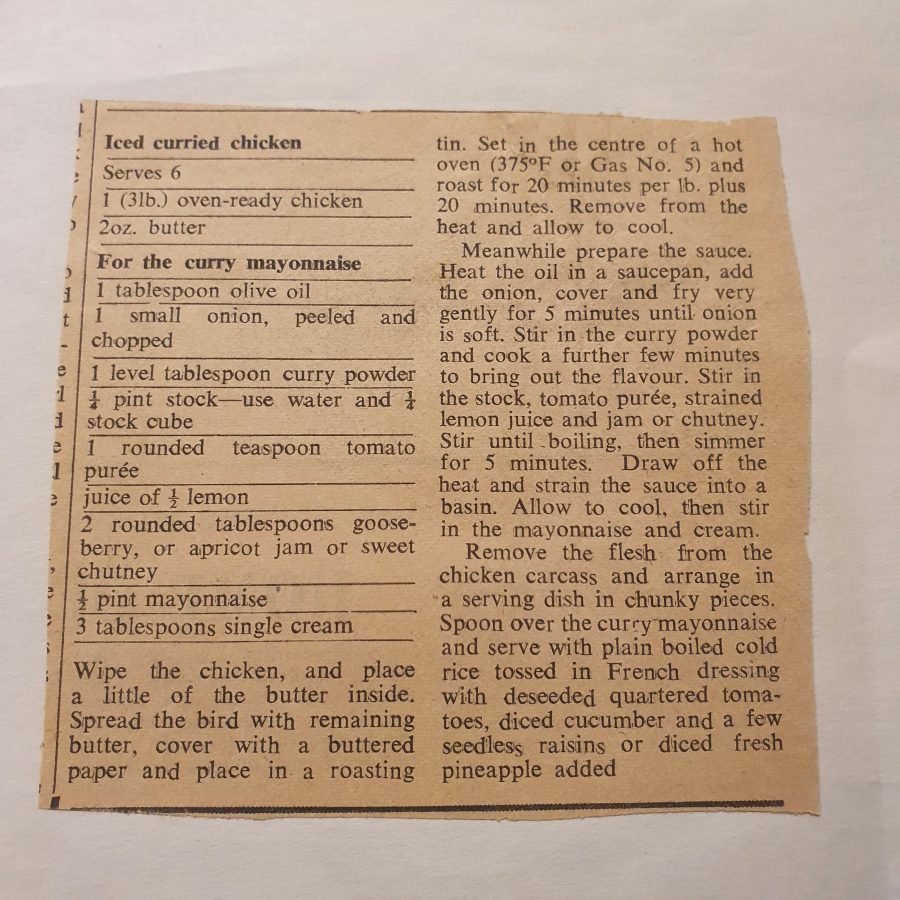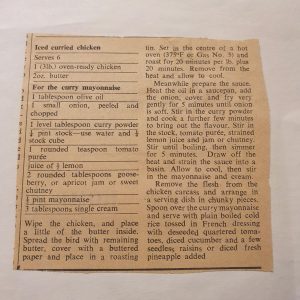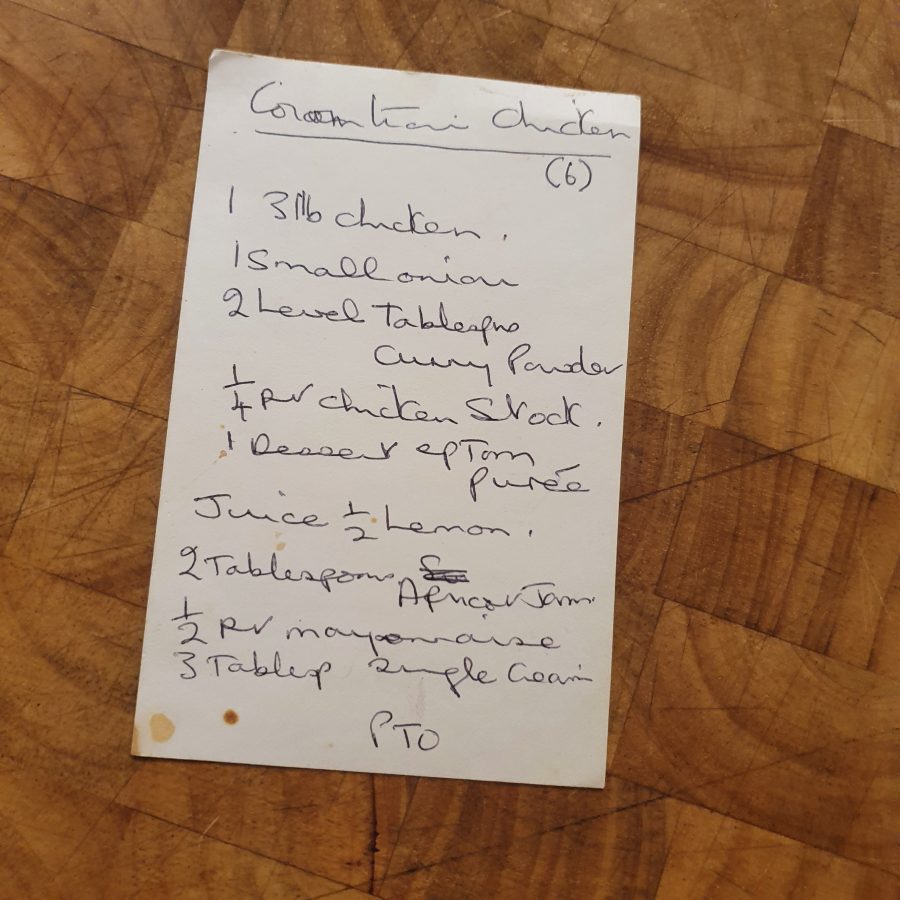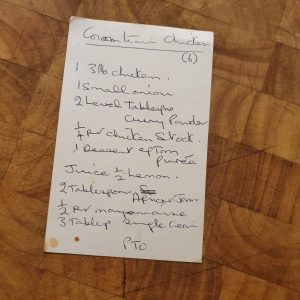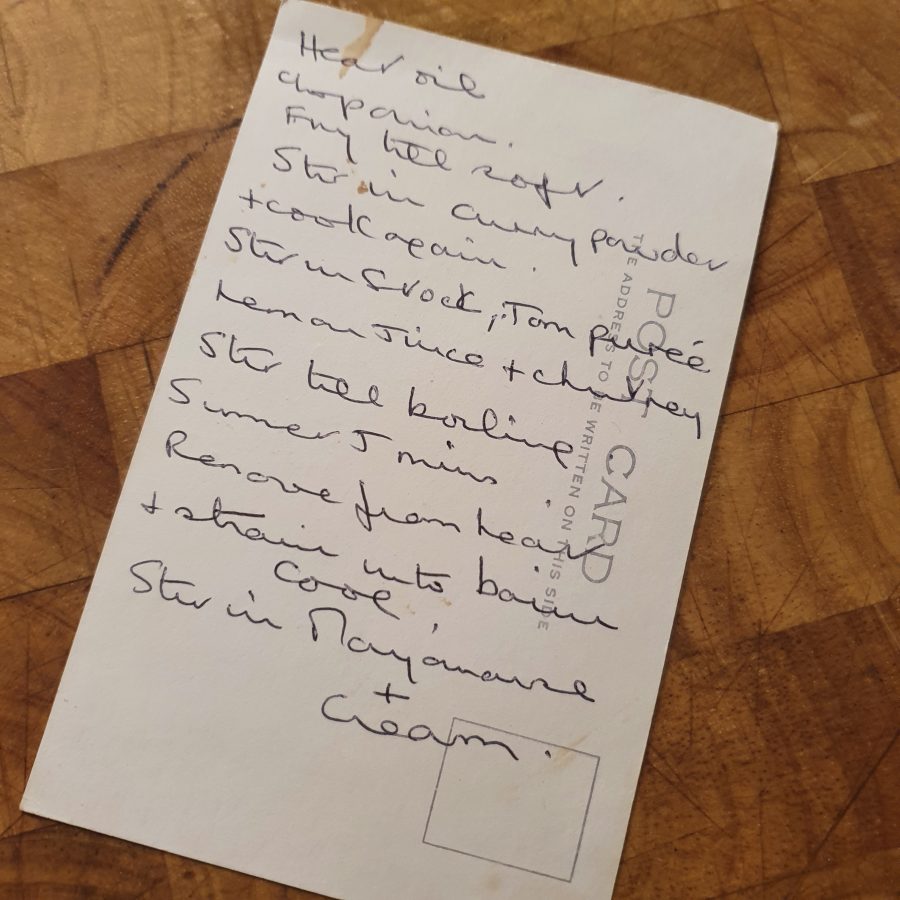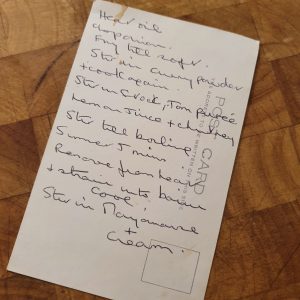 Coronation Chicken – Serves 6
Ingredients
1 (3lbs) Oven-Ready Chicken
2oz Butter
1 tbsp olive oil
1 small onion, peeled and chopped 
1 tbsp Curry Powder
¼ pint stock – use water and a ¼ stock cube
1 rounded tsp Tomato Puree
2 rounded tbsp gooseberry or apricot jam or sweet chutney
½ pint Mayonnaise
3 tbsp single cream
Instructions
Wipe the chicken, and place a little of the butter inside. Spread the bird with the remaining butter, cover with buttered paper and place in a roasting tin.
Set in the center of a hot oven (375°F or Gas Mark 5) and roast for 20 minutes per lb. plus 20 minutes. Remove from the heat and allow to cool.
Meanwhile, prepare the sauce. Heat the oil in a saucepan, add the onion, and cover and fry very gently for 5 minutes until the onion is soft.
Add in the curry powder and cook for a further few minutes to bring out the flavor. Stir in the stock tomato puree, strained lemon juice, and jam or chutney. Mix until boiling, then simmer for 5 minutes.
Draw off the heat and strain the sauce into a basin. Allow to cool, then add in the mayonnaise and cream.
Remove the flesh from the chicken carcass and arrange in a serving dish in chunky pieces. Spoon over the curry mayonnaise and serve with plain boiled cold rice tossed in French dressing with deseeded quartered tomatoes, diced cucumber, and a few seedless raisins or diced fresh pineapple added.
Pru's bible for that extra decadent element uses lightly whipped double cream for that extra treat.
Smokey Jo Senior always served this with halved green grapes and flaked almonds.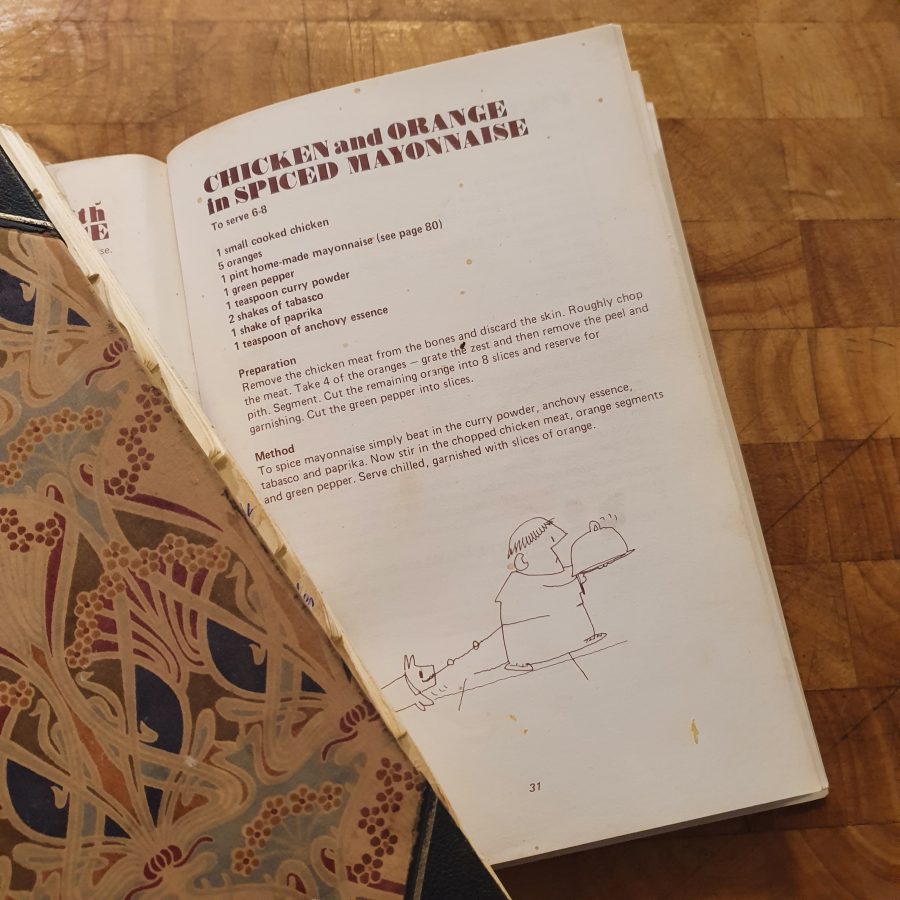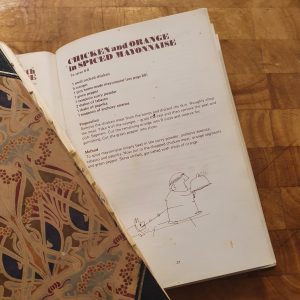 Ingredients
1 Small Cooked Chicken
5 Orange
1 pint home-made Mayonnaise
1 Green Pepper
1 tsp Curry Powder
2 shakes Tabasco
1 shake Paprika
1 tsp Anchovy Essence
Instructions
Remove the chicken meat from the bones and discard the skin. Roughly chop the meat.
Take 4 of the oranges – grate the zest and then remove the peel and pith. Segment. Cut the remaining orange into 8 slices and reserve for garnishing.
Cut the green pepper into slices.
To spice the mayonnaise simply beat in the curry powder, anchovy essence, tabasco and paprika. Now stir in the chopped chicken meat, orange segments and green pepper. Serve chilled, garnished with slices of oranges.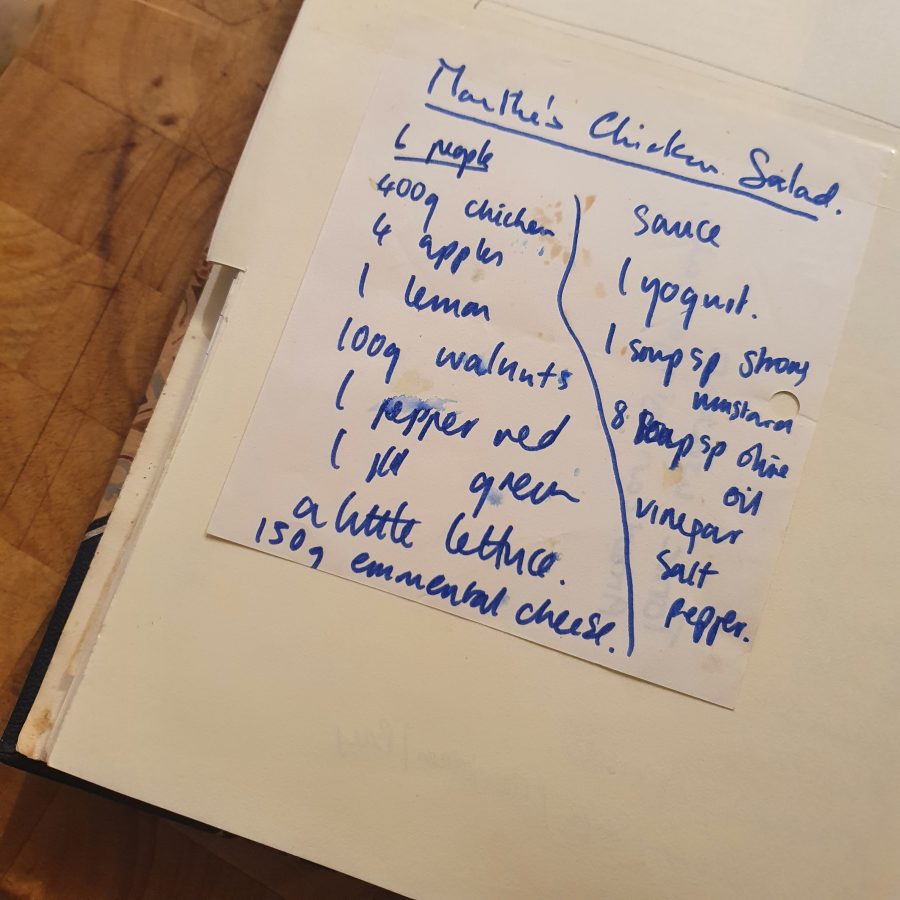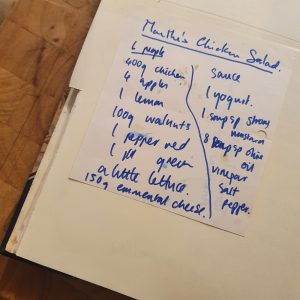 Martha's Chicken Salad – Serves 6
Ingredients
For Salad:
400g Cooked Chicken
4 Apples
1 Lemon
100g Walnuts
1 Red Pepper
1 Green Pepper
A little lettuce
150g Emmental Cheese
For Sauce:
1 yogurt
1 soup spoon strong mustard
8 soup spoons olive oil
Vinegar
Salt and Pepper
Instructions
Prepare the dressing. Add the sauce ingredients into a bowl and mix with a hand mixer to emulsify
Roughly chop all the salad ingredients and add to a bowl. Add dressing before serving.