Really Welsh Smoked Sausage Salad Recipe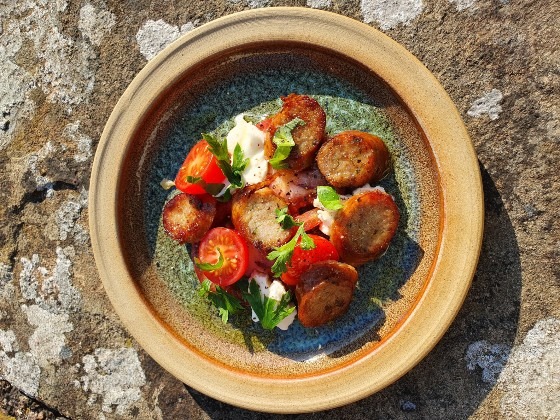 Serves 4 – Flying the Colours of Wales
A spicy Welsh take on a traditional Tomato & Mozzarella Salad. Our smoked sausage recipe can be doubled up for lunch alongside a slice of fresh bread!

Ingredients
2 Ripe Vine Tomatoes – Sliced
12 Cherry Tomatoes – Halved
Flat Leaf Parsley – torn leaves
Put a tiny amount of olive oil in a frying pan to heat. Add the smoked sausage slices and fry on each side until golden and slightly crispy. Plate the tomato and tear off teaspoonfuls of soft goat's cheese, season and drizzle with Olive Oil & Balsamic Vinegar. Add the warm sausage & cherry tomato halves drizzling over any oil left in the pan. Finish with fresh parsley and chilli flakes if enjoyed. Serve with fresh Focaccia or Sourdough bread. Alternatively – take a look at our Really Welsh Dragon Sausage Canapés.