Smoked Chicken Bruschetta Recipe
Serves 1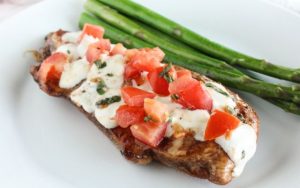 Ingredients
1 Smoked Chicken Breast – thinly sliced
2 slices really good bread
6 ripe cherry tomatoes – cut into quarters
1 spring onion – very thinly sliced
25mls Fino Olive Oil
Freshly ground Halen Mon Sea Salt and Pepper
Dried oregano
Cut the bread on the diagonal about ½ inch (1cm) thick. Toast on a griddle and put aside.
Put Tomatoes and Onions into a small bowl, add the 
Fino Olive Oil,
Salt
, Pepper and Oregano and stir well to ensure all are coated with
Olive Oil
.
Add the sliced
Smoked Chicken Breast
to the tomatoes mixture, stir well and set aside to marinade for at least 30 minutes,
To assemble, use a spoon to get the liquid from the bottom of the bowl and drizzle over the toasted bread.
Mount the Tomato, 
Chicken
 and Spring Onion mix on the bread and serve with a small salad of Rocket or Watercress.