Smoked Duck Crostini Recipe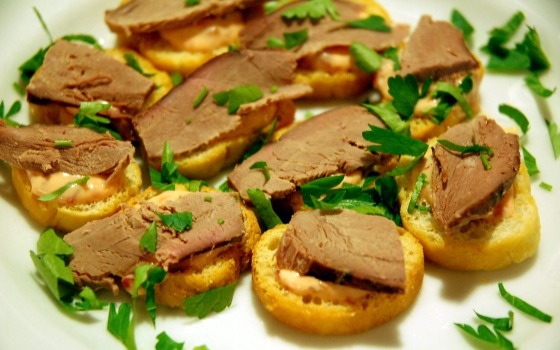 A delicious, easy to produce appetiser; can be made a couple of hours before and kept.
Ingredients
100g Smoked Duck Breast – sliced
250g Tub Mascarpone Cheese
24 Mini Bruschette, Mignons Morceaux biscuits or garlic croutons
4 tbsp Hoisin Sauce
Spring Onions – finely sliced
Spread each of the Mini Bruschette with some Mascarpone cheese and spoon a little Hoisin Sauce on top. Press a thin slice of Smoked Duck Breast on to the bruschette, or roll up a slice and secure with a Cocktail Skewer.
Arrange on a dish and garnish with finely chopped spring onions.
Equally delicious to use Very Chilli Jam and crème fraiche combination.
Not suitable for freezing.