Black Mountains Smokery Duck Breast Wins Two Stars at the Great Taste Awards 2021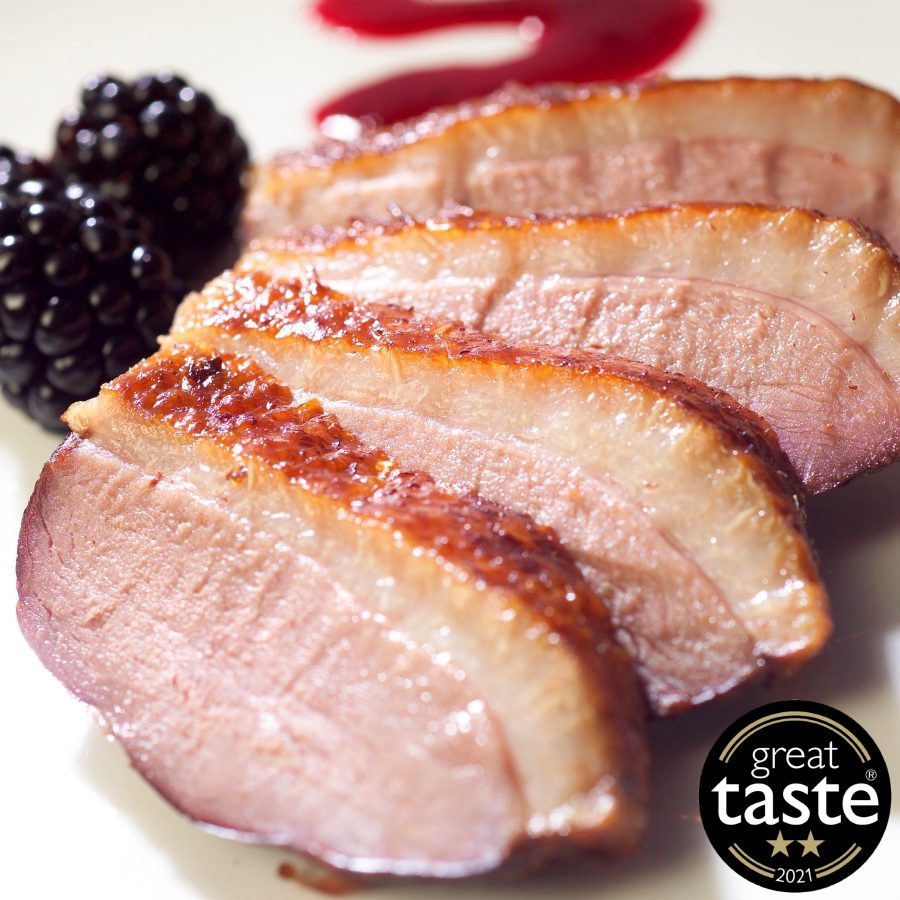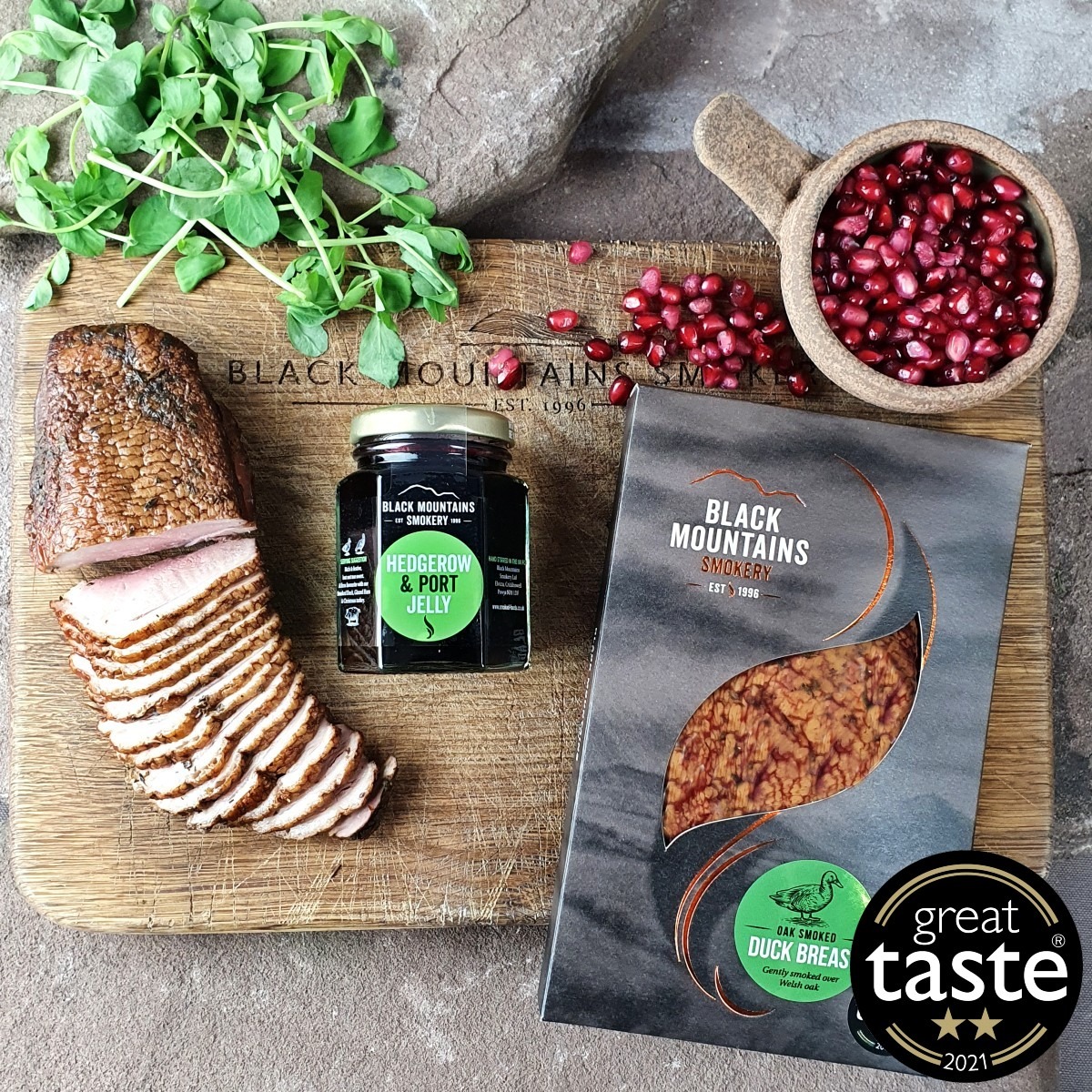 We are thrilled to announce that our Smoked Duck Breast has been awarded Two Stars (of three) at the Great Taste Awards 2021 – and we are extremely proud. It can now be added alongside our Smoked Salmon and Smoked Chicken that has also won the Great Taste Two Star award over the past two years. Here's to another year of great smoked products!
We are pitched alongside smoked duck from across the UK and from a large variety of companies and smokehouses. Many are steeped in heritage and provenance, and so to be regarded so highly is a real achievement. The judges taste the products blind (not literally, but all traceability is hidden) and so our beautiful packaging and presentation do not come into question. Only the aroma, flavour, texture, appearance, and overall experience are the discerning factors. Gold stars are therefore only awarded to the most exceptional flavours and textures that create the most well rounded and unanimously appreciated products.
Here is what one group of judges had to say about our delicious Smoked Duck:
"We love the plump and juicy appearance, the flesh appears delicate and pink, along with excellent texture and mouthfeel. The fats are clean and well rendered and have remained tasty and not over smoked. This is a large duck breast that has been very gently smoked so it still retains some pleasing duck aromas. It carves really easily and is soft and yielding. On tasting, the subtle smoke enhances that rich duck flavour and the subtle cure adds delicious seasoning. This is so clever as often smoked duck is just smoke, salt and leather! This is soft, enticing and full of flavour – even the skin is easy to eat. This would be delicious thinly sliced as a starter with a little fresh fig or a fruit compote, or in a salad with warm new potatoes, fresh peas and some bitter leaves. This is a great smoked duck breast."
Great Taste Award 2021
Not only have we had amazing feedback from the kind judges at the Great Taste Awards, but we have also received some heart-warming reviews from our customers lately.
"Having just eaten your smoked duck, quite simply on a bed of leaves with a segmented orange, I had to contact you to say that it is simply the very best smoked duck we have ever tasted! I appreciate that some may be concerned at the cost, but trust me it is worth every penny and one breast would easily feed 4 – if not 5 as a stunning starter and easily 3 as a main course. Excellent value for money for such an amazingly tasty product. I will certainly be ordering more online, especially with Christmas on its way."
Michele Bardey, October 2020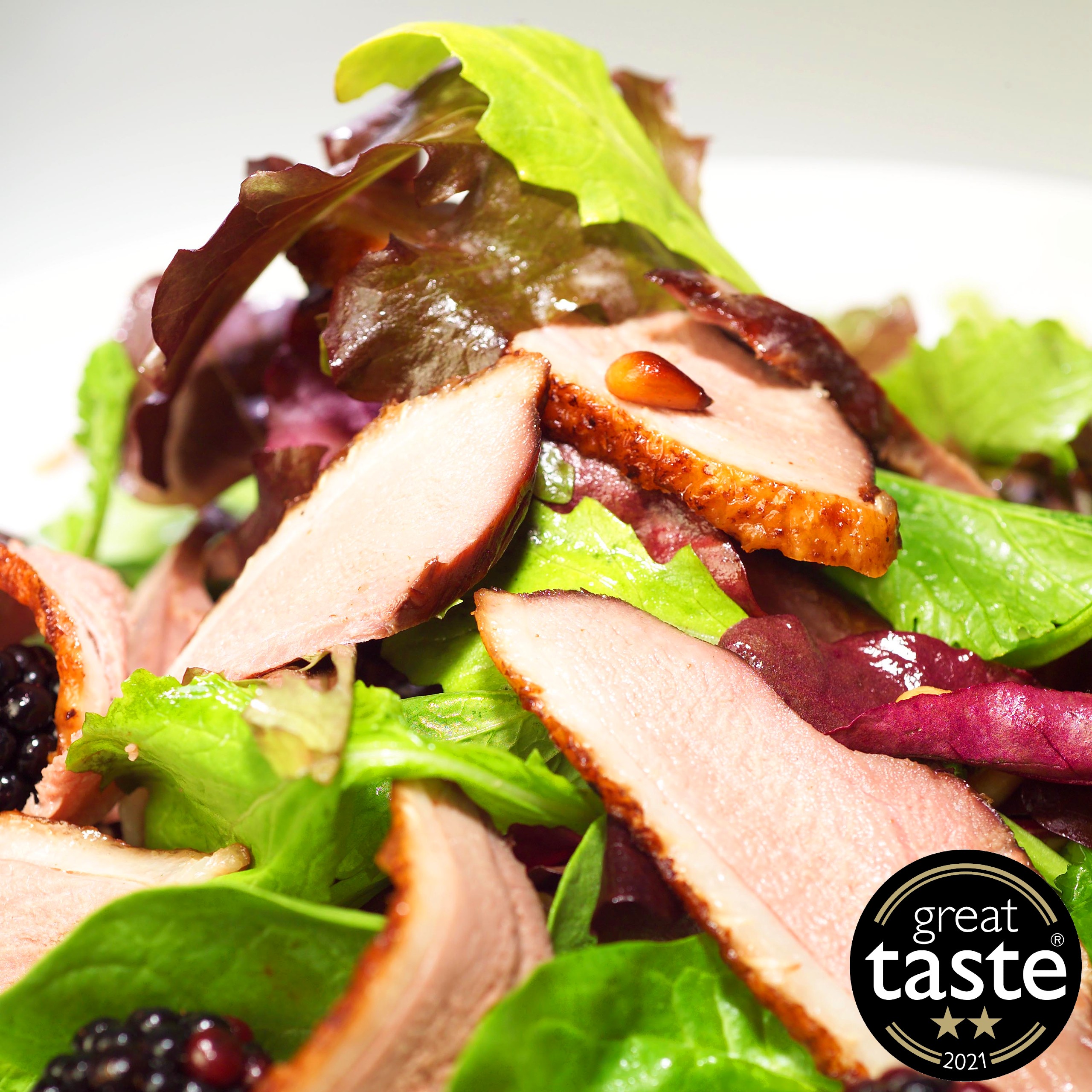 Our tender Suffolk Gressingham smoked duck breast is lightly cured and hot-smoked over Welsh oak. It is cooked and ready to eat, rich and sweet yet delicate in flavour. Multi award-winning – it seems many agree it's the best!
Beautiful, mild-flavoured smoke and rich sweet meat – a real treat. Felicity Cloake, The Guardian
Very thinly sliced, smoked duck makes a perfect starter served on a bed of dressed salad leaves with anything fruity! Try it with fresh orange & walnuts, strawberries & balsamic syrup or pears & pine nuts. Make a great smoked duck Canapé with a little Mascarpone and Apple Cider Jelly or Spiced Citrus Jelly.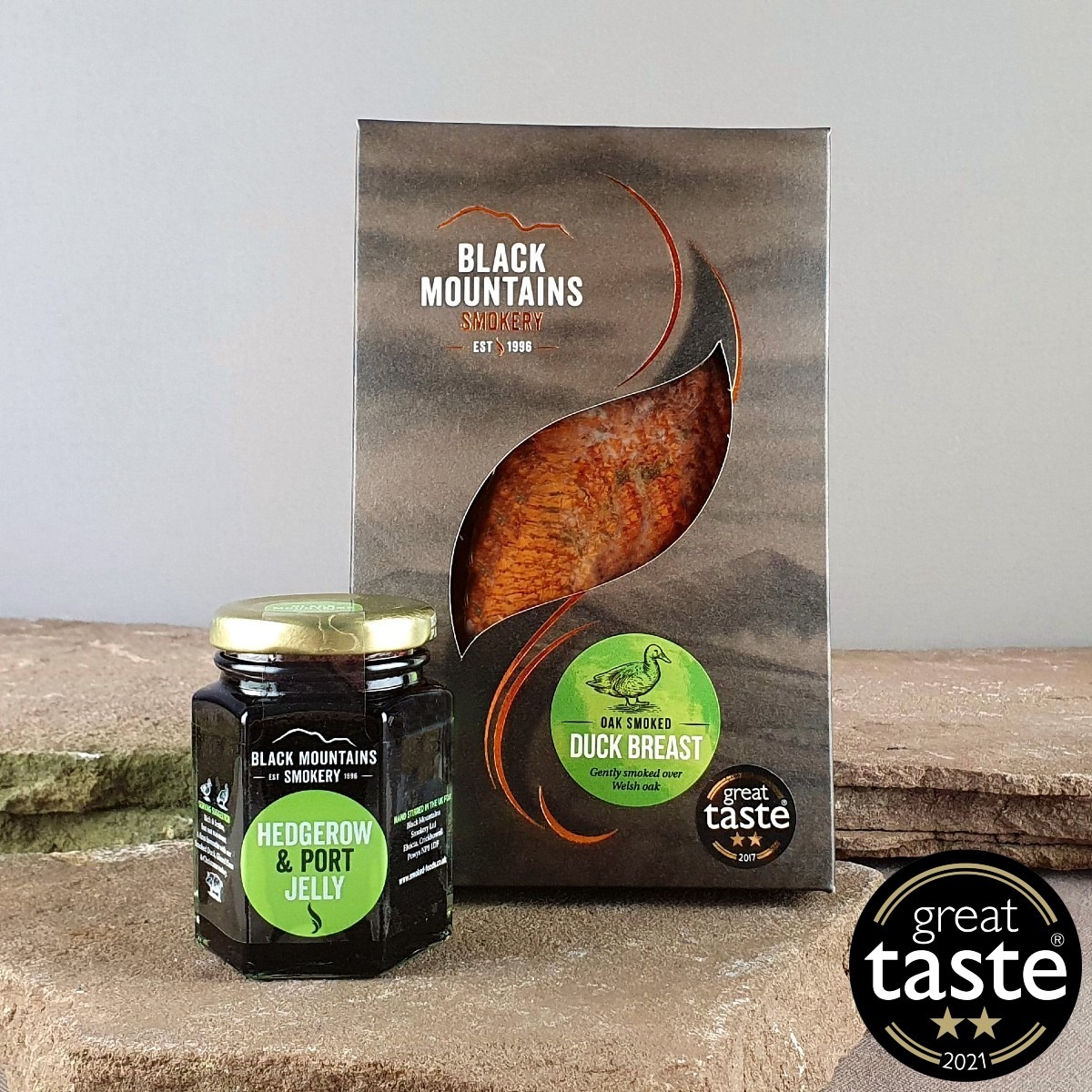 Our Peppered Roasted Salmon also received some fabulous feedback after being entered into the Great Taste Awards 2021.
"A lightly smoked salmon, it has succulent flesh. If you get a mouthful of peppercorns there is a burst of heat but the fish is delicious. This flakes nicely, and has a subtle colour. A generously sized fillet, moist and meaty. It looks very appealing, with the even distribution of pepper and the glaze."
Great Taste Award 2021