Smoked Salmon & Laverbread Pancakes Recipe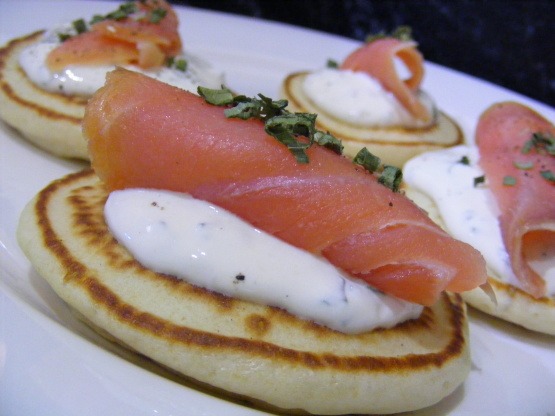 Makes 30 pancakes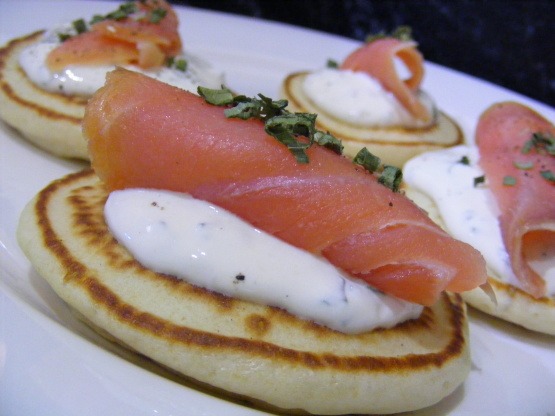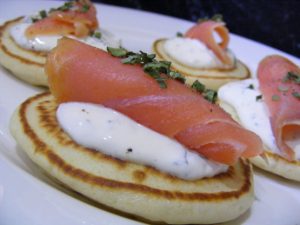 Ingredients
1 1/2 Cups Plain flour & Buckwheat flour mixed
2 Teaspoons baking soda
2 Teaspoons baking powder
1 Egg
1 Cup low-fat milk
1/2 Cup light sour cream
1 Teaspoon mustard 1 Teaspoon horseradish cream
2 Tablespoons chives, chopped (plus extra to garnish)
Black pepper
200g Smoked salmon, slices
120g Laverbread (optional) 120g Cockles (optional Garnish)
Combine sifted flour with baking soda and baking powder, for a more traditional blini substitute half of the flour for buckwheat flour. In a separate bowl, lightly beat egg and laverbread and add milk & season. Make a well in the centre of the flour mixture and pour in egg and milk. Stir with a whisk until smooth and thick.
Spoon a tablespoon of mixture into a hot, lightly greased (I use rapeseed oil and then wipe nearly clean with kitchen towel), non-stick frying pan. Cook over a medium heat for 3 minutes, until bubbles appear on the surface. Turn and cook for 1 minute. Repeat with remaining batter and set aside to cool completely. Combine sour cream, mustard and horseradish. Stir in chives and season with pepper. Spoon onto cooled pancakes and top with slices of smoked salmon. Garnish with extra chives and cockles to serve.
For more uses for baking soda, click here.