Award Winning Smoked Salmon
Free Postage to UK on Hampers
Our famous Welsh Dragon Sausage is a pork, leek and chilli sausage made by our local butchers. Hot-smoked for even more flavour!
Ready to eat, it is a great nibble with drinks or a delicious addition to a cold meat platter. But we just love to cook with it - simply slice, re-heat to sizzling and toss into omelettes, salads, pasta, soups or stews!
And just in case you are wondering - we are really sorry but Dragon Sausage doesn't contain any dragon meat - just pork!
This lovely warm salad is perfect for getting a carnivore to eat their greens.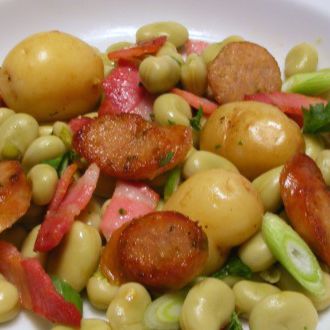 Serves 4
Ingredients
Boil the new potatoes in salted water until tender but not mushy.
Boil the broad beans in unsalted water for just a few minutes until tender.
Meanwhile fry the chopped bacon and sausage slices in a little olive oil until golden & add the spring onions to coat with the juices.
Mix all the warm ingredients together in a salad bowl, add chopped parsley, lemon juice & black pepper to taste and serve immediately.
Oak Roasted Salmon Salad with Spring Flowers
10/04/2019
We've just spent a fabulous day working with Brecon Beacons photographer, Neil Mansfield , creating new photos for our website. This spring salad of Oak Roasted Salmon was so simple to create, looked... ...
Continue Reading
Smoked Chicken Spring Salad Recipe
09/04/2019
Feeds 4- 6 as a starter - A delicious and beautiful springtime dish. Ingredients 2 Smoked Chicken Breast 170g (Or 2 Portions Oak Roasted Salmon 190g) A Selection of baby salad leaves A selection of hedgerow and woodland... ...
Continue Reading
Visit us at Markets, Fairs & Food Festivals - 2019
20/03/2019
We attend food fairs and festivals around the country, taking orders, handing out samples and selling a delicious selection of produce. Find out below when we'll be at an event near you. We love meeting our customers face to face! Locally... ...
Continue Reading