Award Winning Smoked Food Hampers
Order in advance - Delivery Info
Fresh ungraded North Sea haddock gently cold smoked over oak without dyes or additives. Pearly fleshed and sweet in flavour.
Simply brush with olive oil and grill, or gently poach in milk with a bay leaf and black peppercorns. A great ingredient for kedgeree or fishpie.
"Eloquently fishy!" Commended True Taste Awards 2006 & 2007
North Sea herring cold-smoked harbour fresh kippers – just the way they should be.
Simply pan fry in butter and serve with toast or make fabulous pate or fishcakes.
Kippers are often overlooked as an ingredient but they really sing as part of this warm salad.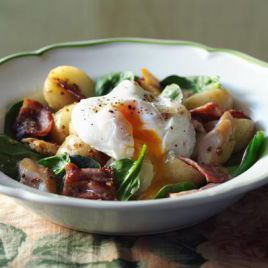 Ingredients
Salad:
500g/1lb 2oz New potatoes, cooked and halved
4 Free-range eggs, poached
Dressing:
1 tbsp White wine vinegar
1 Garlic clove, chopped
2 tsp Wholegrain mustard
For the salad, place all ingredients (except the eggs) into a large bowl and gently mix to combine.
For the dressing, put all ingredients into a small to medium sized bowl and stir well. Season with
Halen Môn Sea Salt
and freshly ground black pepper to taste.
Pour the dressing over the salad, coating all the ingredients.
Serve the salad in a serving dish and top with a poached egg.
You might also like this...
Enjoy Asparagus Season with Smoked Salmon & Smoked Butter
30/04/2021
Welsh artisan food and hampers delivered on your day of choice What a beautiful time of the year – asparagus season! Our Smoked butter , smoked paprika butter and smoked seaweed butter s are the perfect pairings for the abundance of delicious British... ...
Continue Reading
Stump Up For Trees - March Total!
29/04/2021
Add £2 to your order to plant a tree which will more than offset the carbon footprint of your parcel. We are calling on you to support "Stump up for Trees," an amazingly ambitious community-based charity, focused on woodland creation & enhancing biodiversity in... ...
Continue Reading
Smoked Chicken Pairings
23/04/2021
Welsh artisan food and hampers delivered on your day of choice Our award-winning Smoked Chicken Breast is gently hot-smoked over smouldering Welsh oak. It is succulent with an even smokey flavour throughout. "Impressive! Really juicy &... ...
Continue Reading