Award Winning Smoked Salmon
Free Postage to UK on Hampers
Fresh ungraded North Sea haddock gently cold smoked over oak without dyes or additives. Pearly fleshed and sweet in flavour.
Simply brush with olive oil and grill, or gently poach in milk with a bay leaf and black peppercorns. A great ingredient for kedgeree or fishpie.
"Eloquently fishy!" Commended True Taste Awards 2006 & 2007
North Sea herring cold-smoked harbour fresh kippers – just the way they should be.
Simply pan fry in butter and serve with toast or make fabulous pate or fishcakes.
Kippers are often overlooked as an ingredient but they really sing as part of this warm salad.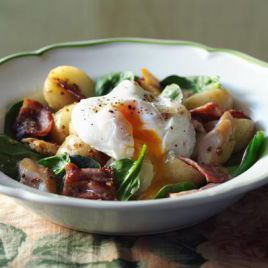 Ingredients
Salad:
500g/1lb 2oz New potatoes, cooked and halved
4 Free-range eggs, poached
Dressing:
1 tbsp White wine vinegar
1 Garlic clove, chopped
2 tsp Wholegrain mustard
For the salad, place all ingredients (except the eggs) into a large bowl and gently mix to combine.
For the dressing, put all ingredients into a small to medium sized bowl and stir well. Season with
Halen Môn Sea Salt
and freshly ground black pepper to taste.
Pour the dressing over the salad, coating all the ingredients.
Serve the salad in a serving dish and top with a poached egg.
You might also like this...
Oak Roasted Salmon Salad with Spring Flowers
10/04/2019
We've just spent a fabulous day working with Brecon Beacons photographer, Neil Mansfield , creating new photos for our website. This spring salad of Oak Roasted Salmon was so simple to create, looked... ...
Continue Reading
Smoked Chicken Spring Salad Recipe
09/04/2019
Feeds 4- 6 as a starter - A delicious and beautiful springtime dish. Ingredients 2 Smoked Chicken Breast 170g (Or 2 Portions Oak Roasted Salmon 190g) A Selection of baby salad leaves A selection of hedgerow and woodland... ...
Continue Reading
Visit us at Markets, Fairs & Food Festivals - 2019
20/03/2019
We attend food fairs and festivals around the country, taking orders, handing out samples and selling a delicious selection of produce. Find out below when we'll be at an event near you. We love meeting our customers face to face! Locally... ...
Continue Reading