Smoked Bacon and Smoked Mackerel Salad Recipe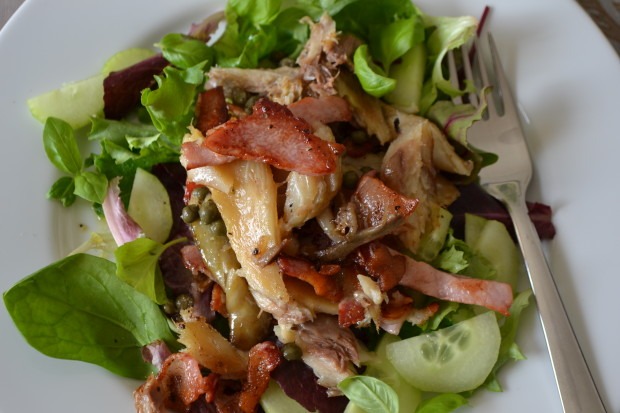 Serves 2 as a main course or 4 as a starter- Our Smoked Bacon Mackerel recipe is a delightful, warm and inviting salad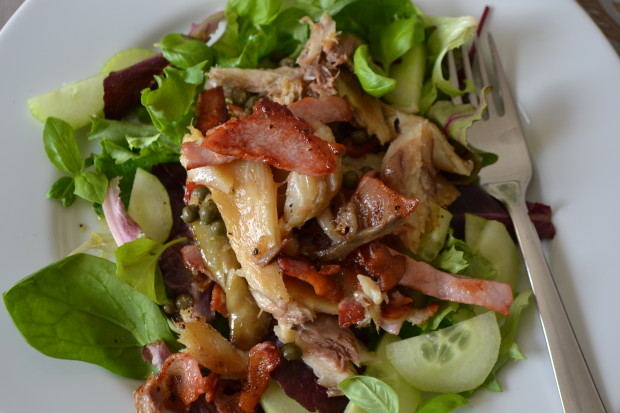 Ingredients
1 Smoked Mackerel– skinned 
4 Rashers Smoked Bacon
3 handfuls of Rocket Leaves
1 Crunchy apple 
1 Medium Beetroot – roasted and diced
Mustard Vinaigrette
8 Baby New Potatoes
To make the vinaigrette combine olive oil, wine vinegar, French mustard (and/or grainy mustard), brown sugar, Halen Môn Sea Salt and pepper.
Boil the potatoes until cooked but still firm. Meanwhile, chop the Smoked Bacon into small pieces and fry until crispy. Cut the hot potatoes as you would like them and then drizzle over the vinaigrette.
Dice or slice the apple and sprinkle it over the warm dressed potatoes with the rocket, beetroot and Smoked Bacon.
Finally, add the Smoked Mackerel as fillets or flaked to finish this warm and inviting salad.
This recipe has been generously shared by Elisabeth Fewings.