Award Winning Smoked Salmon
Free Postage to UK on Hampers
North Sea mackerel delicately cured and traditionally hot-smoked without dyes or additives, our smoked mackerel is suitably fishy, smoky and full of healthy omega oils.
Delicious in pasta, potato or lentil salad with chopped tomatoes and a dash of mayo.
This recipe for stuffed mackerel makes an easy midweek supper.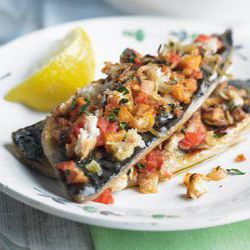 Serves 4
Ingredients
150g Sliced bread sage leaves
Preheat the oven to gas mark 6, 220°C, fan 200°C. Heat 1 tbsp oil in a nonstick frying pan and cook the onion and chopped Smoked Bacon for 5 minutes.
Put the sliced bread into a food processor along with the sage leaves, lemon zest, garlic, and seasoning and blitz until you have a chunky breadcrumb mixture. Add to the onion mix with the remaining oil and cook for a further 5 minutes, stirring gently until golden.
Lay 4 of the Smoked Mackerel Fillets lightly on a greased nonstick baking tray and spoon over half of the stuffing mix. Sandwich together with the remaining fillets and spoon over the remaining stuffing.
Cook in oven for 15-18 minutes and serve with steamed vegetables.
You might also like this...
Oak Roasted Salmon Salad with Spring Flowers
10/04/2019
We've just spent a fabulous day working with Brecon Beacons photographer, Neil Mansfield , creating new photos for our website. This spring salad of Oak Roasted Salmon was so simple to create, looked... ...
Continue Reading
Smoked Chicken Spring Salad Recipe
09/04/2019
Feeds 4- 6 as a starter - A delicious and beautiful springtime dish. Ingredients 2 Smoked Chicken Breast 170g (Or 2 Portions Oak Roasted Salmon 190g) A Selection of baby salad leaves A selection of hedgerow and woodland... ...
Continue Reading
Visit us at Markets, Fairs & Food Festivals - 2019
20/03/2019
We attend food fairs and festivals around the country, taking orders, handing out samples and selling a delicious selection of produce. Find out below when we'll be at an event near you. We love meeting our customers face to face! Locally... ...
Continue Reading