Double Salmon Canapés with Horseradish Recipe
A tribute to Mary Berry's delicious recipe, here's our version of Double Salmon Canapés with Horseradish using Black Mountains Smokery produce.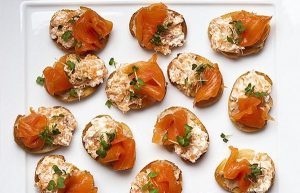 Image by Chris Alack via Mary Berry website
INGREDIENTS
SMOKED SALMON PÂTÉ
50g full-fat cream cheese
50g full-fat crème fraîche
a dash of Tabasco
1 tbsp lemon juice
freshly ground black pepper
INSTRUCTIONS
For the crostini, cut the baguette into 20 thin slices and lightly brush each side with oil. Arrange on a baking sheet and grill for about 2 minutes on each side until golden brown and crisp. Leave aside to cool.
To make the smoked salmon pâté, measure the ingredients into a processor, and whiz briefly until just combined.
Spread some pâté onto one half of each crostini – so the top of the crostini is half covered with pâté and half plain. Spread a little horseradish on the plain half. Take a square of Black Mountains Smokery Smoked Salmon and twist it into a little rosette. Sit this on top of the horseradish.
Snip a few cress leaves and sprinkle a line between the rosette and the pâté and serve.
TO PREPARE AHEAD – These can be made and assembled up to 6 hours ahead and kept in the fridge. The crostini can be made and frozen. The pâté can be made ahead and kept in the fridge.
SHORTCUTS – Use our delicious Canapé Shells instead of making crostini