Pytt y panna (Little pieces in a pan) with Smoked Bacon & Sausage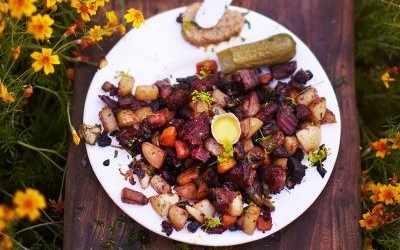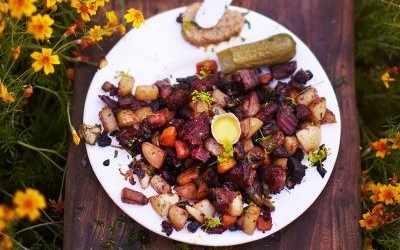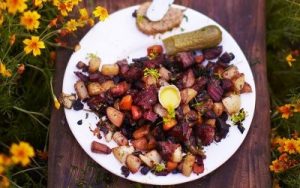 Ingredients
300g quality cooked brisket , or other leftover cooked meat
70g salami, skin removed
2 small onions, peeled
3 large carrots, quartered
1kg potatoes, scrubbed clean
A few sprigs fresh rosemary and thyme, leaves picked
4 quail's eggs
1 jar dill pickles, to serve
Dressing
1 tablespoon good-quality cider vinegar
1 small handful fresh chives, finely chopped
1 small handful fresh dill, roughly chopped
1 small handful fresh flat-leaf parsley, leaves picked
Begin by heating a large, shallow non-stick pan on a medium heat.  Then, cut the bacon into small pieces and fry for 2 to 3 minutes so that the fat starts to render out. Cut up the sausage and any other smoked meat or leftovers of your choosing, and add to the pan as you go. Do the same with the onions, carrots, potatoes and herbs. Keep stirring to make sure nothing catches and season with a pinch of salt and a good pinch of pepper if necessary. Cook for about 20 minutes.
Make your dressing by putting all the dressing ingredients into a jar (reserving the dill flowers if you have them), shake and pour into the pan. Carefully separate the egg whites from their yolks and put them to one side.
Divide your pytt y panna between plates and create a well in the top and add a yolk to each one. Load up a side plate with dill pickles, and roughly chop your dill flowers and scatter them over.
This Pytt y panna recipe is a wonderful and beautiful dish to share with friends and family!