Kipper, Spinach, Bacon & Potato Salad Recipe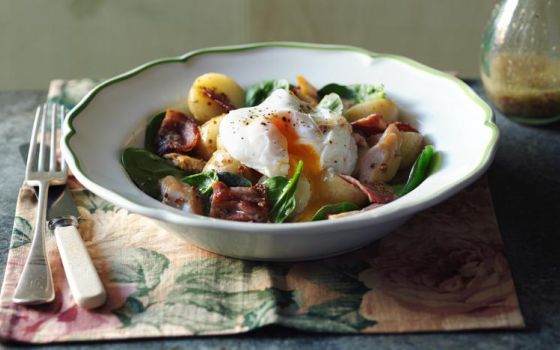 Serves 4
 A great alternative to Smoked Mackerel, Kippers go beautifully in this warm salad
Ingredients
500g New potatoes, cooked and halved
4 Free-range eggs, poached
Dressing:
1 tbsp White wine vinegar
1 Garlic clove, chopped
2 tsp Wholegrain mustard
Freshly ground black pepper
For the salad, place all ingredients into a large bowl and gently mix to combine.
For the dressing, put all ingredients into a small to medium sized bowl and stir well. Pour the dressing over the salad, lightly coating all the ingredients.
Serve the salad in a serving dish and top with a poached egg.