Spelt & Quails Egg Kedgeree Recipe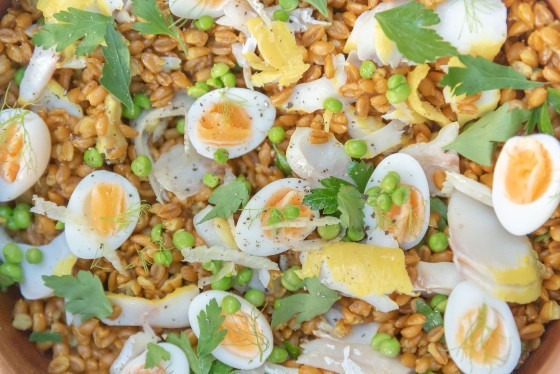 Serves 6 – Kedgeree Recipe
Our huge thanks to Lara at www.lunalarder.com for her wonderful recipe and photographs
Lara's scrumptious take on kedgeree, ideal for lunch served with steamed broccoli and sautéed spring greens
Ingredients
400g whole spelt, well rinsed
12 quail eggs, boiled 3 mins and peeled
200g peas, blanched
1 bunch parsley (keep a little back to decorate)
1 bunch dill
3 spring onion, chopped
Curry powder
Turmeric powder
1 lemon
1 bay leaf
 Tip spelt into a large pot with 1 tsp curry powder and ½ tsp turmeric powder, use a wooden spoon to stir, evenly coating. Cover with boiling water then simmer for approx. 45 minutes or until tender. Strain.
 Fill a separate pan with water, add 1 tsp turmeric powder and bay leaf, bring to boil.  Add the smoked haddock and simmer for 4 minutes.  Remove from water and allow to cool slightly. When cool enough to handle, flake the haddock into a bowl, discard skin and set aside.
If using Peppered Trout then simply flake and set aside.
In a mixing bowl, combine spelt with peas, chopped parsley, dill, spring onion, whole lemon zested and juice of half with 1 tbsp olive oil.
Add the smoked fish, being careful not to break up too much.
Add salt + pepper to taste.
Arrange in a serving bowl.
 Halve the quail eggs, crack pepper over the top then place into the serving bowl along with the remainder of the parsley, roughly torn.