Smoked Salmon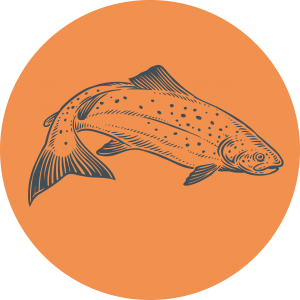 Order Gourmet Treats for delivery on your day of choice –  Delivery £9.95 – FREE for orders over £150 and hampers
For UK Mainland (Rates vary for Highlands & Islands).
Our Traditional Oak Smoked Salmon won another two Gold Stars in the Great Taste Awards 2023 to add to its 2020 2017 and 2015 awards.
"Very neat, fresh looking salmon that is deliciously tasty and perfectly balanced." – Great Taste Awards, 2020
We use only traditional curing methods with no artificial flavourings, additives or preservatives and our Smoking Process involves only smoldering Welsh oak smoke.  Our award-winning smoked salmon is freshly produced, vacuum packed and freezes beautifully. We slice all our fish by hand and you will notice the care we put in to each side.
The fresh salmon we buy from Shetland is produced in deep, fast currents and in low density. Our suppliers understand the need to preserve Shetland's pristine waters and the fact that quality welfare equates with quality eating.
Our hot-smoked Oak Roasted Salmon and Peppered Oak Roasted Salmon are ever-popular presents and perfect for entertaining and for the festive season.
We also produce Cold-Smoked Chalk Stream Trout as an alternative to Smoked Salmon, give it a try!