Classic Festive Family Food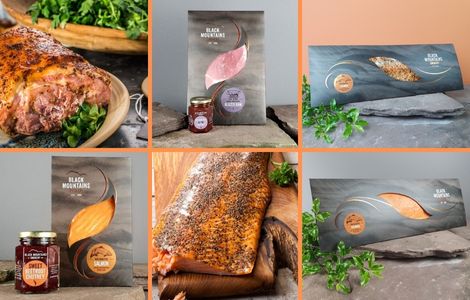 Get ahead for your Christmas planning by ordering your Ham and Salmon now!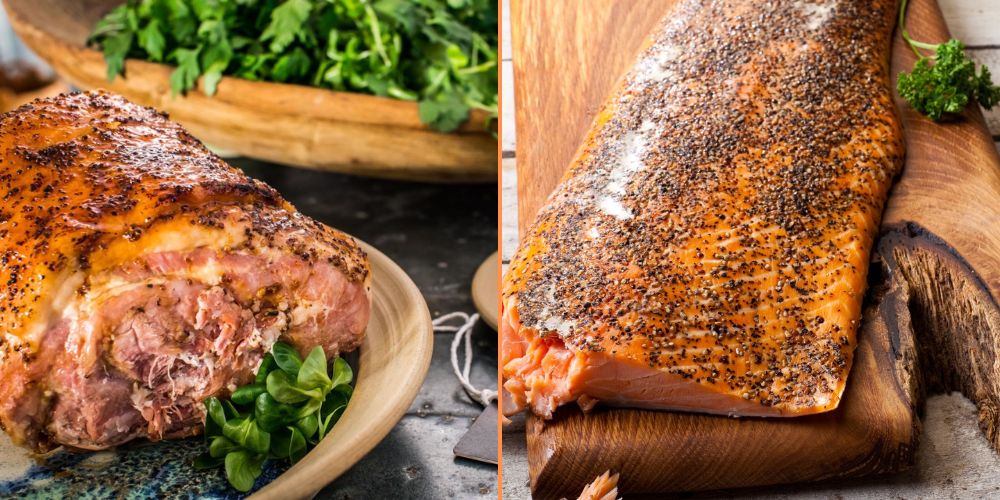 Our Whole & Half Hams are ready to eat. Top up the glaze for a bountiful Boxing Day treat and a wonderful Christmas aroma.
Our Ham recipe is a great way to feed a crowd. Plus the leftovers are bound to keep giving for days! Made to order, our carefully cured hams are perfect for any festive meal, they create a wonderfully impressive centerpiece.
We produce our whole and half hams to order, so please order yours this year by 13th November.
Although all our cooked hams are pre-glazed, the vac packs can make the glaze a little soft so we suggest you top it up and fill your kitchen with the fragrance of deliciousness. For the perfect ham recipe: Make a Honey & Mustard Paste with brown sugar, honey, Tracklements' Dijon Mustard and spread over the ham, dot with cloves, and caramelise with a cook's blow torch. Or try a Marmalade Glaze made from Seville Orange Marmalade, brown sugar, ground cloves, and cider vinegar.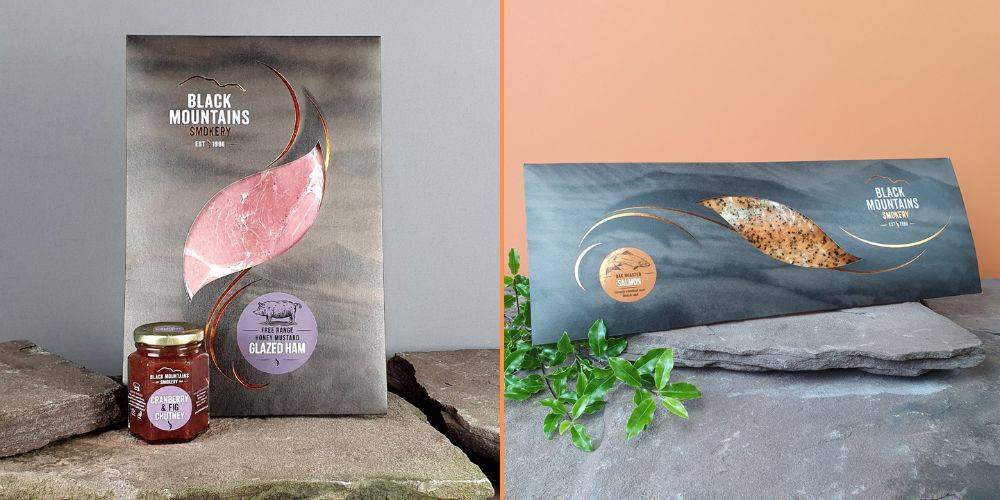 Have a relaxing Christmas Eve with a side of ready-to-eat Peppered Salmon, garnished and served with roasted beetroot and dill cream. 
Our Oak Roasted Salmon recipe is just brilliant for easy entertaining!
Look no further for a solution for your Christmas Eve celebrations. After a hectic day with family to enjoy and make time for preparing ahead for Christmas Day, nothing could be easier than a festive feast of ready-to-eat Oak Roasted Salmon– peppered or plain.
We serve our Oak Roasted Salmon at room temperature with quick and easy roasted new potatoes, baby beetroot roasted with shallots and dill, fresh green salad, and a bowl of dill cream to hand. Nothing nicer!
Garnish the salmon just as you please- I like to use watercress leaves or pea shoots with red pepper or chilli slivers and lime wedges but it is just as lovely to use traditional cucumber with lemon and even prawns.
To make the dill sauce- simply mix a jar of our lovely Dill & Mustard Sauce with a large tub of crème fraiche or mayonnaise. You can also use our Sweet Beetroot Chutney on the side if you are not cooking your own beetroot.
We would love to hear how you serve your Classic Festive Family foods!?