Life Made Easy – A Black Mountains Smokery Lunch!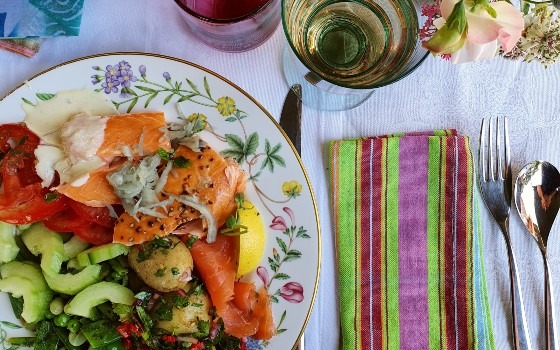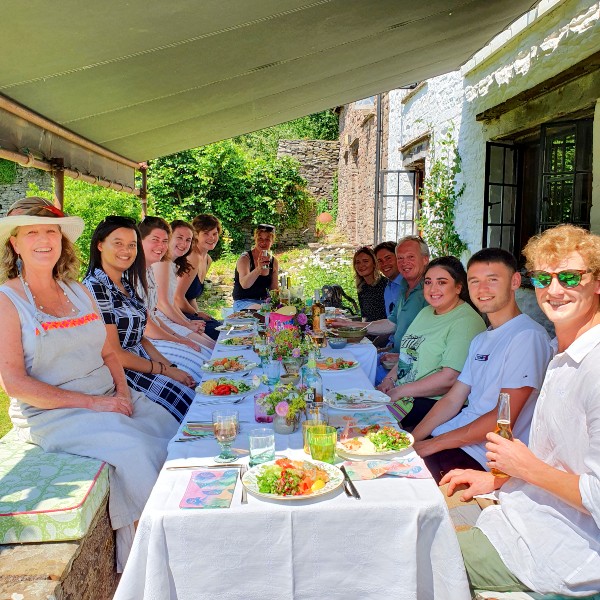 There is nothing I love more than entertaining friends and family at home. Even more so when the sun is shining, and we can enjoy being in the garden.
This weekend we were able to do just that! I thought it was high time to host a BMS lunch – it's been a crazy old year and things have been go go go at the Smokery and Jonathan & I just wanted to say a huge thanks to our wonderful staff for all their hard work.
It was a swelteringly hot day which meant the less time spent in the kitchen the better! Here at Black Mountains Smokery we like to practice what we preach. So I did just that taking inspiration from our 'Life Made Easy' hamper!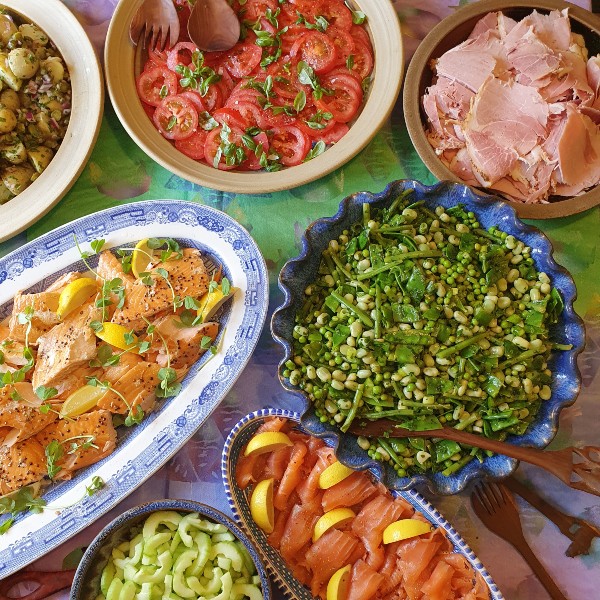 We had 15 hungry mouths to feed so Honey and Mustard Glazed Ham, a side of Peppered Oak Roast Salmon and lots of Traditionally Smoked Salmon were all on the menu! I always like to serve these with lots of fresh, light salads on a hot day and to finish everything off and tie it all together I like to make sure I have lashings of delicious condiments – Chimichurri salsa, dill sauce mixed with crème fraîche, hummus with smoked paprika, Dijon mustard, lemon mayo and lots more!
Honey and Mustard Glazed Ham – remove the ham from the packaging and carve! Yes, it's that easy! We like to eat ours with a dollop of Dijon mustard.
Peppered Oak Roast Salmon – you can either break the side up into portions to make it easier for guests to dive in or leave it whole on a plate or platter. Arrange lemon wedges and pea shoots to complete the dish.
Traditionally Smoked Salmon – Arrange the slices on a plate. Squeeze over lemon juice and add cracked black pepper – voilà!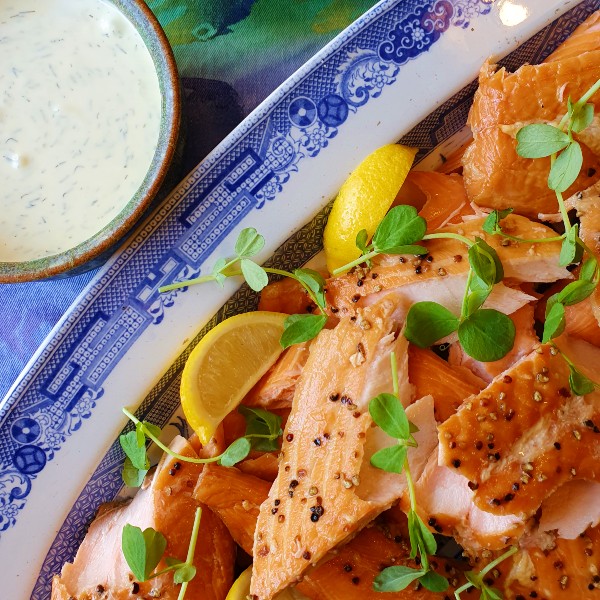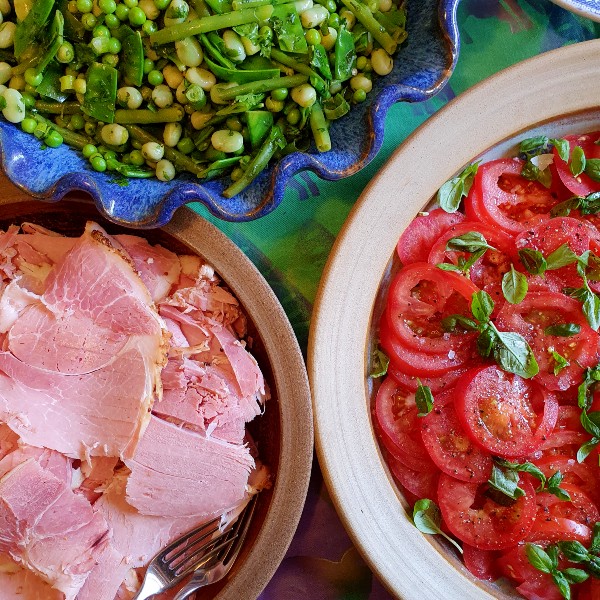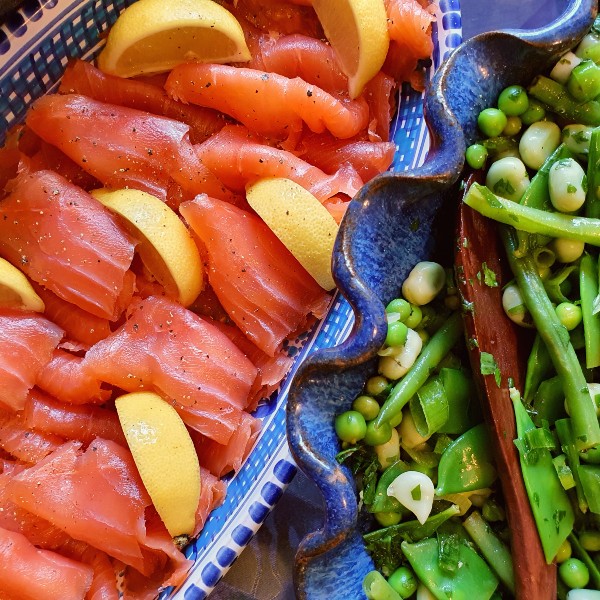 Lunch Recipe Ideas:
Smokey Jo's Versatile Potato Salad – see recipe here!
Tomato salad – Thinly slice large vine tomatoes, drizzle with Fino olive oil, sprinkle with torn basil leaves, add Halen Môn sea salt and cracked black pepper.
Cucumber salad – Incredibly refreshing on a hot day! Half the cucumber lengthways, scrape out the fleshy middle and slice into half-moons. Drizzle with Fino olive oil.
Bean salad – You can use whichever beans or even pulses you prefer! Yesterday I used peas, broad beans, green beans & mangetout. I added chopped spring onions, lemon juice, Fino olive oil, some herbs from the garden – mint and flat-leaf parsley – and mixed them all together.
Green Salad – pea shoots, rocket & lambs lettuce, but you can switch in whichever leafy greens you like best!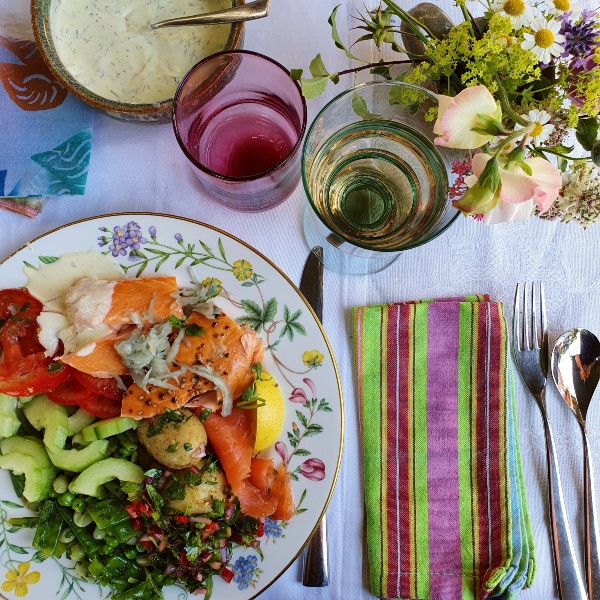 This lunch is quick & easy to prepare and absolutely delicious (if I do say so myself!) especially if you're hosting lots of people like we were! Everything can be prepared in advance, plated up and left in the fridge until it is time to serve… meaning more time enjoyed with your guests with a glass of something chilled in hand!
Take a look at our Life Made Easy gift hamper to recreate your very own alfresco lunch or dinner party or to give it as a gift for a friend or loved one!