Award Winning Smoked Salmon
Free Postage to UK on Hampers
Online Charity Fairs & Donation Codes
Our Traditional Oak Smoked Salmon is made from fresh superior grade fillets of salmon, dry-cured on a bed of salt and gently cold-smoked over Welsh oak chips. All Black Mountains Smokery's Smoked Salmon Sides are available, expertly hand sliced or unsliced - ready for you as you require.
A side of our Traditional Smoked Salmon makes a fantastic present - for a birthday, Christmas or thank you gift. Why not add a locally hand-crafted Oak Serving Platter to make the perfect gift? They're the ideal size for serving a whole side and for making entertainment easy yet really appealing.
The Smoked Salmon always wins an award at the Great Taste Awards and won a coveted Welsh True Taste Award.
Jo always recommends serving the Oak Smoked Salmon with a creamy dill sauce made from our lovely Dill Mustard Sauce mixed with crème fraîche or Mayonnaise, for quick and easy snacks or canopes and starters.
"Rich and indulgently buttery on the palate, it has a good structure and melts in the mouth with an elegant balance of flavour and a long and satisfying gentle smoke finish." - Great Taste Awards, 2020
A side of Smoked Salmon makes a wonderful addition to any buffet table. Jo recommends that you serve it with bread, garnish with black pepper, lemon wedges and capers. For something a little more formal, why not try these Smoked Salmon Crostini?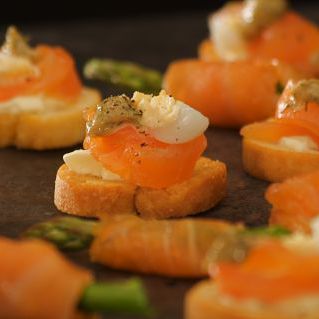 Ingredients
These are a real Christmas treat, especially when you replace the quail's eggs with our Lumpfish or Wild Salmon Caviar which are available in the run up to Christmas.
You might also like this...