Award Winning Smoked Salmon
Free Postage to UK on Hampers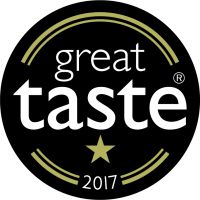 Our Traditional Oak Smoked Salmon is made from fresh superior grade fillets of salmon, dry cured on a bed of salt and gently cold smoked over Welsh oak chips.
All Black Mountains Smokery's Smoked Salmon Sides are available expertly hand sliced or unsliced - ready for you to slice as you need.
A side of our smoked salmon makes a fantastic present - for birthdays, Christmas or as a thank you gift! Why not add a locally hand-crafted Oak Platter to make the perfect gift? They're the ideal size for serving a whole side!
The Smoked Salmon always wins an award at the Great Taste Awards and won a coveted Welsh True Taste Award.
Jo always recommends serving the Oak Smoked Salmon with a creamy dill sauce made from our lovely Dill Mustard Sauce mixed with crème fraîche or mayonnaise.
"Delicious firm textured fish with a balanced saltiness and delicate hint of smoke." Great Taste Awards 2017
A side of Smoked Salmon makes a wonderful addition to any buffet table – serve with bread and garnish with black pepper, lemon wedges and capers. For something a little more formal, why not try these Smoked Salmon Crostini?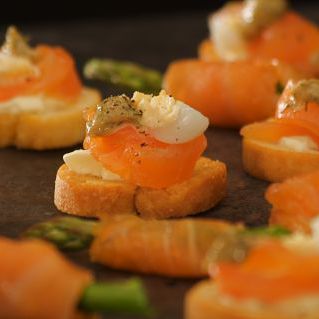 Ingredients
Simply pile up the ingredients onto each Crostini or
Canapé shells
starting with the creme fraiche or mayonnaise, which acts a bit like glue! You can mix the
Dill Sauce
into the creme fraiche or mayo to save time. Garnish twist of Black Pepper or a sprinkle of
Welshman's Caviar
. Arrange on a large
serving platter
alongside smoked salmon wrapped asparagus.
They are a real Christmas treat, especially when you replace the quails eggs with our Lumpfish or Wild Salmon Caviar (available in run up to Christmas).
You might also like this...
Crispy Fried Smoked Welsh Dragon Sausages Recipe
30/06/2020
A fabulously quick and easy nibble with drinks served with a mustard cream Serves 4 Ingredients 3 Smoked Welsh Dragon Pork Sausages - Sliced on diagonal 2 Tbs Cotswold Gold Rapeseed Oil 2 Tbls Greek Style ... ...
Continue Reading
Meet the BMS Lockdown Team
28/06/2020
The Black Mountains Smokery team has a core staff of just 6 for most of the year, the team then doubles (or even triples!) in our busy autumn months! As you can imagine, this year has been a little different... the imposing of lockdown meant that... ...
Continue Reading
Eggs Royale with Hollandaise Sauce
24/06/2020
If you've fallen into the millennial proclivity for brunching then here's a recipe which will help you create the perfect eggs royale from home! Recipe from our very clever nephew, Josh! Ingredients For the... ...
Continue Reading