Award Winning Smoked Food Hampers
Order in advance - Delivery Info
Our Traditional Oak Smoked Salmon is made from fresh superior grade fillets of salmon, dry-cured on a bed of salt, without sugar, and gently cold-smoked over Welsh oak chips. All Black Mountains Smokery's Smoked Salmon Sides are available, expertly hand sliced or unsliced - ready for you as you require.
A side of our Traditional Smoked Salmon makes a fantastic present - for a birthday, Christmas or thank you gift. Why not add a locally hand-crafted Oak Serving Platter to create the perfect gift? Our salmon platter is the ideal size for slicing and serving a whole side.
Our Smoked Salmon won Great Taste Awards in 2015, 2017 and 2020 as well as a coveted Welsh True Taste Award.
"Rich and indulgently buttery on the palate, it has a good structure and melts in the mouth with an elegant balance of flavour and a long and satisfying gentle smoke finish." - Great Taste Awards, 2020
A side of Smoked Salmon makes a wonderful addition to any buffet table. Jo recommends that you serve it with bread, garnish with black pepper, lemon wedges and capers. For something a little more formal, why not try these Smoked Salmon Crostini?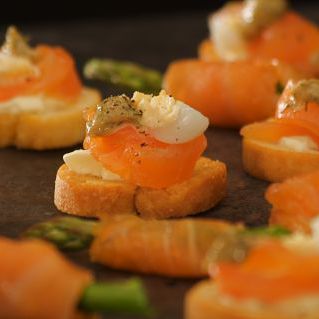 Ingredients
These are a real Christmas treat, especially when you replace the quail's eggs with our Lumpfish or Wild Salmon Caviar which are available in the run-up to Christmas.
You might also like this...
Enjoy Asparagus Season with Smoked Salmon & Smoked Butter
30/04/2021
Welsh artisan food and hampers delivered on your day of choice What a beautiful time of the year – asparagus season! Our Smoked butter , smoked paprika butter and smoked seaweed butter s are the perfect pairings for the abundance of delicious British... ...
Continue Reading
Stump Up For Trees - March Total!
29/04/2021
Add £2 to your order to plant a tree which will more than offset the carbon footprint of your parcel. We are calling on you to support "Stump up for Trees," an amazingly ambitious community-based charity, focused on woodland creation & enhancing biodiversity in... ...
Continue Reading
Smoked Chicken Pairings
23/04/2021
Welsh artisan food and hampers delivered on your day of choice Our award-winning Smoked Chicken Breast is gently hot-smoked over smouldering Welsh oak. It is succulent with an even smokey flavour throughout. "Impressive! Really juicy &... ...
Continue Reading