Smoked Trout Potato Salad with Lemon Aioli Recipe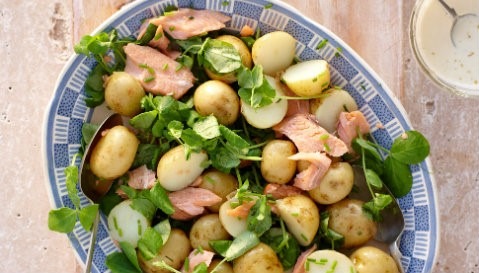 Serves 4-6 – Our Smoked Trout recipe is perfect for a Summer Lunch or to take on a picnic!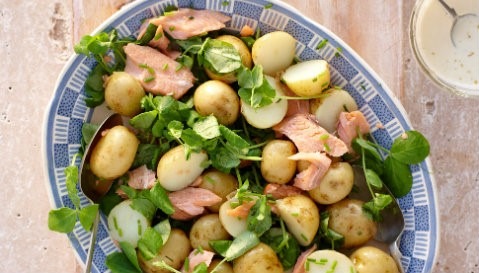 Ingredients
600g New potatoes
2 tbsp Fino Extra Virgin Olive or Rapeseed Oil
2 Egg yolks (at room temperature)
1 tsp Mustard – French or English
2 Lemons – zested
1 Clove garlic – crushed
1tbsp Lemon juice
250g Smoked Trout fillets – flaked
1 Bunch chives – chopped
100g Fresh pea shoots or watercress leaves
To make the lemon aioli – whisk the egg yolks, mustard, lemon zest, garlic and seasoning.  While whisking slowly drizzle in the oil until the sauce thickens. Add the lemon juice and mix again. Taste and adjust seasoning. Refrigerate until ready to serve.Boil the potatoes until tender and drain well. Cut larger potatoes in half, season with salt and pepper and some oil and leave to cool. Gently mix together the potatoes, pea shoots, chives and Smoked Trout and spoon over the aioli or serve it on the side. If you're short of time you can add lemon juice, zest and garlic to shop bought Mayonnaise instead of making the aioli.This Howel Food Consultancy recipe is also delicious to substitute with any other smoked fish like Smoked Mackerel or Oak Roasted Salmon.