Award Winning Smoked Salmon
Free Postage to UK on Hampers
Pink-fleshed rainbow trout traditionally brined and hot-smoked whole before hand-filleting. Deliciously delicate in flavour and texture. (Not available in December).
For a more robust flavour, our oak roasted Peppered Trout are cured and hot-smoked as fillets with a twist of crushed black pepper.
Serve with a wedge of lemon and creamed horseradish or a Waldorf winter salad of apple, celery and walnuts.
Here's one of our favourite summer recipes: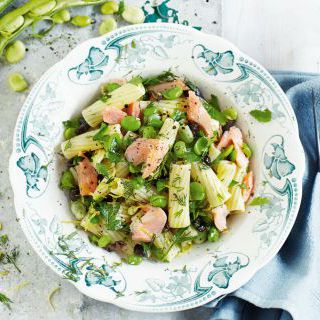 Serves 4 – A great, light Lunch
Ingredients
350g Penne pasta
500g Broad beans or peas 4 tbsp

Fino Olive Oil 2 Lemons - zested and juiced 100g Black olives - chopped 1 Handful fresh parsley - chopped 1 Sprinkle fresh dill - chopped 2

Smoked Trout Fillets

– flaked
Boil the broad beans for 3-5 minutes, until they float to the surface. Remove and drain the beans, and run under cold water (this will help them to keep their colour).
Cook the pasta and pour into a large mixing bowl – drizzle with olive oil. Add half the broad beans to the bowl and mix well. Deskin the remaining broad beans so they are sweeter and set aside.
Add the lemon juice and zest, olives, parsley, dill and flaked Smoked Trout Fillets to the pasta. Season to taste and toss well to combine. Scatter over the double-podded broad beans. Serve with plenty of seasoning.
You might also like this...
Oak Roasted Salmon Salad with Spring Flowers
10/04/2019
We've just spent a fabulous day working with Brecon Beacons photographer, Neil Mansfield , creating new photos for our website. This spring salad of Oak Roasted Salmon was so simple to create, looked... ...
Continue Reading
Smoked Chicken Spring Salad Recipe
09/04/2019
Feeds 4- 6 as a starter - A delicious and beautiful springtime dish. Ingredients 2 Smoked Chicken Breast 170g (Or 2 Portions Oak Roasted Salmon 190g) A Selection of baby salad leaves A selection of hedgerow and woodland... ...
Continue Reading
Visit us at Markets, Fairs & Food Festivals - 2019
20/03/2019
We attend food fairs and festivals around the country, taking orders, handing out samples and selling a delicious selection of produce. Find out below when we'll be at an event near you. We love meeting our customers face to face! Locally... ...
Continue Reading